Every year, gun manufacturers create new designs and features that make their pistols lighter, easier to shoot, and more ergonomic.
Although we're only ending the first quarter of the new year, there are quite a few pistols that are making a big splash in sales for 2023.
I thought it would be cool to show you the top 10 pistols, based on online sales. As you'd imagine, Glock, Smith & Wesson, Sig Sauer, and Taurus are well represented. 
I've included all calibers, including the 10mm, .45 ACP, and the .22LR.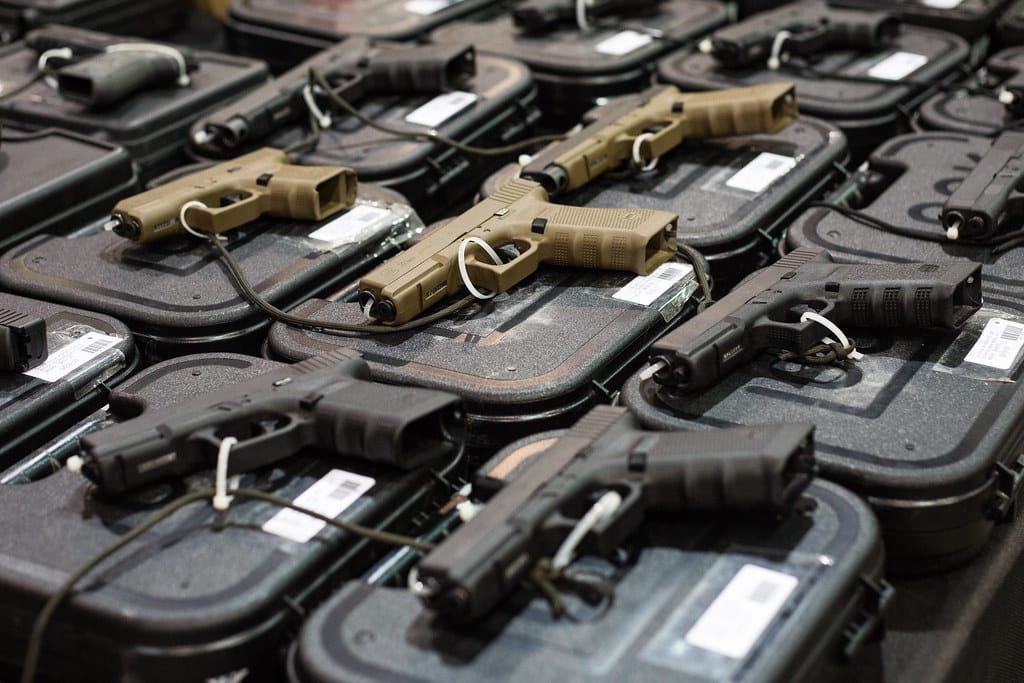 Regardless of the order in sales, each one of these pistols is a great asset to anyone's arsenal. Good luck, stay safe, and enjoy your new guns!
10 Most Popular Handguns at a Glance
1. Glock 43X 
It's no surprise to anyone that the best-selling gun on the planet right now is the Glock 43X. The Glock 43X is the answer for shooters who want a top-shelf CCW, but also want to shoot with precision at 50 yards. 
The Glock 43X has the same height as the Glock 19 Gen 5, but that's pretty much where the comparison stops. Glock built the G19 and the G43X at the same height because they want both guns to be easily concealed. 
The Glock 43X only weighs 1.44 lbs loaded and features a light 5.4 lbs trigger pull weight. The G43X is a part of the new Slimline series from Glock that provides the same reliability, dependability, and performance as standard Glock frames, but a thinner slide and pistol grip for optimal concealment in any environment. 
Check out our article covering our recommended Glock 43x accessories to take your gun to the next level.
Glock 43X Specs
| | |
| --- | --- |
| Length (Overall) | 6.50" |
| Slide Length | 6.06" |
| Width (Overall) | 1.10" |
| Slide Width | 0.87" |
| Height incl.Mag. | 5.04" |
| Line of Sight (Polymer) | 5.24" |
| Line of Sight (Steel) | 5.20" |
| Line of Sight (GNS) | 5.16" |
| Weight (loaded) | 1.44lbs |
| Magazine Capacity | 10/12 / 17 / 19 / 15 / 24 / 31 / 33 |
| Caliber | 9x19mm Luger |
| Barrel Length | 3.41" |
| Trigger Pull Weight | 24 N/ 5.40 Lbs |
| MSRP | $575.00 |
Pros
Best Sub-compact pistol ever made
Lightweight
Easily concealed in almost every application you can think of from hiking, walking around town, running, off-body carry in a purse
One of the smoothest trigger of any Glock
Highest selling pistol in 2021 and so far in 2022
Cons
The base model is not optics ready, but you can get the newer Glock 43x MOS that is optics ready.