We are proud to announce that we now have the ability to make custom stickers!   Our large format printer has the ability to print stickers, posters, or high-resolution photos up to 58″ x 300″.  We keep a number of materials on hand to meet your custom printing needs.  All of our stickers are printed in Denver, CO by veterans.  Our goal is to offer a quality sticker solution that helps provide jobs to our local veteran community.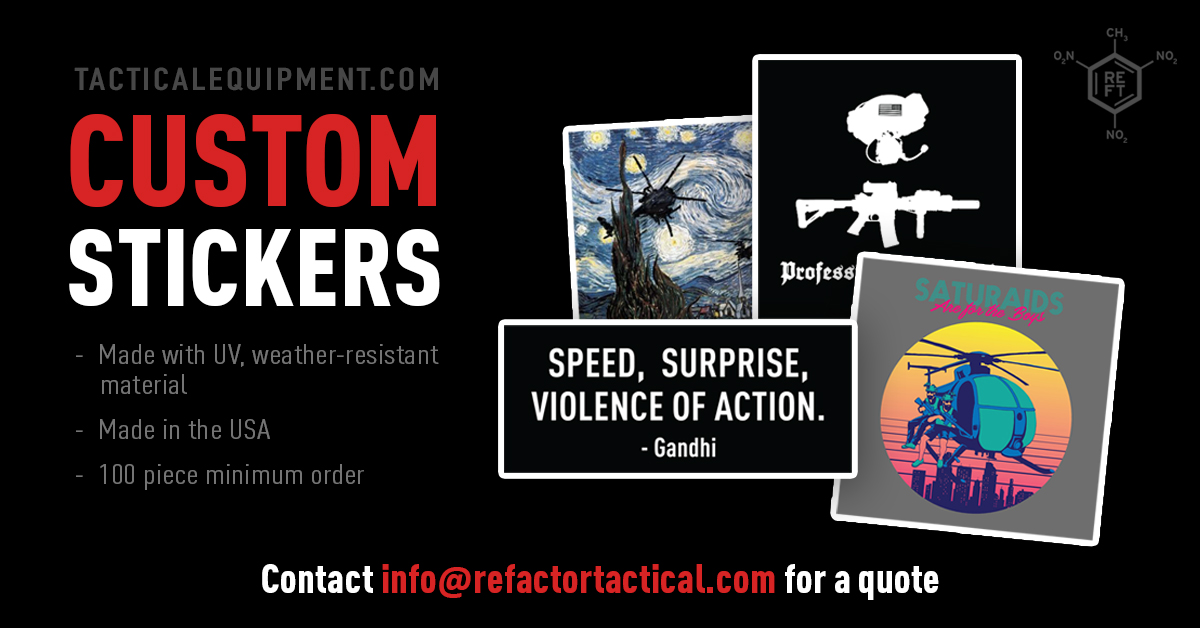 If you're looking to get quoted on customer stickers please email, [email protected].
We only require a 100 piece minimum and we can create your stickers in as little as one day.  In addition we can custom design your sticker with our in house design team.  Our profession staff of designers can take your idea and create a sticker that meets your needs.
All of our stickers are made with a high-quality UV resistant coating that offers a long-lasting sticker.
FAQ:
Can I put these custom stickers on my car?
A: Yes- All of our stickers are printed on a weather-resistant, UV coated material that offers a long-lasting sticker
Can you print a die-cut sticker?
A: Yes- we can do die-cut or any other cut you like!
I already have my own sticker file, what format should I send you?
A: We can accept any file as long as it's high resolution. PDF or vector files are our preferred file. If you only have a low-resolution file that we will need to work into a printable high-resolution file we charge a small prep fee.
How much for 1000 custom stickers?
A- This is one of our most commonly asked questions!  Stickers will range in price depending on the quantity and size of the sticker.  Please email [email protected] to get a formal quote!
What do you need to custom design my sticker?
A- Just a general idea!  We charge $50/hour as a design fee and most custom designs take around an hour to complete, depending on the complexity.
What is your minimum order quantity for custom stickers?
A- Our minimum order quantity is just 100 stickers!
Why shouldn't I choose one of the other million online sticker companies?
A- a large number of sticker companies online are made overseas and by underpaid workers.  In addition, these one-stop-shop companies find the cheapest materials to print your stickers on to help save money and increase profits.  Our goal is to offer a competitive price that helps keeps jobs in America.  Our stickers are 100% printed in the USA by Veterans.