The 300 Blackout has become one of the most popular rounds in the industry due to its direct compatibility with existing AR-15 rifles. That compatibility is in large part due to the design of the 300 Blackout upper being able to be used with standard 5.56 AR15 parts.
Those parts include the magazines, bolt carrier groups, lower receivers, buffer tubes, and stocks.
The .300 Blackout is the result of what current conflicts have taught us about the modern battlefield and urban gunfights. To be effective, you need a hard-hitting,  compact, and quiet gun that will own 0 to 300 yards. The AR-15 chambered in 300 Blackout vastly outperforms the 5.56 NATO in this matter.
This adaptability makes it possible to convert your 5.56 AR-15 into a 300 Blackout with nothing more than a swap of the upper receiver. No ATF paperwork and no professional gunsmithing.  That's it. Keep it simple stupid.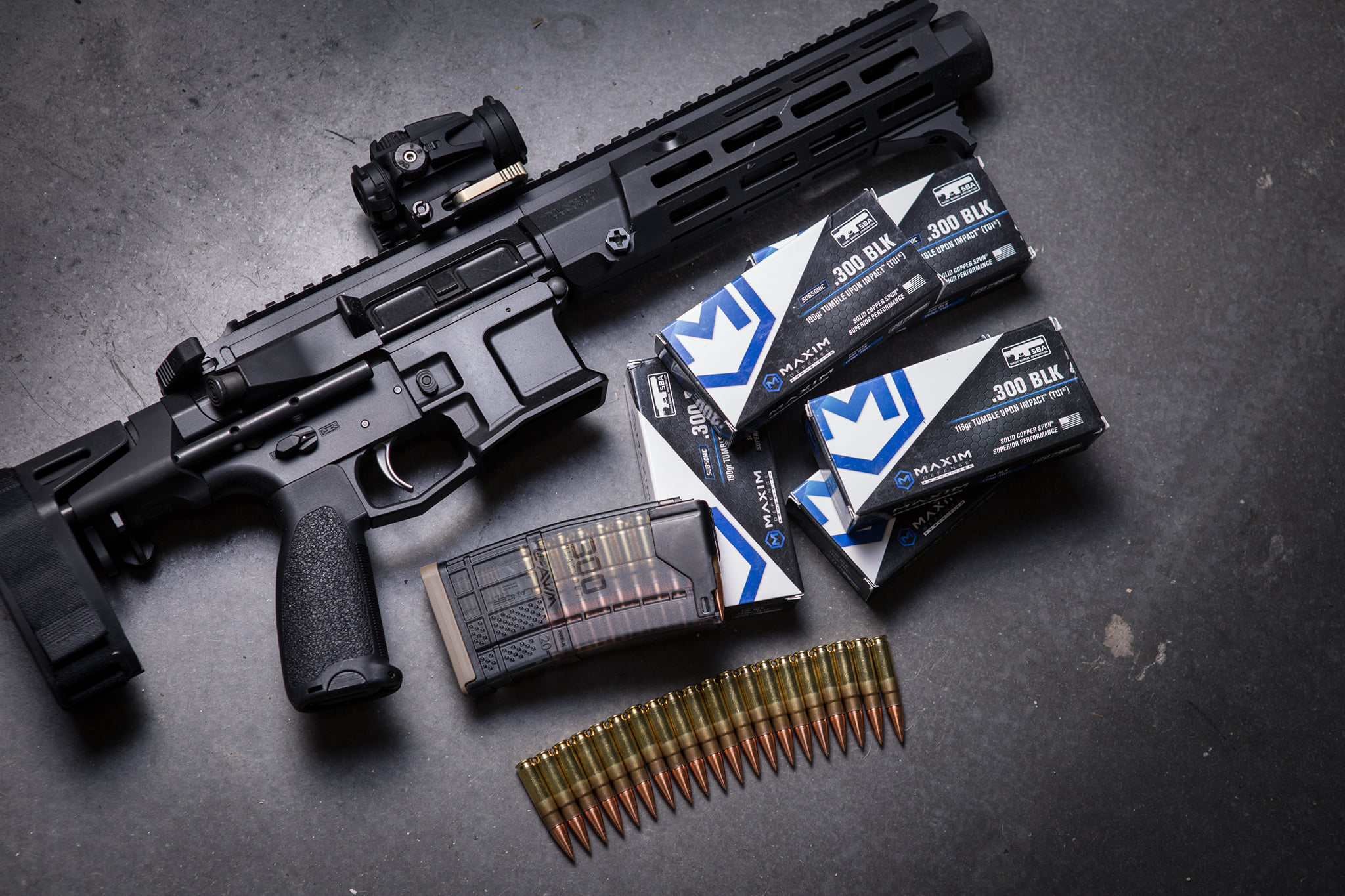 Why You Would Want a 300 Blackout Upper
Besides the easy conversion from 5.56 to 300 Blackout, the 300 Blackout round does outperform the 5.56 in a few areas.
First, the 300 Blackout is a very versatile bullet with weights ranging from 110 grains to 220 grains.  The 110-grain rounds are supersonic whereas the 220-grain rounds are subsonic.
The 220-grain round is much easier to suppress, and much quieter when suppressed.  The 300 Blackout round also reaches peak ballistic performance put of a 9-inch barrel whereas the 5.56 requires a 20-inch barrel to reach peak ballistic performance.
Best 300 Blackout Uppers
Now that you're ready to make the move, let's cover some of the best 300 Blackout Uppers available to buy.
Maxim Defense PDX Upper Receiver Group
The Maxim Defense PDX U.R.G is built to handle the fierce demands of the Tier 1 community and is designed to install on any Mil-Spec lower receiver.
The PDX U.R.G. is also equipped with Maxim's HATEBRAKE Muzzle Booster. This patent-pending device significantly reduces recoil, decreases the flash signature, and pushes gasses and concussion waves downrange away from the operator improving overall execution.