After Smith & Wesson acquired Gemtech and moved the company across the US, Maxim Defense hired much of the talent that they left behind in their wake.
Phil Dater is one of those people.
Phil was one of the brains behind Gemtech, and his private consulting practice with Antares Technologies has done a lot behind the scenes for the modern small arms industry with an emphasis on making those small arms quiet.
Michael Windfield, founder and owner of Maxim Defense, said "We do the hard stuff first."
This "hard stuff" refers to Maxim Defense successfully suppressing an FN MAG belt-fed machine gun!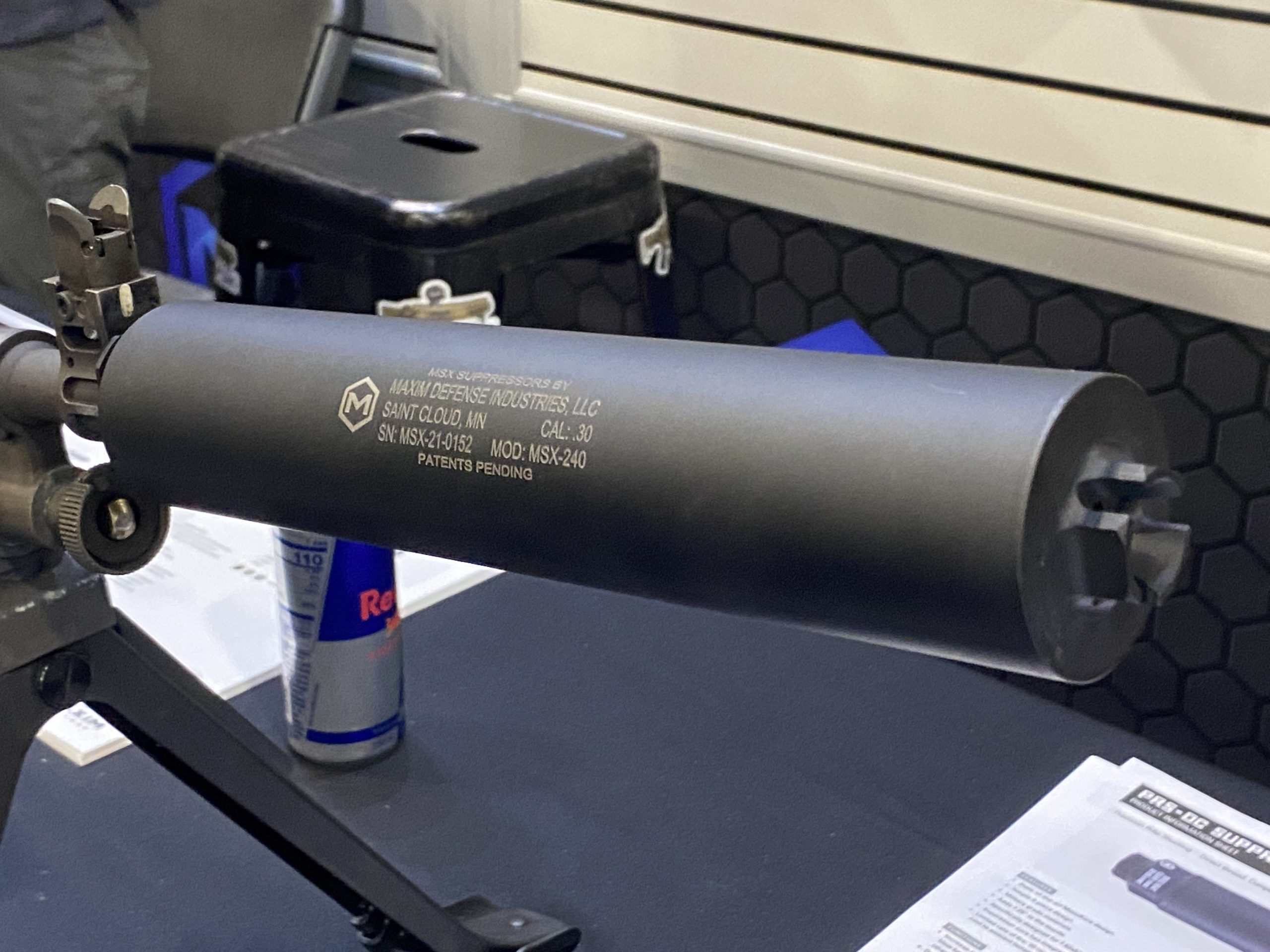 Having checked that box, they began the development of a full line of suppressors.
The Department of Defense has a goal to suppress all the weapons in use by SOCOM by 2026. The DoD is expected to release its official solicitation soon, so Maxim Defense is making sure they are poised and ready.
One of the driving factors behind the Maxim Defense suppressors is the safety of the end-users.
Yes, making the weapons quieter allows them to be harder to detect and contributes to mission success, but what about the physical effects on the shooter's hearing?
With an estimated $75 billion a year being paid out for hearing claims and concussion-related injuries, Maxim Defense is ensuring its suppressors function at or below "hearing safe" levels. OSHA's hearing safe threshold is 140dB.
Maxim Defense suppressors drop the sound levels well below the OSHA hearing safe threshold. For example, the average measurements taken per MILSTD-1474D during testing of the DSX-D suppressor were 134dB on a 10.3" AR-15 chambered in 5.56 and 114dB with the DRF-22 rimfire suppressor. These sound levels were measured at the shooter's ear.
Maxim Defense DSX-D Suppressor
The DSX-D (Duty Suppressor System – Direct Thread) suppressor is specifically designed to minimize the violent cyclic rate and gas blowback of a suppressed weapon system.
The suppressor consists of a three-piece MonoKore design that adds 7.25" to the muzzle of your rifle. The DSX-D is rated for full auto in all available calibers; 5.56mm, 7.62mm, and 6.5 Creedmoor.
There is, however, an 8.5" barrel restriction. Additionally, the suppressor can be pinned to a 10.3" barrel to essentially give you a 16" overall barrel length.
DSX-D Suppressor Features
State of the art MonoKore Design
Simple 3 piece design
Constructed of military-grade materials (Grade-5 Titanium and 17-4 Stainless Steel)
Drops the sound level below the OSHA hearing safe threshold of 140dB
Purposely built for each available caliber (5.56, 7.62, 6.5 Creedmoor)
The suppressor core has integrated carbon cutters for easy tube cleaning
Full auto rated in all available calibers
Ships with direct thread mount (1/2×28 for 5.56 or 5/8×24 for 7.62 and 6.5 Creedmoor)
Disassembles with common tools for end-user serviceability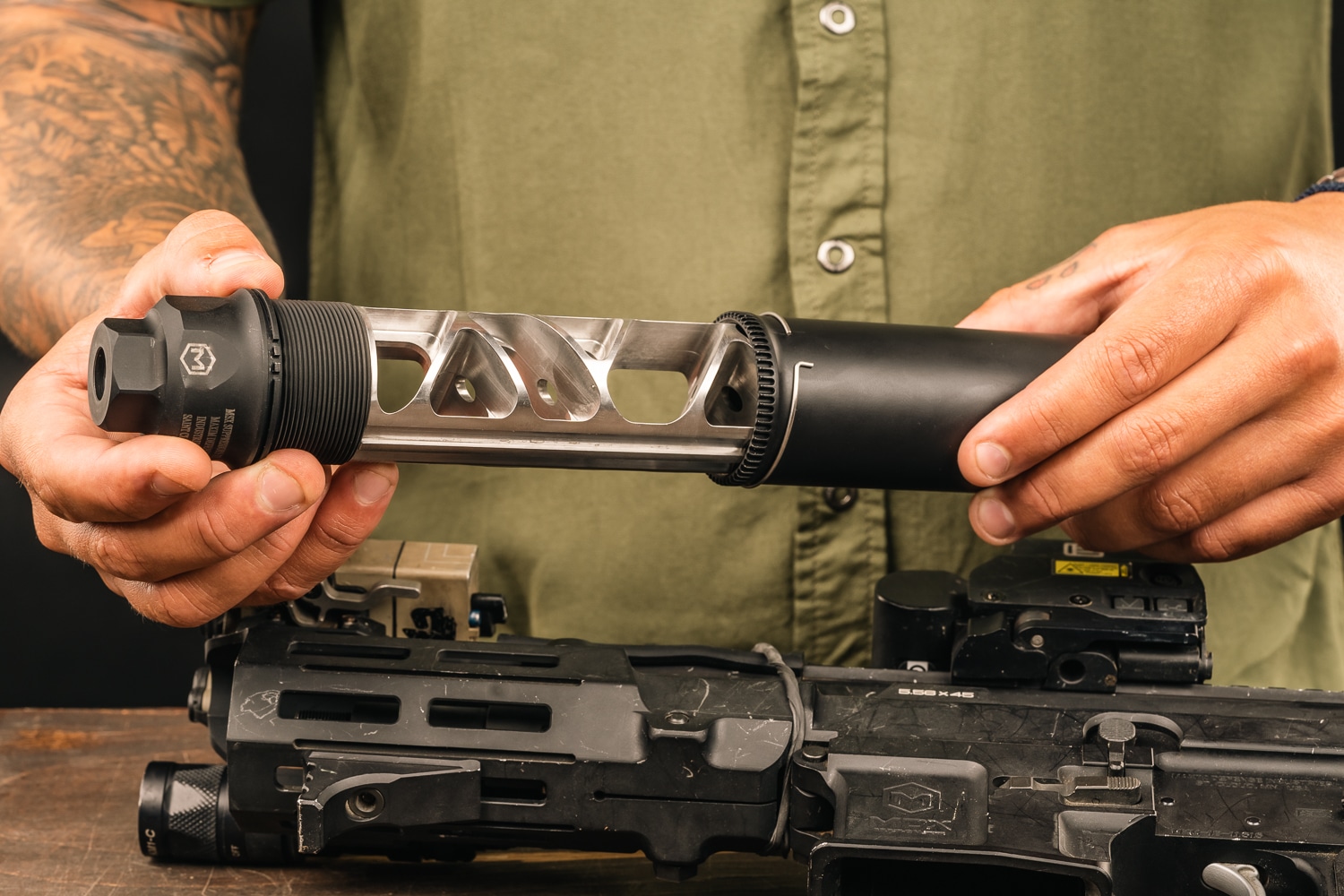 DSX-D Suppressor Technical Specs
Diameter: 1.75" outer diameter
Material Composition: Grade-5 Titanium and 17-4 Stainless Steel
Weight: 21 ounces
Overall Length: 7.9"
Finish: Cerakote and DLC (Diamond-Like Coating)