Firearms sales and ammunition sales in the United States have soared in 2020. The spike in ammunition sales was motivated by the COVID-19 pandemic, riots & protests, and the presidential election. Ammunition manufacturers are reporting backlogs as a result of elevated demand, and some suggest the ammunition shortage could last well into 2022.
Ammo Incorporated, an ammunition manufacturer based in Scottsdale, Arizona has confirmed a significant backlog due to heightened demand from consumers. The company said its backlogged orders amounted to $80.1 million in purchases as of August 31, which set a new record after months of increasing sales.
Vista Outdoors has also reported a similar backlog to Ammo Incorporated and is estimating that it could take upwards of a year to fulfill existing orders for their different ammunition brands. That said, they have hired additional help as well as invested in additional manufacturing machinery and are running 24×7 to put a dent in the ammunition demand. It's not going to return to the normal we once knew. You're going to have to get creative and more strategic with your ammunition purchases.
Ammunition Shortage UPDATE [as of 11/1/2021]
One of the largest ammunition makers in the country detailed how they have expanded to increase the production of ammo and components in the past 18 months.
Related Article – Best AK-47 [7.62×39] Ammo: Available Now
Jason Vanderbrink, president of ammunition for Vista Outdoor, which includes the Federal, CCI, Speer, and Remington brands, detailed in a video released this week that the company has made about 40 percent more ammo than typical since the current surge began. This has come from adding both capacity and employees.
"When you talk about what we've been through since the surge in demand started, we've added about 1,500 new employees," said Vanderbrink. "As you all know it's hard to find employees today, so adding 1,500 employees in 18 months is certainly a humongous task, and then we have to train those employees. But it's safe to say we're certainly helping the economy out in the manufacturing sector in America."
Without delivering hard figures, the Vista ammo boss said the company has produced "hundreds of millions" of extra primers and rounds of ammunition for the commercial market. He also detailed the successful acquisition of Remington Outdoor's ammo business and factory in Lonoke, Arkansas, as well as moving the HEVI Shot brand in Sweet Home, Oregon, under the Vista umbrella.
"The Remington brand was going through financial difficulties so it wasn't putting much ammunition out," he said. "We got the Remington brand up and going really quickly so that's helping alleviate that."
He also addressed rumors that the company had curbed sales to the commercial market in favor of LE and military contracts, chatter Vanderbrink said was misplaced.
"Another question we get asked is, 'You're just selling all of your ammunition to the government.' That's not the case. We are selling and shipping our ammunition to the same customers that we always have. I do think it's extremely important to say with all the rhetoric around defunding the police, we defend the police. Some of our ammunition goes to law enforcement and it is our obligation to keep supporting law enforcement."
He also pointed out the American gun industry has added at least 12 million new users, and how that plays into the greater firearms community.
"We need to embrace those new users. We need to take kids hunting. We need to take kids shooting. Embrace the new demographic that we have so our industry is here so our kids and their kids can enjoy the best sport in the world. We also have an obligation to support the organizations who support the Second Amendment. It doesn't matter what organization that you choose, we have to stay together. And by supporting the new users, supporting youth shooting, supporting hunting, supporting the Second Amendment, we are ready to keep the momentum going."
On top of all the supply chain issues related to the ammunition shortage, it didn't help that the Department of State decided to ban Russian Ammo as of August 2021.
Related Article – Maxim Defense Has Cases of 7.62 x 39 Ready to Ship
Where Can You Find In Stock Ammo Online?
The best place I've found online to source ammunition is a website called Ammo Seek. It is, in my opinion, Google for ammunition. It's a website that aggregates all the online ammunition retailers into one place. All you do is input your search criteria and click on 'seek'. You will get a list of all online retailers with the ammunition you're seeking.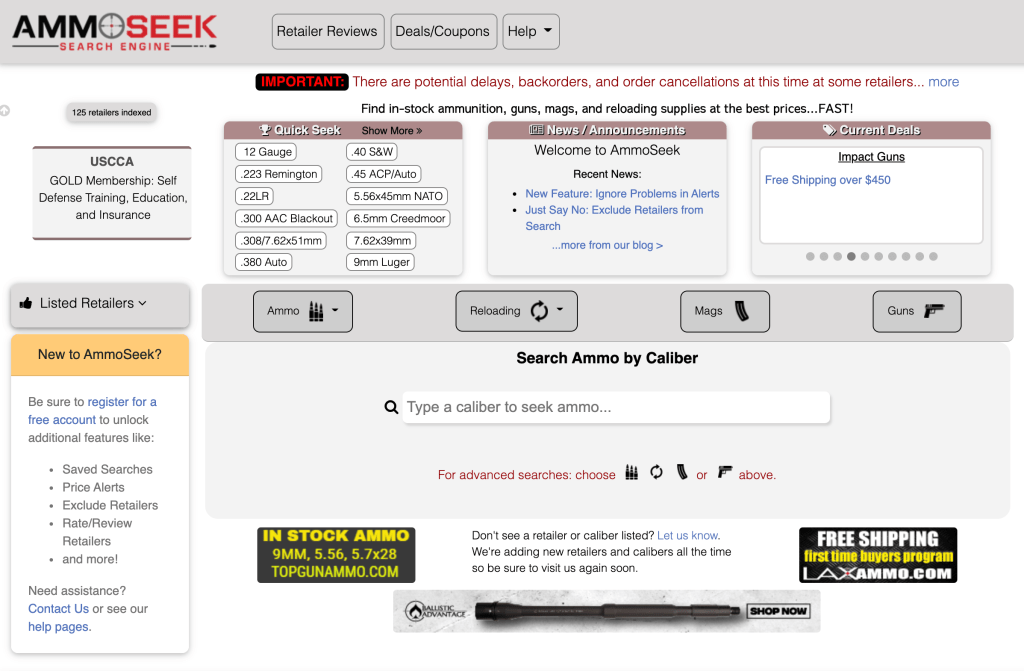 You might have to order a box or two from a few different places due to restrictions on quantities per order, but at least you can find it. This doesn't necessarily mean you're going to find good or normal pricing either. The new normal pricing for ammunition is here to stay for a while, so that is a personal decision you're going to have to make.
I've used Ammo Seek several times in the past year or so to get my hands on 38 special, 5.56, .22LR, and shotgun ammunition. Some retailers only allowed me to order 1 box at a time, while others allowed me to order multiple. It's up to the individual seller, but it is out there.
Brownells
Brownells has many of the NATO calibers in stock (9mm, 5.56, 45 ACP, and 308).
Check out all their in-stock ammunition selection.
Kentucky Gun Company
True shot Gun Club is one of the most reliable online ammunition retailers and one of the top 10 in the United States. I've been ordering from Kentucky Gun Company regularly over the past year. When everyone else is out of stock, they seem to pull through.
Check out their in-stock ammunition selection.
Other Online Retailers That Have Ammunition In Stock
Stay alert and keep your powder dry.
---
Stay Tuned to the RE Factor Tactical Blog and be part of this all VETERAN-run website. Be sure to follow us on Facebook, Instagram, and LinkedIn for exclusive content and deals.
Visit our Amazon Influencer Page for more products we recommend: https://www.amazon.com/shop/refactortactical