Rimfire suppressors have a reputation for being a tool of stealth assassins such as James Bond, Nikita, and other "off the books" operatives. This is mostly thanks to Hollywood.
The majority of the time, with the right ammo, all you will hear with a suppressed .22 is the action of the bolt. I mean who doesn't want a suppressed 22?
It's said in the industry that it's easy to make a 22 suppressor, but to make a good one is another story. Maxim Defense has taken the 22 suppressor to another level with its new DRF-22.
DRF-22 (Direct Thread Rimfire) 22 Suppressor
The DRF-22 suppressor is specifically designed to minimize the increase in cyclic rate and gas blowback of a suppressed rimfire firearm.
Primary design features include the significant reduction of sound signature, decreasing flash signature, reduction of recoil, and increasing the accuracy of the suppressed firearm.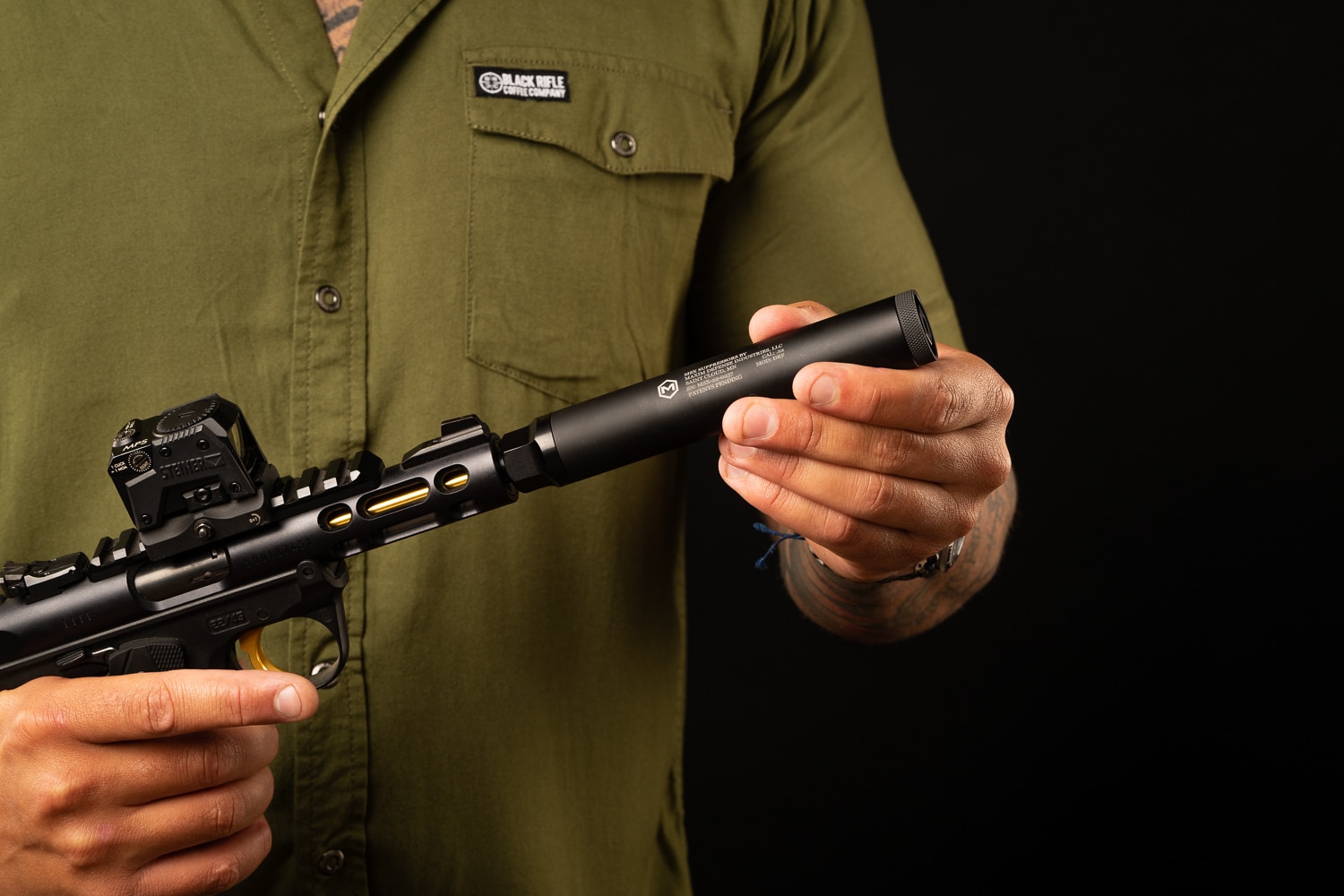 DRF-22 Rimfire Suppressor Features
State of the art MonoKore Design
Simple 3 piece design
Constructed of military-grade materials
No detectable first round pop
Specifically designed for .22LR pistols and rifles chambered in .22LR, .22MAG, and.17HMR
Disassembles with common tools for end-user serviceability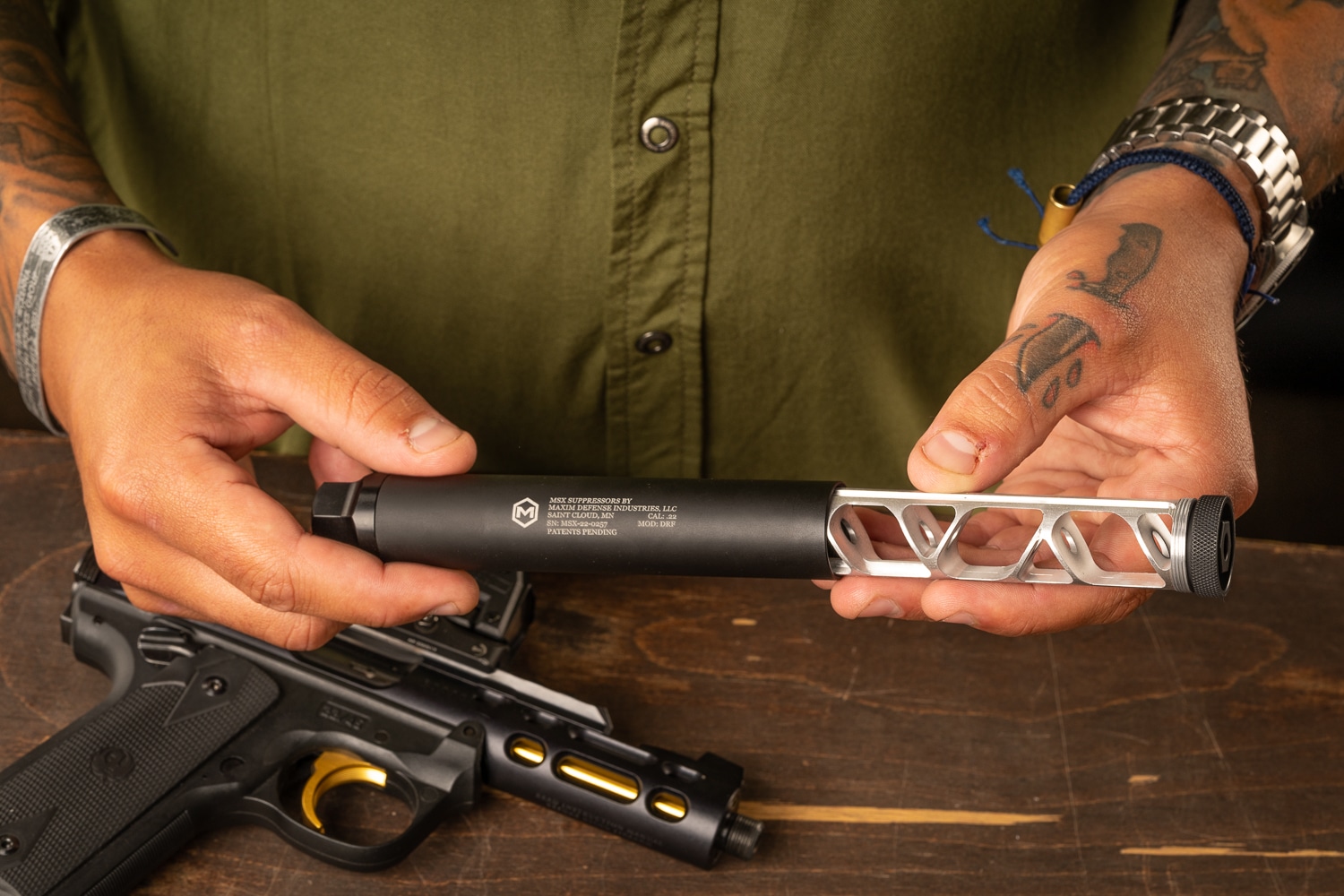 What is First Round Pop?
First round pop is defined by the volume of the first round fired minus the average of the volume of the remaining rounds fired.
In a typical case, the first round fired is much louder than the other rounds that you would fire.  There are several contributing factors to first round pop.  First and foremost:  before the first round is fired, the suppressor is full of oxygen rich atmosphere.  This oxygen encourages a secondary detonation inside the suppressor as unburnt and burning gun powder enters the suppressor.  After the first round is fired, the suppressor is immediately full of carbon dioxide instead of oxygen.
There are other causes to first round pop, but this is the most common.  It should be noted that because one of the lesser factors is pressure, different loads of the same cartridge can have an effect.  For example:  Cartridge from manufacturer A does not have a first round pop but cartridge from manufacturer B does have a first round pop.  By extension, barrel length also contributes to first round pop.  Short barreled weapon systems tend to have more first round pop than their longer barrel counterparts.
Maxim Defense 22 suppressors, for the most part, are designed to negate or at a minimum, significantly reduce first round pop.  The internal geometry of the suppressor baffles are what tend to increase or decrease first round pop.
When Maxim Defense designed its monocore, they went to great lengths to find the right combination of entrance chamber volume and baffle geometry (fluid resistance).  Its DSX and PRS line of suppressors have an integrated M baffle in the entrance chamber that significantly reduces or negates entirely all first round pop.  Its line of 22 suppressors do not have an integrated M baffle, as it turns out that they do not need it.  The baffle geometry that they had designed worked perfectly on its own.  For the .22, it all came down to a mathematically and geometrically optimized monocore.
DRF-22 Rimfire Suppressor Technical Specs
Diameter: 1.0" outer diameter
Material Composition: 7075-T6 Aluminum and 6AI-4V Titanium
Weight: 3.5 ounces
Overall Length: 5.9"
Finish: Type III MIL-SPEC hard coat anodizing and DLC