There are more blogs and articles about laser sights that we could read in a month, but not many discuss the different laser sights for Concealed Carry Weapons (CCW) or full-size 1911's. Many universal laser sights are great for a variety of pistols, but in my experience, it's been easier to use the tools that are specifically meant for the dimensions of your gun. 
Do you need a laser sight for your pistol? What kind of difference does it make? How do I use a laser sight? These questions and more will be answered to give you the most comprehensive understanding of laser sights.
Finding the best laser sights for your gun is more than just buying the most expensive and marketed laser sight on the market. There are many things that I look for in a laser sight that I'd like to share before we get into why I chose the laser sights that I chose.
Durability
In everything we buy, especially high-dollar products that we don't use as often like a laser sight attachment, durability has to matter. There are too many products that we see break after a few months of moderate to heavy use. It's not right to have to continually pay for the same product every year because the company didn't make a durable product. 
Durability in laser sight attachments has to do with the material used to make the housing, the shock-absorbancy of the laser sight, and the finishing of the metal and hard plastic surfaces. 
Power of the Laser Sight
The power of a laser is one of the most important factors to consider for a laser sight. The safety and health ramifications of misusing or not knowing the wattage of a laser can be irreparable damage. Before you buy any laser sight from a company, make sure that you know the wattage that the laser is rated for. Most companies will be listed at class 3R, which is the highest level wattage allowed by the Federal Food and Drug Administration (FDA).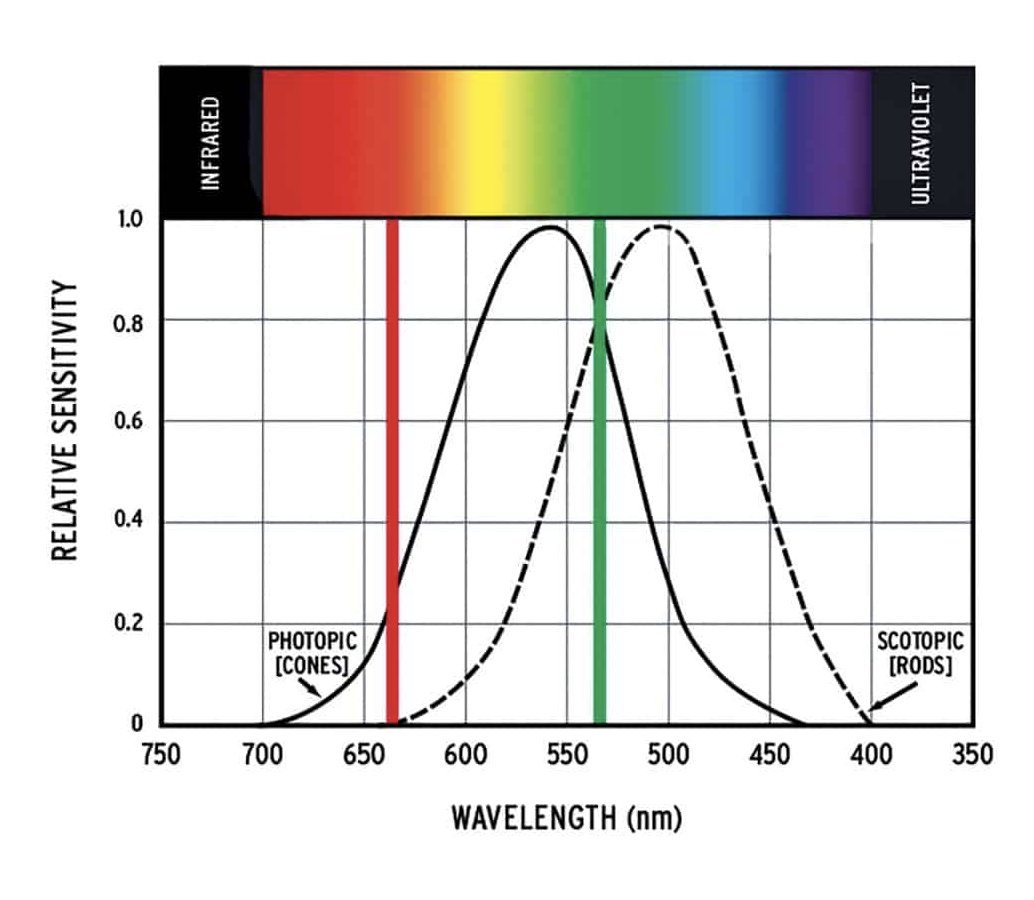 All laser sights that I listed below are classified as level 3R lasers, made for civilian use in guns, laser pointers, and construction equipment. The number you're looking for is 5 milliWatts (mW). The human eye can see wavelengths (color) from 400-700 nm without special lenses or tools (naked-eye). 
Related Article – 7 Laser Sights to Buy on Amazon in 2021
Waterproof
I know some places don't get enough precipitation to even worry about having a waterproof laser sight, but I know I do in Virginia it's a must-have feature. I'm sure I'm exaggerating, but it feels like it rains more than half the year here. If I put a laser sight on my CCW pistol and tried to carry it anywhere on the East coast, it would break within a year if it wasn't waterproof. 
You think it'd be more common for companies to have waterproof products, but it costs more money on research and development (R&D) than many companies are willing to spend. All laser sights I listed in this blog are waterproof. 
Practicality 
Practicality is just a bigger word used to describe how easy something is to use and its ability to be used in the way it's intended. For example, if you're a lefty and your pistol is made for a right-handed shooter, your pistol isn't as practical as an ambidextrous pistol. 
Anytime I look for a laser sight, flashlight, or electronic optic, I look for compatibility with all of my pistols to save money on multiple attachments. How easy is the tool to use? Is the laser sight easy to turn on/off without losing my pistol grip? Is your attachment ambidextrous?
All of these questions fall under the practicality of the attachment, which is why I always try and answer these questions before I buy a handgun laser.
Related Article – Best Laser & Light Combo for Pistols
What is the Difference Between a Red Laser Vs. Green Laser?
Understanding the difference between a green and red laser is very important to decide which color will fit you the best. There is enough of the scientific information out there on red vs. green lasers, so I'll keep this short and to the point. The color that we see in anything in life is dependent on the electromagnetic radiation from the varying wavelengths. 

As you can see from the graph above, all colors on the spectrum we can see have wavelengths between 400-700 nanometers (nm). The green lasers are always going to be easier to see in the daylight, which is when you'd mostly be using a laser on your CCW. 
A red laser is said to be better for night vision due to the photopic cones in our eye being able to distinguish red easier in total darkness. Red lasers are almost always going to be more affordable as well because the technology has been around for so many years and dozens of companies have been able to produce a solid product.
Pros
| | |
| --- | --- |
| Red Laser | Green Laser |
| 650-700 nm wavelength | 500-550nm wavelength |
| Great for night vision  | Better for daylight, low-light conditions |
| More affordable | Easier for the human eye to see (except at night) |
| Easier to find because more quantity online | Technology is newer, so the green lasers are normally more powerful and compact |
Cons
| | |
| --- | --- |
| Red Laser | Green Laser |
| Difficult to see in daylight | Always more expensive than a red laser |
|   | Harder to find than a red laser |
|   | Not as visible as a red laser at night conditions |
|   |   |
Are There Safety Concerns With Class 3R Lasers?
As much as I'd like to say that laser sights are not dangerous, they can be very detrimental if used inappropriately. Class 3R lasers are right at that threshold where it's safe to see for less than 1/4 second at close distances. 
There is actually a standard for measuring how close you can be with a laser sight to determine what is a safe distance what isn't. Its called the Nominal Ocular Hazard Distance (NOHD).
The NOHD provides a rough estimate for Class 3R laser beams that are tight and focused and beams that are wider with a less-tight beam. You can actually calculate the NOHD of your specific laser with the Laserworld.com calculator. 
The picture below is the recommended distance you can safely stand from the laser beam and not have serious retinal damage. For reference, the distance for a tight beam, such as those used in most of the laser sights, is about 104 ft from the laser. It's safe to say that since you most likely won't be shooting past 25 meters with a handgun, don't ever point this laser at someone's face unless you intend to pull the trigger.
For laser beams with a wider projection, the distance from the laser is not as far as a tighter Class 3R laser beam. You can see in the picture below that the NOHD is much closer (52 feet) than the tighter beam safe distance. This is because the laser isn't as concentrated and therefore doesn't have the same impact on your eyes.
LL-803G Laserguard Pro
LL-803G Laserguard Pro from Crimson Trace is made for compact Glock models, such as the Glock 42, Glock 43, Glock 43X, and the Glock 48. There are more reasons to like the Crimson Trace Laserguard than I can list, but I'll provide my favorite features and reasons why you should buy this Glock accessory. 
We can all have honest discussions about the best CCWs, but I don't know anyone who doesn't trust and swear by a Glock 9mm CCW. One of my only knocks on the compact Glock models is almost all of the attachments are just too big for the smaller frame Glocks. The Laserguard Pro from Crimson Trace is incredibly easy to install and keeps the low profile of the CCW.
Specs
Laser Color
Red ($210.00) or Green ($350.00)
Laser Class
3R, 515-532nm
Length
6"
Width
4"
Height
2"
Weight
1.3 oz. (0.08 lbs)
Purpose
Self-Defense, Competition
Fits

Glock 42
Glock 43
Glock 43X
Glock 48

Battery Life
2 hours constant light and laser combo t highest setting
Light Brightness
150 Lumens
Battery Type

CR2 battery (included)

Laser Distance
50 feet effective point target range
Night Vision
No
Windage
Adjustable with an included tool
Elevation
Adjustable with an included tool
Activation
The front button activates automatically when the pistol is held in an active shooting position
Modes of Operation

Laser + Light
Laser Only
Light Only
Laser + Light Strobe

MSRP
$350.00