The Sig Sauer P365 was released at SHOT Show 2018 and made a huge splash in the Concealed Carry Handgun market. Loaded with features, the Sig P365 offers a front rail, a 12 round magazine (other options are now available), night sights, and a compact size similar to the Glock 43. We should note that the Glock 43 comes with a 6 round magazine and does not offer night sights or a front rail. Right off the bat, the Sig P365 is looking pretty good. But let's take a detailed review of the Sig P365 and see if it's really the best bang for your buck (pun was intended #dadjokesfordays).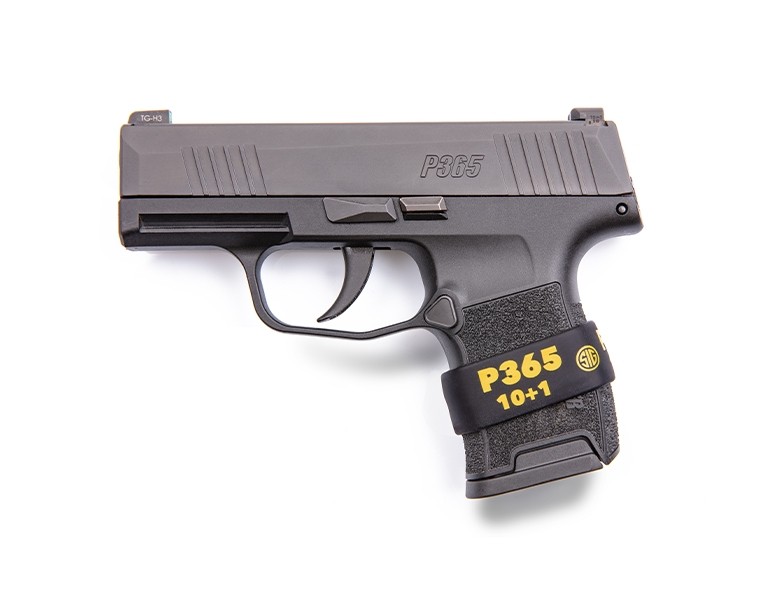 Specs
Length- 5.80″
Width – 1″
Height – 4.30″ with factory 10 round magazine
Weight – 17.8oz (empty)
Barrel Length – 3.10″
Frame – Stainless Steel
Trigger – Striker-Fired
Trigger pull weight – 6lb
Capacity – stock 10 round or 12 round option
Price – $599.99 MSRP
Features
Slide serrations on front and back
Sig Sauer Night Sights
10 or 12 round magazines
Modified double stack magazine
Smooth 6lb trigger pull
Ambidextrous magazine release option
Lifetime Warranty
The Sig P365 Explained
The Sig P365 offers a large number of features that make it ideal for concealed carry. First and foremost the Sig P365's size to round capacity ratio is unmatched. At the moment there is no other model on the market that offers the round capacity of the P365 with a comparable size. This alone makes it an excellent choice for concealed carry but the features don't stop there. Sig's attention to detail on the P365 really makes it tough to beat.
Things like stock night sights, an excellent trigger, a thin profile, and an extremely durable design make the Sig hard to beat. One thing that really impressed us was how well the Sig fits in larger hands. If you've ever tried to use a traditional concealed carry pistol you'll know you often feel like a circus bear riding a bike… it's just too small and doesn't really sit properly. But the Sig P365 somehow feels like you're using a regular sized pistol rather than one that you can throw in your pocket and forget about.
The Sig P365's trigger-pull combined with its ergonomics makes it an extremely accurate pistol. Anyone who's used the pistol will tell you it's just easy to shoot, plain and simple.
Sig P365 vs Glock 43
If you're looking to compare the Sig P365 to similar builds on the market then your closest competitor is most likely the Glock 43. Most Glock enthusiasts prefer the Glock 43 for concealed carry due to its compact size coupled with a traditional Glock build and feel.
However, when compared side by side the Sig P365 sizes almost identical to the Glock 43 but comes with a much higher round capacity, stock night sights, an ambidextrous magazine release, and a shorter profile. This makes the Sig P365 a very strong contender for anyone looking to conceal carry. In fact other than the price, the Glock 43 stock doesn't hold too many wins over the Sig P365.
| | | |
| --- | --- | --- |
| | Sig P365 | Glock 43 |
| Weight | 17.8oz | 17.95oz |
| Width | 1″ | 1.02″ |
| Height | 4.30″ | 4.25″ |
| Length | 5.80″ | 6.26″ |
| Barrel Length | 3.10″ | 3.39″ |
| Round Capacity | 10+1 stock | 6+1 stock |
| Stock Sights | SIGLITE night sights | Stock iron |
| Trigger Pull Weight | +-6lbs | +-8lbs |
| Price | $599.99 + |  $449.99+ |
Sig P365 vs Glock 43X
While the Glock 43 falls short in many categories against the Sig P365, the Glock 43 does come a little closer. By increasing the height from 4.25″ to 5.04″ Glock managed to up the 43X's capacity to 10 rounds matching the Sig P365. While this does offer a much better round capacity it adds over 3/4″ to the height making the pistol a little more difficult to conceal.
| | | |
| --- | --- | --- |
| | Sig P365 | Glock 43X |
| Weight | 17.8oz | 18.7oz |
| Width | 1″ | 1.10″ |
| Height | 4.30″ | 5.04″ |
| Length | 5.80″ | 6.5″ |
| Barrel Length | 3.10″ | 3.41″ |
| Round Capacity | 10+1 stock | 10+1 |
| Stock Sights | SIGLITE night sights | Stock Iron |
| Trigger Pull Weight | +- 6lbs | +- 8lbs |
| Price | $599.99 |  $449.99+ |
Sig P365 Problems
After Sig's initial release of the P365, they issued a recall in order to fix a number of user-reported issues. The primary issue reported is primer drag, meaning the face of the firing pin dragging across the primer when the barrel unlocks during the firing sequence. This brings up a concern of possible damaged firing pin tips and subsequent light strikes. There were other reported issues such as failure to extract and the trigger return spring breaking. However, a large amount of these issues are rumor mill and Sig ensures their customers that the issues were fixed. If you are looking to get a Sig P365, consider purchasing a new one to ensure you don't run into any possible issues.
P365 Magazine
The Sig P365 comes with a stock 10 round magazine and an optional 12 round magazine which increases the overall height of the pistol itself. The 12 round magazine is a great option for anyone looking to carry a couple more rounds or individuals with large hands that experience issues with properly gripping concealed carry pistols. In addition, in May 2019, Sig announced the release of a 15 round magazine that adds a full inch to the gun's height.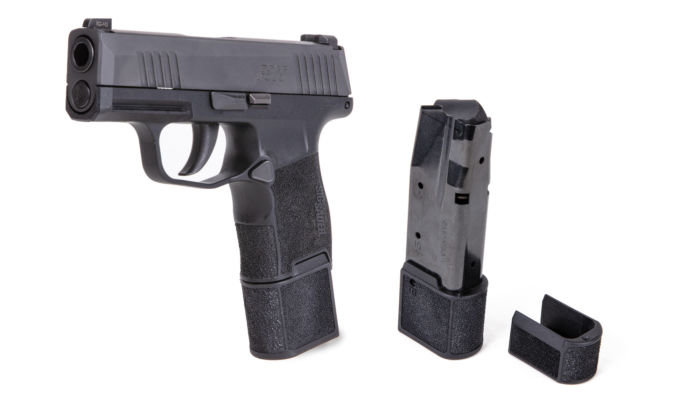 | | | |
| --- | --- | --- |
| Magazine | Pistol Height (with Magazine | Capacity |
| Flush Fit Magazine (Ships with pistol) | 4.3 inches | 10+1 |
| 10-Round Extended (Ships with pistol) | 4.5 inches | 10+1 |
| 12-Round Extended | 4.7 inches | 12+1 |
| 15-Round | 5.5 inches | 15+1 |
P365 Sights
The Sig P365 comes with stock x-ray day/night sights that make for a quick sight picture in both day and low light situations. It's important to note that most companies do not include any sort of glow sights with their stock pistol configurations and a good set of night sights can run upwards of $100. Given the fact that the P365 costs around the same as other CCW pistols, this is a really nice value-added feature that really makes the pistol hard to beat when it comes to the best bang for your buck.
The Best Concealed Carry Shirt
The sights themselves come with a green dot on the front sight and white dots on the back sights. This helps you quickly and accurately establish a solid sight picture. (We should note that you should ensure you know what sights your Sig P365 comes with prior to purchase since there are several available variations.)
Sig P365 Trigger
One of the Sig P365's best features is its trigger pull. Sig really knocked it out of the park when it came to getting a smooth trigger pull that is clean, crisp, and light. The Sig P365's trigger pull is 6lbs, 2lbs lighter than most of its competitor's trigger weights. We think 6lb is a happy medium of being light enough to offer a clean pull but heavy enough to reduce the risk of negligent discharges. In addition to a great trigger weight, the P365's trigger pull is unbelievably smooth and crisp. Sig certainly put a lot of thought into producing an excellent trigger pull that matches some of the upgraded options on the market.
Where to Buy the Sig P365
You can buy the Sig P365 pretty much anywhere you can buy handguns. One place you could look to buy from fellow gun owners is GunBrokers.com. We wrote an entire article on how the website works, which you can read about in the link below.
Gunbroker | Know Before you Buy
Of course, you can also buy a P365 through Sig Sauer if you're looking to buy new.
Available Accessories and Upgrades
There are plenty of accessories you can purchase for your Sig P365. Holsters can be found on SigSauer's website, of course. You can even find laser sights, night sights, fiber optics, different magazine styles, triggers, and carrying cases.
P365 Ammo
You can buy 9mm ammo for you Sig P365 basically anywhere ammo is sold. You can also buy bulk online and save some money. However, depending on where you live, you might be better off walking into a local store. Of course, there's always the option of getting into reloading—but it's an expensive hobby to get started in.
If reloading isn't your cup of tea, Cabela's, Luckygunner,  Ableammo, and Cheaper Than Dirt might be some places worth comparing prices. Keep in mind, once you add in taxes and shipping you might find the prices turn out to be about the same as going to your local shop. Also, the Sig P365 is rated for +P ammunition, so that's another available option when you're out there searching for ammo.