RE Factor Tactical and Tactical Distributors are proud to announce the release of the Jedburgh Cover Shirt 2.0 We released a Beta-version of this shirt in mid-2017 and were looking to make the perfect concealed carry specific shirt. We released the beta version for a fraction of the cost and asked to get as much feedback as possible from the users in order to make the best version of the shirt possible the second time around. The beta version of the shirt saw extensive use both at home and abroad by Special Forces personnel so that we could ensure it will stand up to the rigors of combat and daily life alike.
You spoke, and we listened! We have put together the newest version of the Jedburgh Cover Shirt with several changes and upgrades from the previous shirt based on your feedback! Updates to the V2.0  include a more athletic overall fit, stretch fabric for enhanced maneuverability, quick-release pearl button snaps, Passport sized breast pocket w/ button, three hidden interior pockets, and a reinforced lining for easier draws and reduced weapon printing.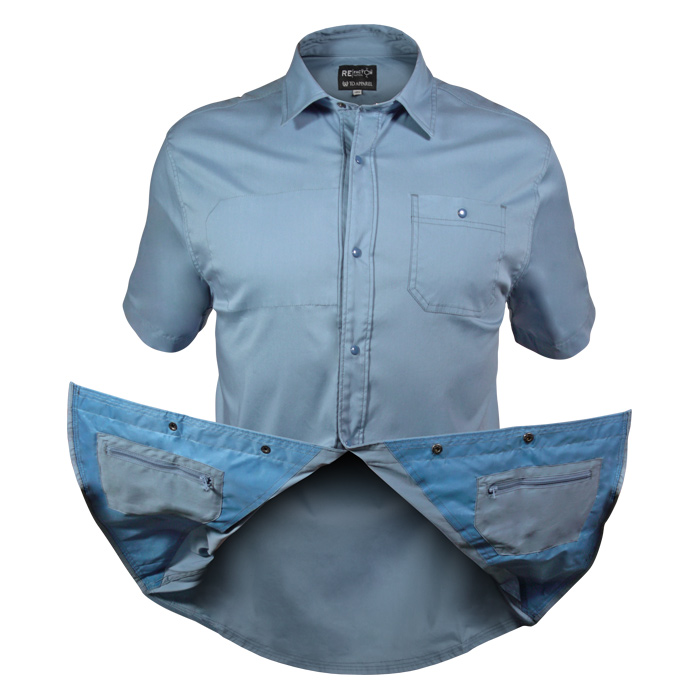 The stretch fabric allows for rapid weapon-draws and unrestricted maneuverability whether you're slick,  wearing concealed body armor, or a traditional plate carrier over the shirt. The Jedburgh Cover Shirt V2.0 is designed to have a non-tactical look while still providing an athletic fit and all the features needed for concealed carry in combat environments.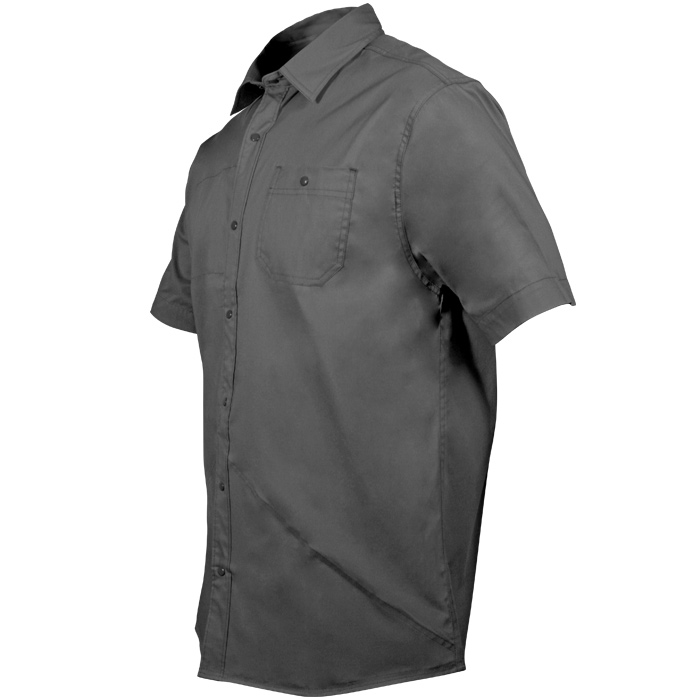 Built with a lightweight air-wicking material, it will keep you cool and dry no matter where the mission takes you. The quick-snap pearl buttons allow them to be quickly disengaged and moved out of the way for a rapid draw. The reinforced lining adds a little more weight and thickness to the lower portion of the shirt to drastically reduce weapon printing while staying in place when moved out of the way during the draw.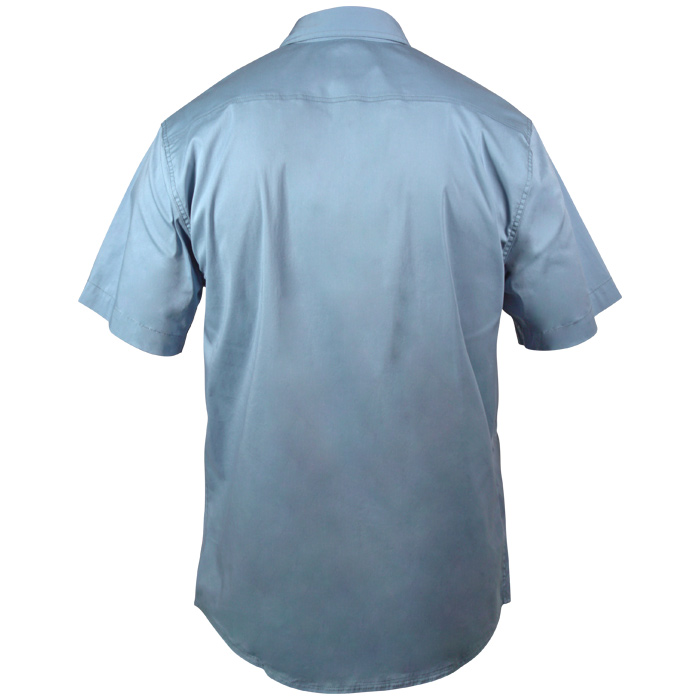 We believe that the Jedburgh Cover Shirt V2.0 will be your go-to concealed carry shirt for years to come because it was designed based on the feedback we received from you.
Available at tacticalequipment.com and tacticaldistributers.com
What makes a good concealed carry shirt?
When designing the Jedburgh Cover Shirt V2.0 we considered what makes a good concealed carry shirt. What separates the average shirt from an excellent concealed carry shirt.  Well, the first thing is obviously concealing your firearm well (kind of a no-brainer). This is why we used a whisker material for the bottom pockets to create a thicker outline and reduce printing ( printing is the visibility of the outline of your firearm under your t-shirt. If the material is too thin it makes it extremely obvious that you are carrying a pistol under your shirt. By thickening the material in the areas that contact the pistol, it eliminates the outline of the pistol, therefore making weapon printing a non-issue.
The next issue we addressed was combining a non-tactical look with all the capabilities one might need in a shooter or combat situation. The shirt needs to be able to stand up to the riggers of combat while still looking unassuming and able to wear in multiple environments. This is why we designed the Jedburgh Cover Shirt V2.0 with a classy yet durable appeal. By using better materials and thickening the shirt where necessary, we were able to make an athletic fitting shirt that is still able to conceal well without printing.
What is the best concealed carry shirt?
The best concealed carry shirts are all-in-one style shirts that are designed specifically for carrying a concealed pistol. Sure there are other good options out there that will do the job, but having a shirt specifically designed for the job is a game-changer. Eliminating weapon print, being able to stretch and move with the body, and allowing a rapid draw are all features that are an absolute must for concealed carry shirts. Breakaway buttons can speed up the drawing process dramatically with some practice. Regular cotton button-up shirts typically are not designed for shooting or combat style movements, so choosing one can hinder and limit your range of motion. Wicking moisture is also important, if you are running and gunning, chances are you will be working up a sweat. Cotton shirts will simply not do the job, especially if you are wearing body armor.
Best T-shirt for Concealed Carry
Some people prefer to wear an undershirt when concealed carrying. Since you will be layering up when wearing an undershirt, ensure that the shirt wicks moisture and keeps you cool. It is also ideal if the shirt fits snug so that it will not bunch-up and get in the way of your draw, or get caught up in the holster when re-holstering your pistol after use. Some good examples of ideal undershirts are the Under Armour or Nike Dry-Fit style t-shirts.
Concealed Carry  Clothing Tips
When deciding what to wear when carrying a concealed pistol, choose items that will conceal the weapon efficiently during movement and position changes such as sitting, standing, getting out of your car, etc… A simple mirror-check is not sufficient. Try running in place, raising your arms, removing your backpack, and kneeling down/ standing up to see if your clothing rises and reveals your pistol. You want to feel confident that your weapon will be concealed during all activities so that you don't have to worry about it later or have to change your movement because it will expose your weapon.  You can never go wrong with a nice athletic fitting shirt that conceals well and allows maximal range of motion.
Picking a solid belt that is rigid enough to facilitate a solid draw is a must, but there is more to consider when choosing a belt. A belt with a streamlined belt buckle is something to consider. A good example of a solid concealed carry belt that we have used is the "El Burro" Gun Belt from Magpul. Even if your weapon is not printing, if your belt buckle is large and not streamline it will print against your shirt if you appendix carry and look very unnatural. This can give away the fact that you're carrying a pistol even if your pistol is technically not printing. If you do not appendix carry or if you conceal a sub-compact pistol this isn't as much of an issue, but if you appendix carry a Glock 19 for example, a large belt buckle or belt with a lot of slack can print and become a problem.
How Does this differ from the 5.11 Concealed Carry Shirt?
The Jedburgh Cover Shirt V2.0 differs from 5.11 shirts because 5.11 does not put an emphasis on eliminating weapon printing when carrying a concealed pistol. There is no special material added to eliminate weapon printing, instead, they rely on the bagginess of the shirt for hiding your weapon. This sacrifices an athletic fit and increases the chances of the shirt getting in the way during the draw.
What makes a good shooting shirt?
A good shooting shirt needs to be durable, breathable, stretch well, have an athletic fit, and be versatile. We focused on all of these key points in the design process. Baggy shirts are a no-go because they can get in the way of your draw and don't fit well under a kit or plate carrier. An athletic fit is ideal, right between tight and loose to ensure that there is an unchallenged free range of motion. The stretc , material allows for an extremely ideal athletic fit and doesn't hinder range of motion when presenting the pistol, taking cover behind a low-wall, or chasing a suspect through an alley-way.
When shooting, chances are you will be running, jumping, kneeling, and moving in ways that you would not in other situations. This is important to focus on before choosing a shooting shirt. Ensure your shirt has excellent durability and stretches to allow you to maneuver unhindered. If you wear a plate carrier or chest rig, ensure that it is comfortable and works well with your kit.
Best CCW Shirt
The shirt needs to have an unassuming look. If your shirt screams " I have a concealed pistol", then what's the point? I nice classy looking shirt that can be worn in multiple situations is always a good option. Versatility is key because you never know what environment you might be in, so choosing a neutral classy, yet casual shirt is always the best option.
How do I get my CCW Permit? 
Thinking about getting your CCW permit? In most states, you will have to complete a CCW course and be certified to carry. There are tons of companies that offer these classes and they are relatively inexpensive. If you are in our neck of the woods, Bristlecone: Shooting Training and Retail Center offers an excellent variety of firearm classes and can certify you in CCW. Once you have completed the prescribed course you have to apply for a CCW permit with your local Sheriff's office which usually takes a month or longer depending on location. Once you have received your permit you are good-to-go.
Please note that rules and regulations can change from county to county, so you should contact your county's Sheriff's department with any questions or reference their website if you have any uncertainties about requirements or regulations.
Available at tacticalequipment.com and tacticaldistributers.com