If you're into firearms, chances are you've heard of GunBroker and given the fact that they have over 2.5 million users, chances are you've also used them before.
While GunBroker doesn't actually sell any firearms they are the world's largest gun broker and help broker hundreds of thousands of purchases each year.
With that being said it's important to know a few things before you decide to use their platform. Like any internet-based business, there is the propensity for fraud from the users and while Gun Broker does a great job of monitoring their customer base, some turds still slip through the cracks.
So before you decide to use GunBroker take a sec and read our comprehensive user guide to ensure your success!
What is GunBroker?
GunBroker is the largest online gun broker in the world. In short, it's the eBay of weapons. And while it's a great place to buy and sell guns, it's not GunBroker selling, they're just a platform on which the bidding occurs.
GunBroker by the Numbers
Some pretty incredible facts about GunBroker that may surprise you
3.5 million – number of registered users
20 – years in business
8,522 – GunBroker.com's international website rank. This means there are only 8,522 websites on the internet that get more traffic. To put this into perspective there are 1.94 Billion websites on the internet in 2019. In nerd speak, this is one of the most popular websites on the internet.
750,000 – daily active gun listings
6 million – number of people that visit the website each month
4 billion – total gross sales transactions conducted on the website since 1999
How It Works
GunBroker.com is just what it sounds like, a broker. Basically, you take people who want to sell firearms and people that want to buy firearms and you link them up… that's it. GunBroker doesn't actually sell any firearms, they just broker the sale between two people and take a cut of the sale, much like eBay or Craigslist.
When a seller posts an item users are able to bid on that item. Again, like eBay, the seller is allowed to post the item for any price they like to attract buyers.
In addition, there is the option for a reserve meaning the seller requires a minimum amount to move forward with the bid. The listing will go on for a certain amount of time and during that time buyers will bid on the firearm. Buyers are able to outbid each other right up until the event closes.
Some buyers simply put a buy-now option on a firearm. In the image above you will see there is a starting bid amount of $1,279.98 as well as a "Buy Now" price of $1,279.98. This basically means the gun is for sale for $1,279.98.  Some guns will have a much lower starting bid and buyers will have the option to get the gun at a good discounted price.
This is where you as the buyer can really get some good deals! If you find a gun you're after for a low starting bid and nobody bids on it, then you will win the gun.
One of the coolest parts of GunBroker is you have the ability to find just about any firearm you're after. For example, below is a screenshot of a search we did for a Sig Sauer P365. There were over 1,063 items pertaining to that search! That means chances you're going to find something that will work for you.
Getting the gun
Once you've purchased the firearm you will need to have it shipped to you from the seller, this will require an FFL. If you do not have an FFL you can have the seller ship the firearm to your nearest FFL in your state. There, the FFL will have you fill out Form 4473 and you will receive a background check. Once everything comes back clear you will be able to take your new firearm home!
Selling on GunBroker
If you're looking to sell your firearm GunBroker is a great way to go but you also need to be careful. If you don't do your homework on how the system works you could easily lose some money by not marketing your gun properly or by not using the best pricing.
If you want to use GunBroker to sell your firearm, we'd suggest first going on and purchasing one to start (it's a great excuse to buy another gun). By going through the process of purchasing a firearm you will have a much better idea of how it works.
Fees and Pricing
If you're to sell on GunBroker it's important that you look at the fees they take for each sale. While the fees are fair they aren't negligible and will cut into your profits a bit.
Membership Fees
There are no basic membership fees to sign up for GunBroker.
Buying Fees
Typically there are no buying fees associated with GunBroker unless their system flags your profile as suspicious. In the event your profile is flagged you will be charged $2 for a detailed security check.
Selling Fees
To place an ad on Gunbroker is free. However, if your product sells you will be charged a Final Value Fee. Now, GunBroker makes this statement about their Final Value Fee:
A Final Value Fee is assessed if your item is sold. The Final Value Fee is assessed when the listing closes and is based on the price that the item is sold for. If the item is not sold there is no Final Value Fee. You can use our Final Value Fee Calculator to find out the final value fee associated with the selling price of an item.
Here is how you calculate your Final Value Fee:
Take the first $250 of your final value and multiply it by 6%. If your item sold for $250 or less this is your Final Value Fee.
If your final value was more than $250, take the additional amount over $250 and multiply it by 3.5%.
Add up these amounts and that is your Final Value Fee.
If that sounds confusing don't worry, we are here to help. Let's look at two examples.
Example 1  – You sell a gun for $240
Because the gun is less than $250 you would multiply it by .06 (6%) which is $14.40. $14.40 would be your Final Value Fee.
Example 2 – You sell a gun for $700
First, take $250 and multiply it by .06, which is $15.
Next, take the remaining amount which is $450, and multiply it by .035 (3.5%) which is $15.75,
Now add together the two amounts, $15.75 + $15 = $30.75 and that is your Final Value Fee.
Premium Prices
There are some additional pricing options if you'd like your post to really pop. The purpose of this is just to get
| | |
| --- | --- |
| Boldface Title | $1.00 |
| Colored Title | $1.00 |
| Featured Listing | $2.95 |
| Highlight | $2.00 |
| Scheduled Listing | $0.10 |
| Showcase Listing | $4.95 |
| On-site Sponsored Listing | $4.00 |
| Off-site Sponsored Listing | $7.00 |
| Subtitle | $3.50 |
| View Counter | $0.50 |
GunBroker Gold Membership Program
The Gold Program is a $50/year program that basically puts you into an exclusive buying program. Based on what we read it's actually not a bad way to go. One of the best options we can see is a dedicated live chat support option. The only reason we mention this is that one of the chief complaints about using GunBroker is that any issues you may experience often go unanswered.
Having a dedicated live chat would certainly help alleviate some of those problems. In addition, the Gold program offers its members special pricing on guns as well as a gift bag and some other perks. If you use the platform regularly this wouldn't be a bad way to go for sure.
Can I Pay Using Crypto Currency?
The largest online marketplace serving the firearms and shooting sports industries, and a leading vertically integrated producer of high-performance ammunition and components, today announced an agreement with Digital Cash Processing to provide digital payment solutions for transactions on GunBroker.com
Digital Cash Processing ("DCP"), a unit of Prior Lake, Minnesota-based Innovative Computer Professionals Inc., is a leading fintech corporation providing single-source solutions for global issuing and acquiring including ATM, POS, e-commerce, and crypto currency processing.
Fred Wagenhals, AMMO Chairman & CEO, commented on this exciting business partnership, noting that:
"AMMO is taking a significant step forward in our plans to further leverage the already impressive GunBroker.com Marketplace platform with our partnership with DCP. DCP offers a multitude of financial services solutions to create faster, more secure payments and processing systems. GunBroker.com already provides some of the best-in-class transactional technology, and the addition of premier digital processing capabilities to the Marketplace not only adds a new capability, but levels up the entire platform to meet the demands of an increasingly digital economy. We look forward to the synergies we can create through this partnership."
Reported Issues
We've spent the past few paragraphs going over how GunBroker is great. Now let's take a look at some of the issues users report regarding GunBroker.
Customer Service
The Better Business Bureau gives GunBroker a B rating and the customer ratings on their website are 1.5 stars out of 5. Not great. Although keep in mind that people usually don't go to BBB to leave positive reviews about a company. One of the main things we saw in those reviews are complaints about getting ahold of GunBroker in the event there is an issue with a purchase.
On resellerratings.com we found a lot of complaints regarding lazy sellers. This is something important to keep in mind when making a purchase, you are relying on the seller to actually do their job! Once you make a purchase the seller must go through with their end of the bargain. Unfortunately, this is kind of out of the hands of GunBroker since they can't exactly for the seller to do what they say they will do… They can only refund your money and that can sometimes take a while to do.
So if you make a sale and the seller sits on it, you could be out the cost of the gun until it's all sorted out. That being said it's important to note that GunBroker does thousands of transactions every single day. On the BBB website, there were only 45 complaints and on the ResellerRating.com website, there were about the same amount as well. So while issues do occur, it's not very often.
Counterfeit Items
Again, when purchasing off GunBroker you need to keep in mind that you're dealing with the general public and therefore subject to running into some scam artists. One of the biggest issues on GunBroker is ordering an item and receiving a counterfeit in its place. This especially pertains to gun accessories such as optics.
Luckily, GunBroker offers a way for buyers to select sellers who have a good sales history. Each seller receives a grade (such as A+) which is based on their past performance and feedback from customers.
Chances are when you buy from a seller with good sales history they are going to follow through on their promise. If you go to purchase an item from someone with no sales history and the deal seems too good to be true, chances are it's a scam.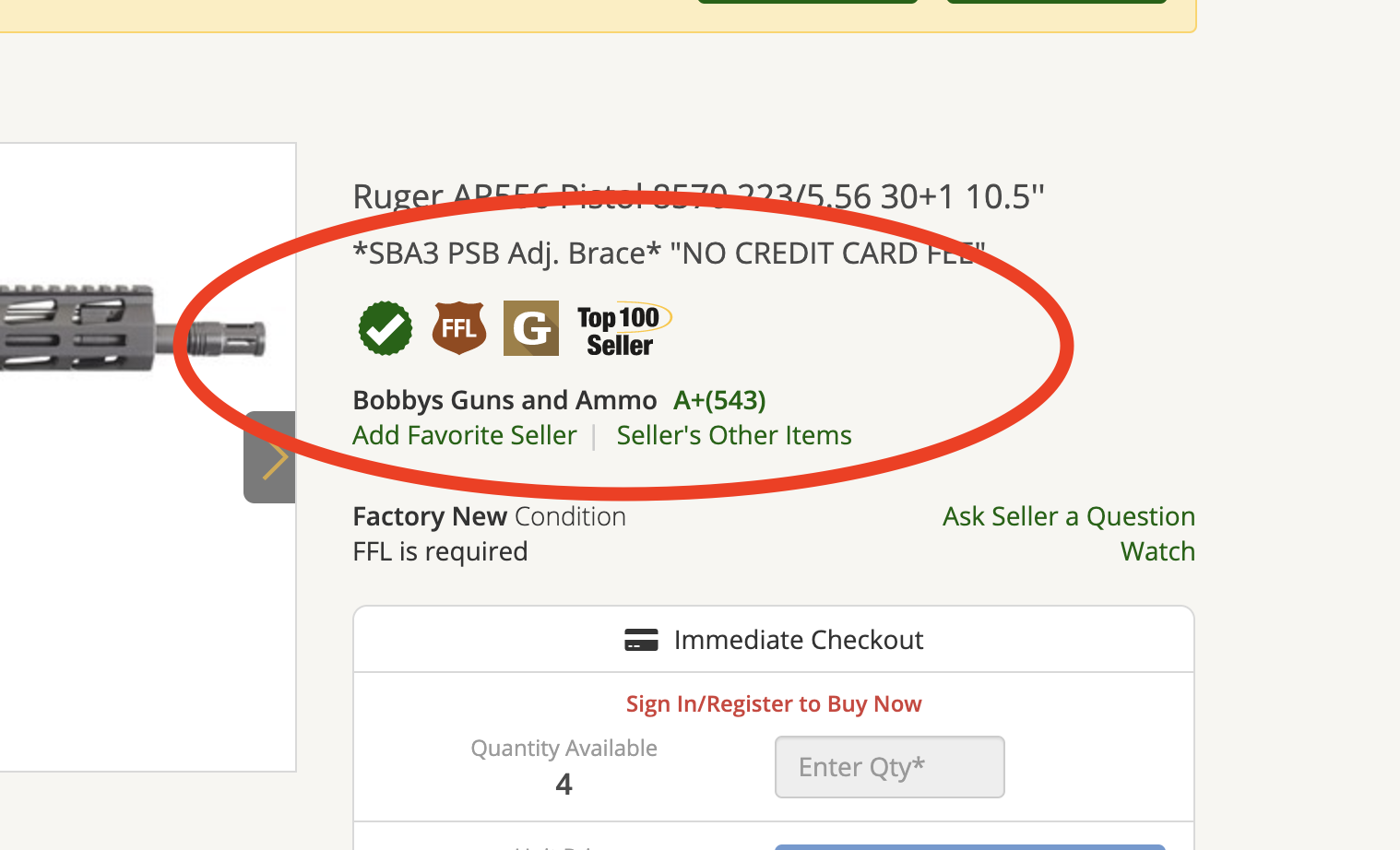 GunBroker App
If you're looking for GunBroker's mobile app you will be disappointed to hear that it's been discontinued due to Apple's gun policies. In March of 2019 they released this statement:
Due to policy changes within their companies, Apple and Google have chosen to not support our apps at this time.   Unfortunately, that also means we cannot provide needed updates and fixes or new access to the app. We hope you will continue to use our site via your mobile browser, which we are making more responsive to phone users
While the apps are gone they responded by optimizing their website's mobile experience and we have to see it's actually pretty well done. One of the nice things about the company is they are a huge entity and continually push to ensure their web users get the best experience possible.
Tools for Sellers
If you're looking to sell on GunBrokers.com instead of just buying, there are plenty of opportunities to do so. GunBrokers.com has put together an array of resources for those interested in selling
New Sellers
If you're a new seller, you probably have more than a few questions. At GunBrokers they provide you with several resources to get you started. There's a how-to sell guide and a simple registration process to buy and sell on the website.
Listing Items
If you're looking to do a basic listing, it won't cost you anything until the item listed sells. To get you started there's a pricing report you can take advantage of, and for $15, you can get your item appraised. You'll even find listing templates to help make life a little easier.
During the Auction
If you've put your item up for sale, you'll obviously be keeping a close eye on bids. To do this you can go under "My Auction" to view both current and past listings. You can also edit the price of your listing, add a description, manage pictures, choose to end your auction early and view any feedback for you, other sellers, and bidders. 
After the Auction
Once your auction is complete because someone purchased your item, the next step is to get the buyer's information. You'll also be required to verify an FFL. If your item did not sell you have the option of relisting the item if it did not sell.
Manage the Auction
Through the "Manage the Auction" tab, you can check on your account's status to verify fees and look at statements. You can also edit your account information, add or replace bank account information, make payments, add links to your listings, block bidders who are causing you issues, and subscribe or unsubscribe from newsletters.
Tools
Tools you can take advantage of on GunBroker.com is the RESTful API, Bulk Lister, Dealer Store, and Image Resizer
Services
Services provided include FreedomCoin, Escrow Service, Fast & Automated Shipping Refund, and FFLGuard. 
Payment Gateways
GunBroker.com offers a variety of payment gateways including: BitRail, Fast Charge Payment Gateway, BankCard USA, and Payment Alliance International
E-Commerce Tools for Sellers
E-Commerce tools available to sellers include Ecomdash, CrossxPostit, Listagun, Rapid Gun Systems, Celerant Technologies, Cervelle, and Pawnmaster.
The Best Place To Buy a Gun Online
there are dozens of reputable stores where you can find some of the best guns in the world for fair prices. I've personally bought many guns from GunBroker, but also understand there is some inherent risk in buying guns from individuals.
3 Best Online Gun Stores
Guns.com is, in our opinion, the best online gun store and you never have to worry about if they're going to take advantage of you or not.

Additionally, Kentucky Gun Company offers some really good deals on firearms and ammunition.

Finally, we recommend taking a look at ARMSLIST.

If your local gun store doesn't have the inventory or you want to try and save some of your hard-earned cash, buying a gun online is the way to go.
Related Articles
---
Stay Tuned to the RE Factor Tactical Blog and be part of this all VETERAN-run website. Be sure to follow us on Facebook, Instagram, and LinkedIn for exclusive content and deals.
Check out our DAILY DEALS page for industry deals and discounts.
Visit our Amazon Influencer Page for more products we recommend: https://www.amazon.com/shop/refactortactical