Any "best of" article written should come with a caveat.  Best ever?  Best now?  Best at any price?  Today's topic is about my choice for the best hunting rifle for the common man.
Simply put, if one thousand average joes walked into a thousand gun stores with the purpose of getting hunting rifles, what will suffice for what they would hunt in North America?
Growing up, I was blessed with a Pre-'64 Winchester Model 70 in 30-06.  This gun is a legend, a beauty.  Excalibur!  This rifle killed deer like the plague was blowing through town.  But to find one now takes a little work, a little luck, and a pile of cash.
Now as my boys grow into young men, it's time to take them back north to where I was raised.  To Alaska we go for every son's 10th birthday,  chasing after wolves, deer, and the occasional moose.  What rifle should I put into their hands? What gun can I afford to buy three of, one for each boy?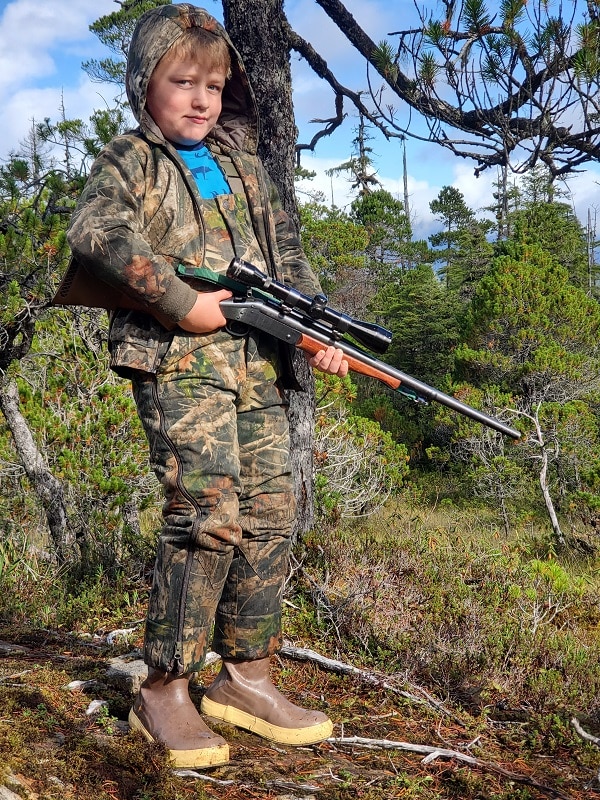 Today we're talking about the Ruger American Ranch Rifle.
Hunting Rifle Setup Summary
| | | |
| --- | --- | --- |
| Ruger American Ranch | Multiple calibers available | $539 at Guns.com |
| Maxim Defense PRS Suppressor | .308/6.5 Creedmoor | $659 at Maxim Defense |
| Leupold VX-Freedom | 3-9x | $334.99 at Guns.com |
| Magpul MS1 | one- or two-point sling | $37.95 at Brownells.com |
Best Budget Hunting Rifle | Ruger American Ranch
Launching in 2012, the Ruger American Rifle line has established itself as a quality, American-made brand with a svelte price tag.  Ruger has continued to expand the sub-models (6) and chamberings offered (18) to the point where nearly every hunting expedition imaginable is covered under the Ruger American Rifle umbrella.
The Ruger American Ranch rifles are compact, with barrels coming in at just a hair over 16", and an overall length of around 36".  Six different chamberings are offered, 5.56/.223, .300 Blackout, 7.62×39, 6.5 Grendel, 350 Legend, and 450 Bushmaster.