If you're shopping for the best rifle scope for deer hunting, you're both blessed and cursed with an abundance of options. 
The easiest way to narrow your search is to figure out the conditions you're likely to be hunting in.  Remember, one man's choice for best long range hunting scope isn't going to be the same as another man's choice for best budget hunting scope. 
Decide what features you need, and which you don't.  Nobody wants to overpay for something if you won't use it to its fullest potential. 
Each of the below entries was weighed by performance metrics found in the Buying Considerations section below.
Summary Of The Best Rifle Scopes For Deer Hunting
Buying Considerations
Eye relief
Eye relief is, in short, how far your eye needs to be from the scope to get a full view through the glass.  A more forgiving eye relief is great on a higher caliber rifle, reducing the odds you'll be scope bit.
Durability
Unless you own some heavy-duty testing machinery, durability is usually a crowd-sourced metric. 
You'll likely be gathering opinions from professional reviewers, casual consumer reviews, and anecdotal experience from those you know, and adding all that to your own brand experiences.
Glass coatings/Light transmission
"Good glass" is a combination of both high-quality physical glass, as well as coatings that provide good light transmission and color pass-through.   
Light transmission becomes a critical consideration if you find yourself hunting near the break of dawn or late into the evening.  You want to get as close to 100% as possible. 
While a larger objective (front) lens helps, one of the biggest factors to brightness is magnification.  The more you're using, the less light can get through. 

Magnification
Magnification is a very personal preference, and in large part dependent on the environment you will be hunting in. 
A 3×9 power variable scope is the traditional (and versatile) choice for American deer hunters.  These days, 1-6x, 1-8x and others provide a wider variety of options in the low magnification range.   
Those hunting at extended ranges in the desert, mountainous, or high plains areas will likely seek something closer to a 3-18x or 4-24x optic.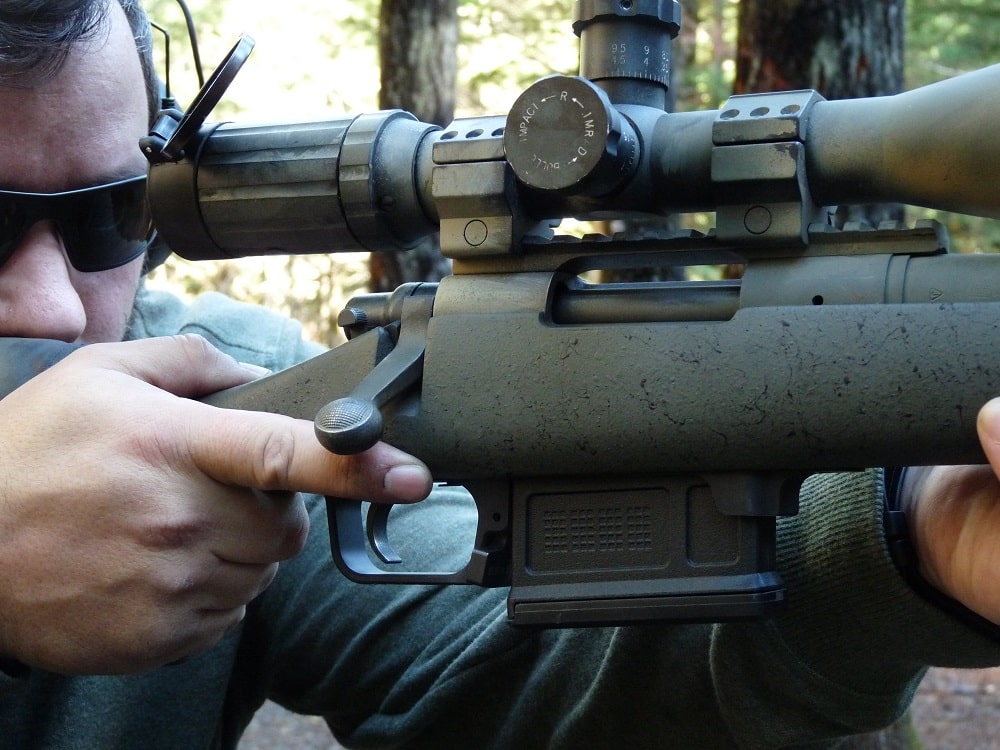 Fixed versus variable
Fixed magnification is also a very viable option, providing you with the exact same optical environment every time you look through the scope.  This is important in areas such as Southeast Alaska, where you're going from dense forests to wide-open muskeg repeatedly. 
If you forget to adjust your magnification, you may find that Sitka Blacktail bounding away as you try to belatedly switch from 8x to 1x.
Contrary to common intuition, a scope with a massive high-end magnification isn't necessarily better as a long-range hunting scope, as it is usually considerably heavier and that extra magnification can even induce a few shooting errors you won't find at a more moderate level of zoom. 
Sometimes though, that extra magnification is nice to check out the rack on the buck or tines on the bull to make sure it's legal. 
FFP vs SFP
You'll see these two acronyms thrown around a lot if you're shopping for a new scope, and they stand for First Focal Plane and Second Focal Plane.  This is referencing which focal plane in the scope the reticle resides in. 
The main difference?  When you zoom in on an SFP optic, the reticle stays the same size.  In an FFP optic, the reticle is thin at low magnification and grows larger as you zoom in. 
If you're using a reticle that you're expecting to give you accurate bullet drop information, that information stays the same in an FFP scope while an SFP scope will be calibrated to give accurate information at one specific magnification level.
Linear Reticle vs BDC
Which do you prefer, a reticle that shows expected bullet drop at 200-800 yards in 50-yard increments or one that provides a steady, linear set of dots or hash marks?  That's the difference between a Bullet Drop Compensation (BDC) reticle, and one based in Minute Of Angle (MOA) or Milliradian (MRAD). 
In short, MOA works out to approximately one inch per 100 yards, while MRADs are one centimeter per 100 meters.  With either MOA or MRAD, you'll be figuring out the range of the target, then adjusting or holding over the correct amount. 
With a BDC reticle, you estimate the range and then hold over to the hash mark that correlates with that range.  One important thing to remember with a BDC reticle, it is calibrated for a specific round traveling at a particular velocity out of the barrel. 
If your deer hunting round deviates from that calibrated round, the BDC may be close (or it may not!).
What is The Best Scope For Deer Hunting?
Leupold Mark 5HD 3.6-18×44
The Mark 5HD is like a tank in the scope world. It can handle everything from rough terrain to being exposed to inclement weather. You can rely on it to keep working, no matter what you're up against. So, if you want a scope that's super clear, tough as nails, and trusted by the pros, the Mark 5HD is the one you're looking for.
The family of Leupold Mark 5HD scopes can be overwhelming if you don't know where to start. Although they have several options that would make killer deer hunting scopes, we wanted to give our opinion on which one we would choose if we had to pick one. That scope is the Mark 5HD 3.6-18×44.