You're packing for a big hunting trip.  Good camo?  Of course.  Tough boots?  Obviously!  Suppressor?  Absolutely.
I'd argue that a good can is just as important in many facets of hunting as your camo jacket or boots, here are all the reasons why.
Suppressor Definition
First off, what is a suppressor?  The original patent by Hiram Maxim called these sound-reducing devices silencers, which is still the legal title used on the ATF paperwork required to make or buy one, even if the industry standard term "suppressor" is more technically correct.  You'll likely hear both terms used interchangeably, as both are correct in a sense.
A suppressor is designed to affix to the end of a gun's barrel, capturing and slowing the blast of high-pressure (and temperature) gasses that exit the barrel right behind the bullet.
A suppressor attaches to the barrel by one of two methods.  Either as a Direct Thread (DT) where the suppressor screws directly onto the barrel or with a Quick Detach (QD) interface.
With a QD can, there's a mount attached to the barrel (usually a flash suppressor or muzzle brake combined with the mounting threads).  The suppressor screws onto the mount and has some locking mechanism, whether mechanical or friction lock.
A direct thread can is usually simpler and lighter, but is susceptible to damage on the thread mating surface.
A QD can is easier to swap between guns, faster to remove, and eliminates the chance you'll permanently damage your threads just by putting the can on.
You can buy or build a suppressor, after filing and getting approval on ATF form 4 or 1, respectively.  Either way, there's a little paperwork to fill out and a $200 tax for transferring or creating a suppressor.
The big difference is in the wait, where approval times for form 4 transfers can run up to a year, but e-filed form 1's to create a can are often approved in two weeks or so.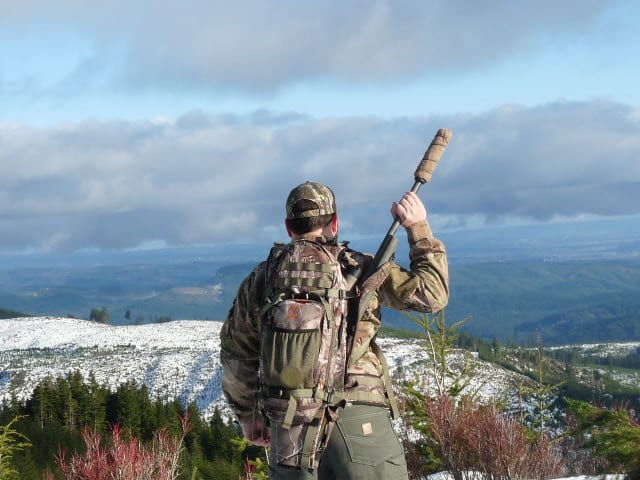 Best Hunting Suppressor Summary
Why Hunt With a Suppressor?
Pro's
Protect your permanent hearing
Hunting rifles are loud, and every shot without adequate hearing protection causes damage that accumulates over time.  Reducing the noise level at the shooter's ear to below 140 dB will prolong your hearing for life.
Protect the hearing of those around you
Whether you've got an old hunting buddy, a young hunter you're showing the ropes to, or a loyal dog, you're also protecting their hearing.
Increased accuracy
There are a few reasons suppressors can increase your accuracy.  The muzzle blast of chaotic, expanding gasses and particulate that normally passes the bullet in its first 12" of travel out of the barrel, is largely contained in the suppressor.
Suppressors are well known as recoil reducers, as they spread out the recoil impulse over a longer period of time.  Removing the sharp kick associated with larger calibers reduces shooter flinch.