If you're into firearms, chances are, you've heard of ARMSLIST.
And with over 2.5 million users and over 1,300 registered FFL dealers, chances are, you've also been on the website.
While ARMSLIST does not actually sell the listed firearms, they help their large network of registered FFL dealers to help serve users.
ARMSLIST does a great job of monitoring its platform.  As with web-based classified ads, there are always bad actors trying to gain access.  Some scams still slip through the crack as 100% of the items listed are uploaded by the users..
Do your due diligence when using their website, and you'll have a positive experience.
What is ARMSLIST
ARMSLIST is a website that allows people in our country to list firearms for sale and communicate in a safe, secure, and legal way.  Whether you're a dealer, manufacturer, or individual gun owner, Armslist provides you with an alternative to auction sites, and Armslist has drastically lower fees, and zero commission fees.
ARMSLIST has guns and gear, accessories, blogs, and reviews on hundreds of products that you'd be interested in owning. The point of this website is to give buyers and sellers of guns and gear a platform to conduct business easily and legally.
We will go into detail on what separates ARMSLIST from their competitors and let you decide for yourself if it's a company you'd want to support.
How Does Armslist Work
There are two different ways to sell guns on Armslist and we'll discuss both of them below, but we want to make sure you understand the things you need first.
The first thing to know about buying a gun on ARMSLIST is that you don't need an account to buy a gun online. As a non-subscriber, you can still purchase from the ARMSLIST network of over 1,300 FFL dealers.
However, if you're a gun nut and have a lot of guns to sell or you would like to buy from non-dealers in your area, then creating a Premium Personal account is going to be the best option for you.
ARMSLIST Premium Vendor Account
The ARMSLIST Premium Vendor Account is specifically designed for vendors (FFL holders, those with business licenses, or both) who can actively list up to 500 items at a time at a flat rate of $30 a month, or $300 a year.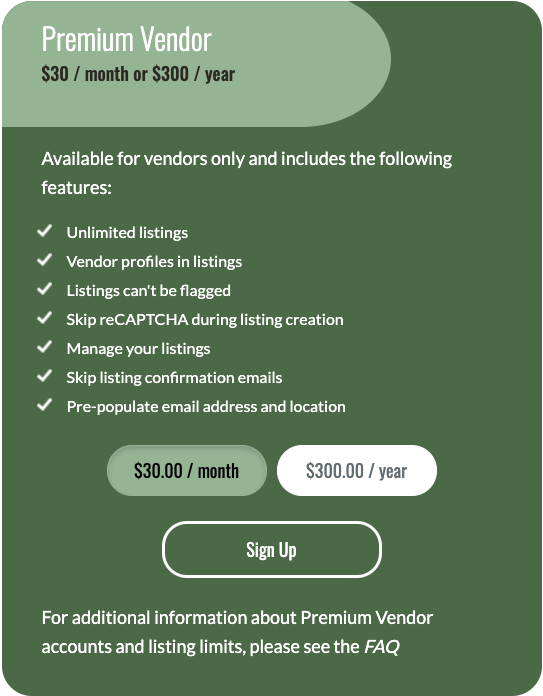 ARMSLIST verifies that Premium Vendors have a valid FFL and/or business license before they are allowed to post on the site. The biggest thing that separates Armslist from their competitors, such as GunBroker, is ARMSLIST doesn't charge you fees per sale of the gun.
You will end up paying $30 per month and you get all profit for each sale at the monthly rate. No other company that we know of offers you this kind of deal. The Premium Vendor account gives customers access to their own personalized webpage that organizes their entire portfolio.
The Premium account will save you dozens of hours, so you can focus your time on your business instead of working on websites.
With over 200,000 visitors to ARMSLIST every day, The Premium Vendor account will give you the exposure that would cost thousands if you paid a contractor to sell your guns and gear.
ARMSLIST Premium Personal Account
The ARMSLIST Premium Personal account is designed for individual gun owners that buy and sell a few guns per year and need help with getting internet traffic to their products, or want to browse what's available locally. This account is $6.99/month and does not require you to have an FFL or a business license.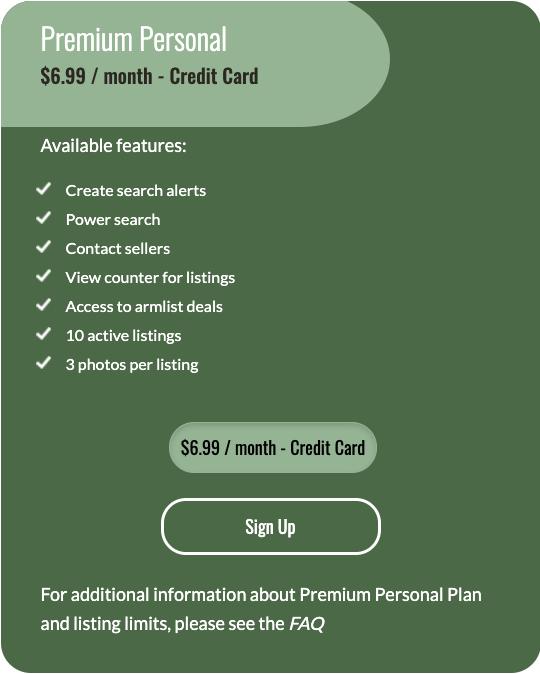 Any commercial dealer trying to avoid the fees by creating a personal account will have their account turned down and they will not be able to operate under any false pretenses.
The Premium Personal account is great for any freedom loving pro 2A American that just wants to sell a gun, optic, ammo etc or buy locally. You do not get your own personal webpage, but ARMSLIST does place all of your listings in one location for easy access for you and other users to look and observe what's selling and what you still have.
Related – Best Places To Buy Ammo Online
Cost Comparison Example | ARMSLIST vs GunBroker
To place an ad on Gunbroker is free. However, if your gun sells you will be charged a Final Value Fee.
A Final Value Fee is assessed if your item is sold. The Final Value Fee is assessed when the listing closes and is based on the price that the item is sold for. Here is how you calculate your Final Value Fee:
Take the first $250 of your final value and multiply it by 6%. If your item sold for $250 or less this is your Final Value Fee. If your final value was more than $250, take the additional amount over $250 and multiply it by 3.5%. Add up these amounts and that is your Final Value Fee.
Sounds confusing, doesn't it? Let's use an example of selling a gun for $700.
First, take $250 and multiply it by .06, which is $15.
Next, take the remaining amount which is $450, and multiply it by .035 (3.5%) which is $15.75.
Now add together the two amounts, $15.75 + $15 = $30.75 and that is your Final Value Fee.
The ARMSLIST cuts through all that confusing math and charges you a flat $6.99 per month; that's it. No final value fees.
That same $700 gun sold through ARMSLIST is covered under your $6.99/month subscription.
ARMSLIST vs GunBroker
ARMSLIST and GunBroker are two similar websites that sell guns, gear, gun parts, etc…, but are still very different companies.
For starters, ARMSLIST simply allows a platform for any American or business to buy and sell guns and gear without any extra fees. Any person selling or buying a gun on Armslist is responsible for the purchase, Armslist does not get involved in individual transactions.
Once a price is set by the seller of the gun, the price is set and it's up to the seller if they would be willing to come down on a price or not. Whereas, GunBroker is an auction site for guns that goes to the highest bidder, which can significantly increase your profits.
The best thing about Armslist is they don't have any hidden fees or extra taxes when someone sells and buys a gun, the profit goes to the seller. GunBroker does not have a monthly rate or recurring bill but does charge for each sale.
The fees associated with GunBroker can be very tricky though and it's important to understand them before you create an account and sell your guns on their site.
ARMSLIST Premium Vendor
GunBroker
What are the fees?
$30/month or $300/year
Final Price of the item sold: (0-$250) GunBroker gets 6% Final Price of the Item Sold.

(Over $250) GunBroker gets 6% of the first $250 and 3.5% of the remaining value.

Who needs an FFL
Any business and/or FFL holder engaged in selling firearms, ammo etc.
Any business and/or FFL holder engaged in selling firearms, ammo etc.
Dedicated Webpage
YES
NO
Application fees
NONE
$1.00 activation fee and a $2 verification fee
Commercial Use
YES
Anyone can sell here (Its the Wild West)
FFL Sells $2,500 a month

$30/month subscription fee

The Final Value Fee of those sales is roughly $93.75
FFL Sells $25,000 a month
$30/month subscription fee
The Final Value Fee of those sales is roughly $881.25
The clear winner if it comes down to a numbers game is ARMSLIST. And again, having over 1,300 registered FFL dealers, mitigates a lot of the scam issues found on GunBroker.
In addition to the advantages of selling on ARMSLIST, they are also heavily invested in defending our 2A rights and have a proven track record of winning legal battles.
ARMSLIST Legal Defense Fund
Anytime someone can put a gun online to sell without being an official dealer or manufacturer, the government steps in to monitor the legalities. As America struggles with the mass shooting epidemic in our country, many people want to find who or what's to blame for it.
As a result, honest, hardworking, and law-abiding businesses, such as Armslist and Gun Broker, are being targeted every time someone does something unforgivable with a gun.
The government and citizens from both sides of the political spectrum try to prey on these companies because they see them as easy targets or scapegoats. The Armslist defense fund was created to combat any lawsuit that seeks to shut down Armslist from being the platform for law-abiding citizens to sell their guns legally.  With the help of thousands of Americans, Armslist can fight back and provide the excellent services that they've come to be known for.
Regardless of where you stand on the 2nd Amendment, Armslist will continue to fight against unfair lawsuits as long as they can afford it. If you're interested in donating to their Legal Defense Fund, you'll receive updates on where your money is going and what case your money helps fight against.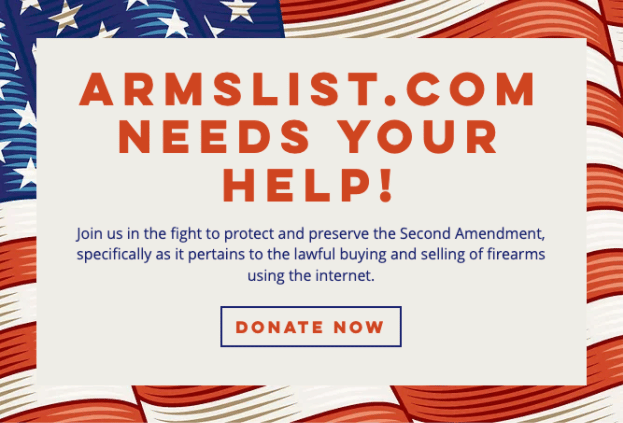 One of the biggest win for Armslist is Daniel Vs. Armslist, in which Armslist was blamed for a murderer's actions against an unfortunate family in Wisconsin. The court found that Armslist could not be held accountable for someone's illegal actions, despite that person buying a gun listed on the site. They cited the Communications Decency Act, which prevents online companies from being held accountable for the actions of a criminal.
The reason this law is so important is it prevents misinformed and grieving families from suing someone that is completely unrelated to the actions of a criminal. Without the defense fund, Armslist would not be able to fight against these court cases brought up to destroy their business and any business like them.
Conclusion
ARMSLIST is a website that allows individuals and companies to advertise the sale of their guns, ammo, optics and more on their website, helping them to find more customers.
They offer two different account types, which are the Premium Vendor account and the Personal account. Each account is dictated to the needs of the seller, which provides options that many online companies don't offer.
The ARMSLIST Legal Defense Fund fights to protect the 2nd Amendment rights of all Americans, focusing on issues regarding the internet. Armslist also provides up-to-date news articles related to guns, gun laws, and opinionated articles to educate the public on issues affecting the 2nd Amendment.
We strongly encourage anyone interested in selling or buying guns to try ARMSLIST today.  If you're not interested in buying or selling products, you could always go support their Legal Defense Fund to ensure the 2nd Amendment rights of Americans are not taken away.
---
Stay Tuned to the RE Factor Tactical Blog and be part of this all VETERAN-run website. Be sure to follow us on Facebook, Instagram, and LinkedIn for exclusive content and deals.
Check out our DAILY DEALS page for industry deals and discounts.
Visit our Amazon Influencer Page for more products we recommend: https://www.amazon.com/shop/refactortactical