Hamid Karzai has survived several attempts on his life throughout his presidency.
Back in September 2004, during the presidential election, Hamid Karzai narrowly escaped an assassination attempt when a surface-to-air rocket was fired at his helicopter as it prepared to land near the city of Gardez.
Later on, Taliban insurgents staged a violent attack during a military parade, targeting Hamid Karzai.
Due to the threat landscape, the United States made a substantial investment in protecting the Afghan president. Hamid Karzai was initially protected by an Army Special Forces detachment. Later on, DynCorp, now Amentum, won the contract to provide PSD services for Hamid Karzai.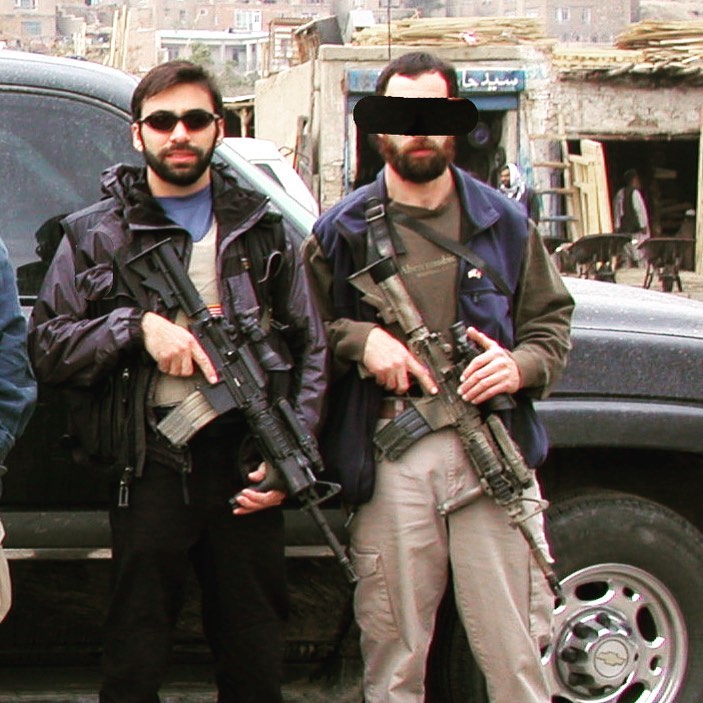 The Story Behind The Photo
Battle Buddy – Only time can really unfold the depths of our friendships and loyalty. I had the distinct pleasure and honor to work alongside one of the best of the best.
The above photo was taken in Kabul, Afghanistan around November 2002. Sporting the initial coolness of Mountain Hardwear jackets, North Face pants, Smart Wool socks, G-Shock Watches, standard SOF kit, and Oakleys. Even sporting the Nike Golf vest.
I (@echo9.axiom) augmented the Hamid Karzai PSD (personal security detail) with the SEALs for about a little over a month.
In this photo, we were a small 4-5 man team conducting advance recon prior to a movement.
Gear Featured in the photo
Colt M4A1 SOPMOD
SOPMOD is short for Special Operations Peculiar MODification and is an accessory kit for the base M4 carbine. Shown in the photo is a Colt M4 carbine with a few SOPMOD accessories.