M4/AR-15 magazine pouches can hold anything from a single 30-round 5.56mm NATO to normally 3 separate pouches.
Depending on the brand and style of mag pouch you choose, you can hold up to 6 30-round mags on your plate carrier or battle belt.
There are dozens of brands of tactical gear with varying levels of technology, so we narrowed down the top 5 M4 mag pouches that we recommend.
Each of these M4 mag pouches is durable, reliable, practical, and has advanced technology incorporated into its design.
We will focus our attention on Tyr Tactical, High Speed Gear, S&S Precision, First Spear, and Blue Force Gear.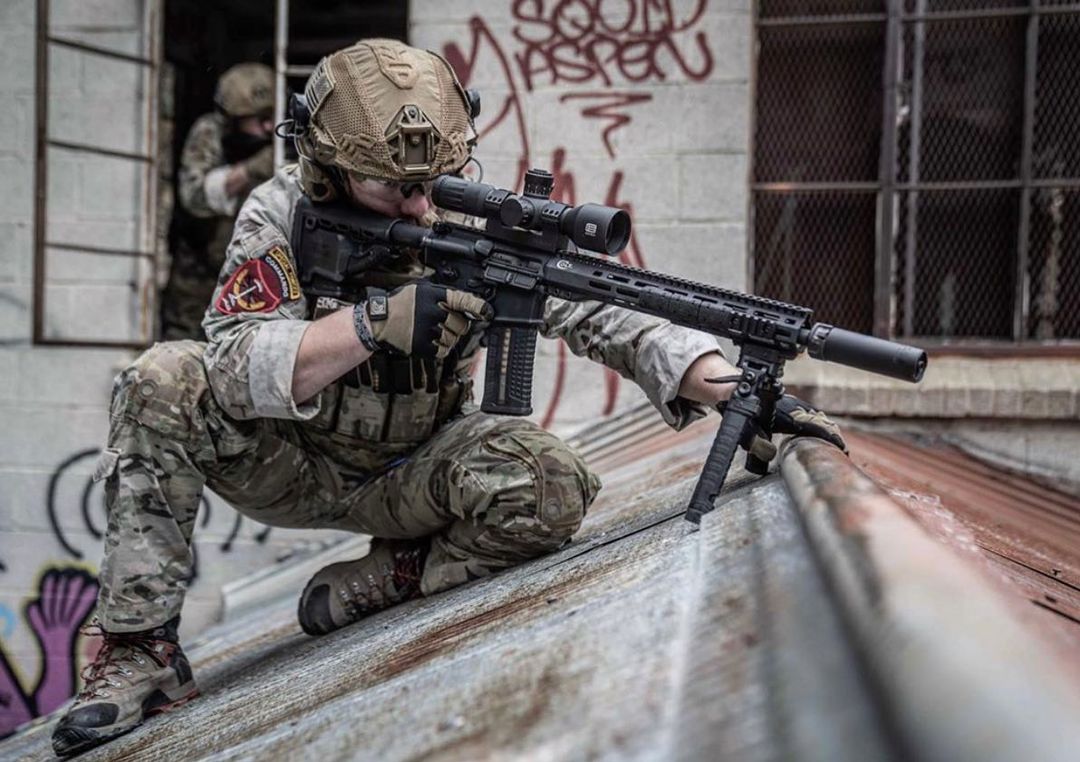 Best M4 Mag Pouches
1. TYR Tactical® Rifle Mag Pouch – Combat Adjustable Happy Mag
The Tyr Tactical Rifle Mag Pouch with the adjustable Happy Mag clip is capable of securing 5.56 or 7.62 magazines. Tyr Tactical mag pouches are noticeably wider than any other mag pouch on this list. This extra width offers more versatility because it can hold a 5.56mm NATO, 7.62mm, or .308 magazine with multiple retentions and securing features.
The Happy Mag clip is the best feature because it gives you the option of not using the top retention strap and still gives you confidence in 100% retention of your mag. The pouch weighs only 4.93 oz, 4.5" in height, and 3.25" wide. The width is great, but it does make it tough to fit multiple pouches on your plate carrier or vest without having them right on top of each other. The Happy Mag clip provides excellent retention and a very smooth and consistent draw.
Why Should I Buy the TYR Tactical Rifle Mag Pouch?
Versatility in your equipment is incredibly important for every soldier or police officer in the crazy environment we live in today. The Tyr Tactical Rifle Mag Pouch will allow you to carry any pistol caliber, 5.56, or 7.62 mags with a simple adjustment of the retention strap on the bottom of the pouch.
This mag is very expensive, starting at $50, but the versatility it offers makes it worth the price. Essentially, you don't need to carry pistol mag pouches if you don't want to because they will comfortably and securely fit into the mag pouch. This allows you to cut down on the amount of gear you buy and focus on building an efficient, effective, and streamlined loadout. The mag pouch is built from waterproof, shockproof, and incredibly strong 500-denier Cordura.
What is 500-Denier Cordura?
500-denier Cordura is a nylon composite fabric that is specifically designed to have an incredibly strong tensile strength with a massive reduction in weight. 500-denier Cordura has shown to hold up against in the austere environments that our soldiers face in today's warfare.
500-denier Cordura holds up against the fading from the sun and repels water better than most other mag pouch fabrics. Whether you're stuck training or fighting in the rain, snow, or having to swim, 500-denier Cordura will dry quickly and prevent the degradation of the fabric from mildew or rot. This fabric is used in the skiing/snowboarding scene and to build sea rescue supplies due to its ability to repel water, dry quickly, and prevent mildew or rot from destroying the fabric.