The Best Battle Belt is simply a belt designed to be worn in tactical situations, such as law enforcement, warfare, hunting, and shooting competitions.
What separates the battle belt from a normal belt is the material they're made of.
Battle belts need to be more rugged, tighter on the waist, and strong enough to hold up a gun holster and gear without sagging.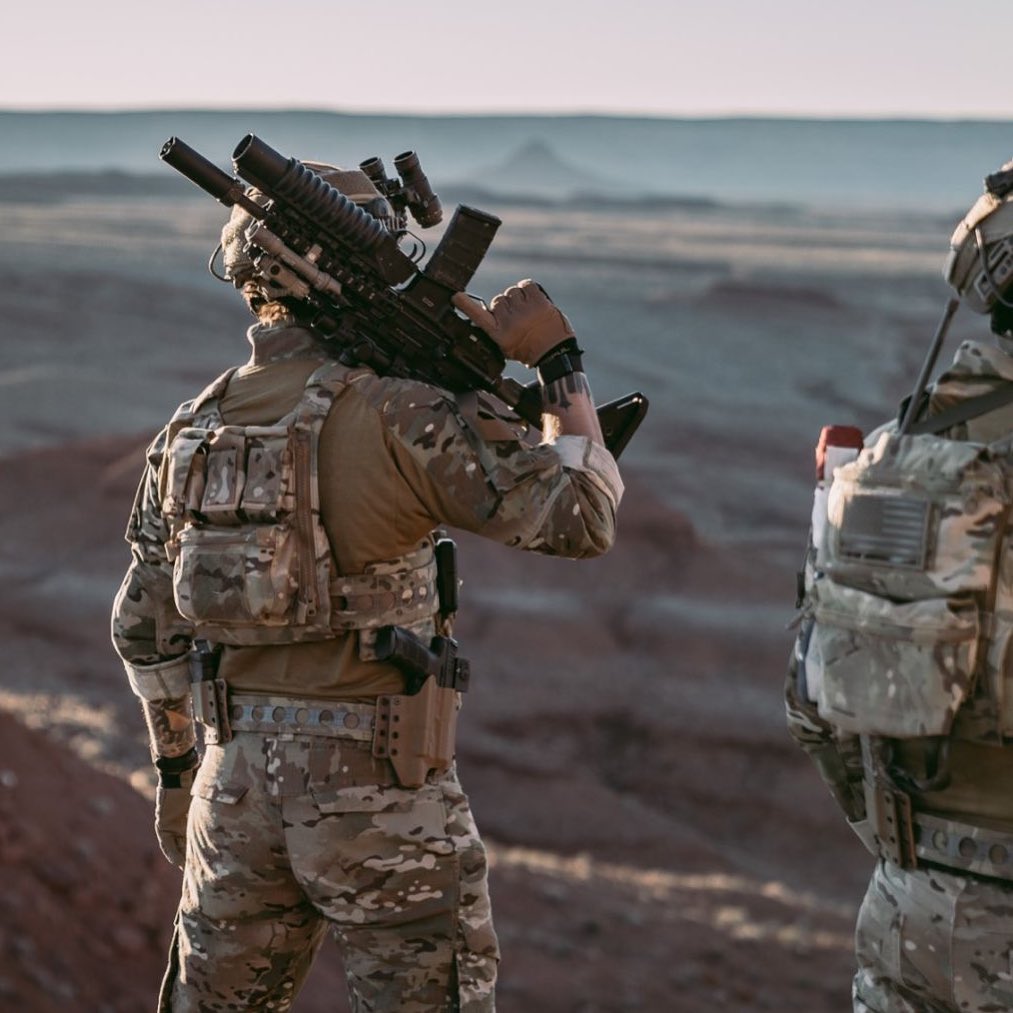 The battle belts on this list are all worthy of your patronage because they're all durable, comfortable, and functional in the most hostile environments you'll find yourself in.
Best Battle Belts on Amazon
Battle Belt Setup
---
FirstSpear Assaulters Gun Belt (AGB)
FirstSpear always impresses me because they're always trying to find ways of innovating their products to make them better. The Assaulters Gun Belt is incredibly versatile with the option of adding the tactical suspenders and the gun belt sleeve for added comfort and capability. The AGB is equipped with a 2-point metallic buckle that is strong enough to hold together during the toughest situations.
For example, if one of your teammates goes down in the line of duty, you can hook up to the AGB and drag them out without the buckle breaking. This belt can fit any sized holster with the 6/12 straps without having your belt sag on the side of your holster. Anyone who carries a pistol on their belt knows how uncomfortable this is and how unpractical it is during a mission, especially if it interferes with their plate carrier.
Why Should I Buy The AGB?
The AGB is compatible with every other component in the First Spear product line, such as the suspenders, sleeve, 6/12 straps, and many of the pistol and rifle magazine pouches. The 6/9 and 6/12 technology allows the AGB to fit inside the AGB sleeve to add either more comfort or add a soft armor panel for added blast protection. I easily can remove the buckle for installation and feeding through smaller MOLLE loops or 6/12 pouches. I would buy this belt and add the sleeve for optimal comfort and more opportunity to carry your load out on your belt instead of your vest. The versatility that the AGB adds to your load-out is unquestionably advantageous to an operator who demands comfort, durability, and reliability.
What is FirstSpear 6/12 Technology?
6/12 Modular pockets/pouches were designed y FirstSpear to reduce the weight that comes with attachments and tactical gear. 6/12 technology has been shown to reduce the weight of modular pouches by up to 40% versus traditional MOLLE pouches.
If you're adding 6/12 rifle pouches that can carry 2 30-round mags loaded with 5.56mm NATO ammo, you're talking about reducing your weight by a couple of pounds. The 6/12 pouches not only reduce the weight on your back, but also reduce the overall bulk of MOLLE pouches by removing the nylon webbing, metal snaps, and the reinforced polymer.
FirstSpear designed the 6/12 modular system to be completely compatible with the MOLLE pockets and improved the retention and fit with state-of-the-art technology. They 1st used a machine industrial laser to precisely cut the attachment points to specification.
Then they used an adhesive for the backing of the pouches to ensure they were as tight as possible to the vest. This whole process creates greater flexibility on unarmored platforms so the operator has increased maneuverability when it's needed.
---
Ferro Concepts-The Bison Belt
The Bison Belt from Ferro Concepts is lightweight, low-profile, incredibly strong, and designed with advanced technology to make it versatile and practical. This belt has a price tag of $215.00, but the time and money spent on making the belt make it worth it. They used a single-layer laser-cut thermoplastic frame to cut the plastic to absolute precision and to reduce weight (0.5 lbs).
Not only does the thermoplastic reduce the weight and thickness of the belt, but it significantly increases the rigidity of the belt for more reliability in stressful situations. The belt is completely compatible with MOLLE pouches by attaching their patented Hook and Loop Velcro system to the MOLLE for a quick and easy installation.
Why Should I Buy the Bison Belt?
The Bison Belt is made in America and Berry Complaint, along with all of their products. Not only does buying this belt support American workers, but it will give you a clear advantage over most other products on the market in durability and agility.
They equip the Bison Belt with the patented D-Ring Cobra buckle to offer an easy and strong buckle that fits the need of soldiers and police. They line the Hook Velcro system on the inside of the belt for a rapid release and donning feature that is practical in a combat situation.
What is Berry Compliance?
The Berry Amendment of 1941 is important for American Manufacturing because it protects American textile and clothing factories. The Amendment works by forcing the Department of Defense (DOD) to purchase all textiles from America, during a time of war.
Anytime a company complies with the Berry Amendment, it shows its regard for our nation and its workers. Any DOD sub-contractor (like Ferro Concepts) is required to purchase all of their products from American-made sources during a time of war to ensure foreign-made products do not undercut American companies. We list the list of products that are met by the Berry Amendment below.
Natural fiber products, including cotton
Wool (yarn or fiber in materials; manufactured articles or fabrics)
Clothing, including its components and materials (i.e. underwear, outerwear, footwear, headwear, hosiery, and where, insignia, belts, and badges)
Woven silk
Woven silk blends
Spun silk yarn used in cartridge cloth
Coated synthetic fabric
All yarns in textile fibers used in coated synthetic fabrics
Any piece of equipment that contains or is used to manufacture the above fibers, yarns, or materials made in the U.S.
Tents and their associated components, such as tarpaulins and covers
---
Tyr Tactical-Gunfighter Modular Assaulters Belt
I know the Tyr Tactical Gunfighter Modular Assaulters Belt for its simplicity, durability, and load carriage balance. The feature that stands out most for this belt is the compatibility with the TYR Tactical® Dual Point Rigger Belt.
This attachment gives the operator or LEO a vertical load test weight of 8,000 lbs, which is more than enough to be hoisted up in a helicopter or repel down a cliff.
The belt is built with the same Pluma Vires (PV) material that the PICO-DS is made from, which reduces the weight and increases the strength of the belt.
They make the PV material from Kevlar and nylon to ensure the belt is as durable as it can be without reducing the maneuverability of the operator.
Why Should I Buy The Tyr Tactical Gunfighter Assaulters Belt?
I would buy this belt over the others on this list if I were going to be using it with a rigger's set-up to climb, repel, and be hoisted up by a helicopter in a combat zone.
This belt is compatible with MOLLE/PALS pockets and is easily combined with the rigger's belt for more versatility. The Dual Point Rigger belt attaches to the GAB via the hook and loop straps for easy installation. Once the belts are placed through the hook and loop velcro, the belts are flush with each other and offer more rigidity than most other combination belts on the market.
---
S&S Precision- Belt Modular (BM)
S&S Precision has been one of my favorite tactical gear companies for many years so far due to its outstanding customer service and exemplary gear. The Belt-M (BM) is a great base belt that offers 2 options for inner belts. You can easily change and install the 2 belts (comfort or riggers belt) based on your mission requirements.
For example, law enforcement officers should probably always go with the comfort inner belt because of the time spent sitting in a patrol car or walking around the community.
Military soldiers can choose to go with the riggers belt if they need to handle weight loads more than their body weight without breaking (3,000 lb load rate). The BM features laser-cut MOLLE pockets for compatibility with any Modular Pocket attachment system.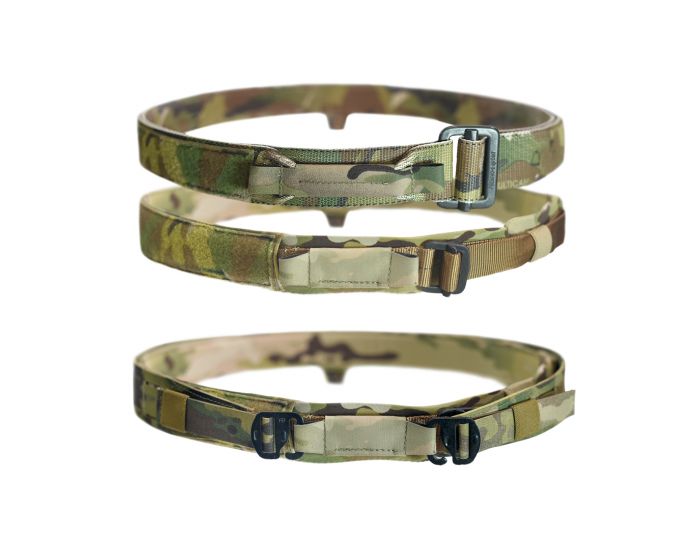 Why Should I Buy The Belt Modular from S&S Precision?
They make the BM of hydrophobic composite, which repels water from the belt so you don't add unwanted weight and mildew to your gear. The hard point can be used to tether to the inside of a helicopter for emergency repels and pick-ups.
The versatility of the belt with the comfortable inner attachment or the rigger belt is easy to use and completely interchangeable. The BM is designed to be form-fitting and low-profile so you don't even know it's there until you need to use it.
---
High Speed Gear- Operator's Belt (Cobra IDR 1.75″)
High-Speed Gear's (HSGI) Operator's belt is used by Special Operations soldiers that need a belt with high tensile strength and the ability to be used as a riggers belt for excess loads.
The HSGI Operator's Belt is a low-profile riggers belt that is made with Type 13 nylon webbing, which is the new standard for nylon for Mil-Spec equipment.
This belt is used and tested by Special Operations forces in Ft. Bragg, NC for quality control. The National Tactical Officers Association (NTOA) has also tested this belt and praised it as being comfortable, rigid, and practical in combat operations.
All MOLLE and belt-mounted gear will attach easily to the HSGI Operator's Belt and is equipped with MOLLE slots for attaching mag pouches and holsters.
Why Should I Buy The HSGI Operator's Belt?
The Operator's belt is one of the strongest rigger belts on the market that can somehow remain comfortable while being incredibly rigid. The combination of the Micro Grip Belt Panel and the HSGI Inner Belt provides a lot of versatility for those who need to meet a variety of mission requirements.
The Cobra D-Ring buckle is an outstanding feature that allows the operator to release the belt in a split second if needed, or secure the belt rapidly, depending on the situation. HSGI is not only a great company, but they're also an American-owned and operated company that provides dozens of jobs to North Carolina citizens.
Best Battle Belt FAQ
Retired Navy SEALs "Coch" and Dorr delve into the world of battle belts, focusing on the ones Dorr utilized during his illustrious career with the SEAL teams.
Does the US Army use battle belts?
The US Army does utilize battle belts as a part of its overall tactical gear and load-carrying system. These battle belts are designed to provide soldiers with a comfortable and efficient way to carry essential gear and equipment while on the field.
Battle belts used by the US Army typically come equipped with MOLLE (Modular Lightweight Load-carrying Equipment) webbing, which allows soldiers to attach various pouches, holsters, and other accessories securely. This modularity allows for customization based on the specific needs of the mission or the individual soldier's role.
What is the difference between a battle belt and a tactical belt?
A battle belt is a load-bearing system worn around the waist, designed to distribute the weight of gear evenly. It typically features MOLLE webbing for attaching various pouches and accessories, providing a modular and customizable setup for carrying essential equipment during tactical operations. Battle belts are favored for their comfort and mobility, making them suitable for extended missions and situations where agility is crucial.
On the other hand, a tactical belt is a simpler belt primarily used to support a handgun holster, magazine pouches, and other small accessories. It lacks the extensive MOLLE webbing seen on battle belts, making it less customizable. Tactical belts are more focused on carrying items directly related to concealed carry.
Conclusion
Battle belts are a game-changer for any shooting enthusiast. The first thing that sets them apart is their exceptional comfort. Unlike bulky plate carriers, battle belts distribute the weight evenly around your waist, reducing strain and fatigue during prolonged use. This ergonomic design ensures maximum mobility and agility, making it easier to maneuver in tight spaces or challenging terrain.
Another significant advantage is the ease of use. Putting on a battle belt is quick and hassle-free, allowing you to gear up swiftly for any shooting scenario. The adjustable straps provide a customizable fit, ensuring it stays snugly in place throughout your activities.
One of the most notable benefits of battle belts is how they tackle the issue of heat and discomfort. Plate carriers, especially in warm environments, tend to trap body heat and cause discomfort, leading to sweat and fatigue. In contrast, battle belts keep your torso relatively unburdened, allowing better ventilation and breathability. This helps you stay cooler and more focused during intense shooting sessions.
Furthermore, battle belts serve as a versatile platform for carrying your essential gear and accessories. They come with multiple attachment points and MOLLE webbing, enabling you to securely mount various pouches, holsters, and other equipment. This modularity allows you to tailor the belt to your specific needs and preferences, making it a personalized and efficient setup.
In conclusion, battle belts offer a winning combination of comfort, ease of use, and heat management, making them a preferred choice for many shooting enthusiasts. With their ergonomic design and adaptability, they provide a reliable platform to carry your gear while ensuring you remain agile and comfortable during shooting activities. Whether you're a professional shooter or an avid hobbyist, a battle belt is a must-have addition to your shooting gear collection.
---
Stay Tuned to the RE Factor Tactical Blog and be part of this all VETERAN-run website. Be sure to follow us on Facebook, Instagram, and LinkedIn for exclusive content and deals.
Check out our DAILY DEALS page for industry deals and discounts.
Visit our Amazon Influencer Page for more products we recommend: https://www.amazon.com/shop/refactortactical