Chest rigs are often misinterpreted to mean plate carriers or body armor, but these rigs are mostly used to carry ammo and gear. They are worn over your plate carrier for the special operations soldiers that get to wear whatever they want. For hunting, think of a turkey chest rig that will hold your shotgun ammo, knife, turkey calls, and pouches for snacks.
Chest rigs are designed to make your life easier by giving you as much customization as possible in the field. This blog will focus on the top 5 chest rigs on the market today, starting with First Spear and ending with High Speed Gear.
How Do I Determine Which Company is the Best?
Each of the 5 companies that I review below are great companies that support the United States military and every other freedom-loving American. However, some companies make better products that are more comfortable, durable, Maneuverable, practical, and tactical. I Don't care how cool a product looks or how durable it is if the rig is so uncomfortable that you dread wearing it.
Each of these rigs below passes the durability test and will last through the normal wear and tear of duty if you follow the manufacturer's guidelines on care. How many times have we all seen someone running around in full battle rattle and you could hear them coming from a mile away? If a chest rig is not properly worn or built well enough, you'll end up giving up your location as if you were wearing little Christmas bells all over your MOLLE system. These rigs below put an end to that and make almost no noise at all to give the operator the stealth needed for the mission.
1. JOKER – Jungle Operations Airborne Capable Chest Rig
The Joker chest rig from FirstSpear Technology is my number 1 chest rig because of the advanced technology incorporated in the chest rig. The Comfort and maneuverability from the lightweight material and the MIKE Force Pack (MFP) are better than any other product I've seen.  The Joker is specifically designed to work with AIrborne soldiers, such as 82nd and 101st Airborne Divisions. The Joker is equipped with a Side Release Buckle that drops the overall length of the shoulder straps to accommodate each individual airborne soldier. In short, the Joker can be pulled up through any parachute harness with the click of 2 buckles. The Joker is built has foam integrated into the shoulder straps to absorb some of the weight and adds neutral buoyancy in case the soldier has to get in the water.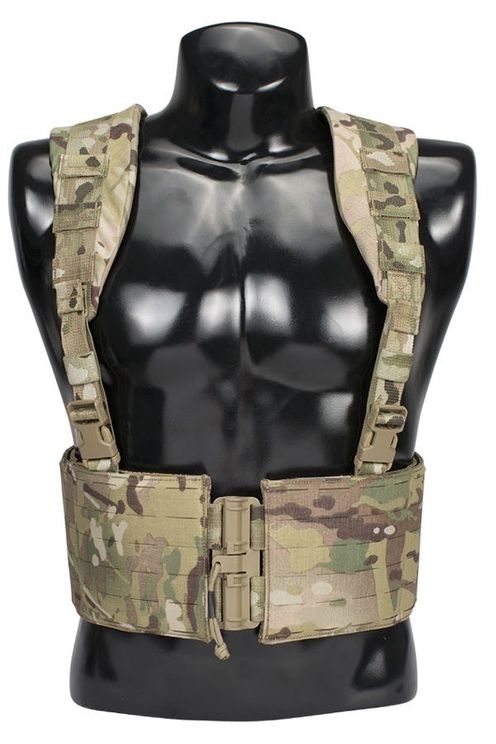 What is the Tubes Rapid-Release Technology?
FirstSpear Tubes Rapid-Release Technology is just one of the many reasons this chest rig is rated number one. FirstSpear listened to their customers and stepped outside the normal Velcro fasteners. As everyone who's spent time in Iraq or Afghanistan knows, Velcro doesn't hold up to sand, dirt, water, sweat, mud, and all the other elemental effects you'll face in warfare. The Tubes Rapid-Release will withstand all of those elements with ease and reduce the noise of trying to get your rig as tight and comfortable as possible. The Tubes increase the level of protection by accommodating side plates and inflatable flotation accessories.
The Tubes are manufactured from a lightweight polymer that sheds water, repels sand and dirt, and is incredibly strong. Instead of using a system of cables that run through the vest and get tangled up, FirstSpear created a rapid-release system that works 100% of the time without any malfunctions. The Tubes system allows for near unlimited customization in colors to fit the terrain of your warzone. The Tubes Rapid-Release system also provides choices for activation so you can choose how to release the rig or close it. Regardless of whatever combination you choose, this chest rig will increase your performance, maneuverability, and mission functionality like no other vest on this list.
What is the 6/9

™

Modular Pocket Technology?
The 6/9 Modular Pocket is completely backward compatible with all MOLLE/PALS system for the ultimate experience in customization. The 6/9 Pocket is meant to replace MOOLE pockets because they're lighter and more customizable. The best feature of the 6/9 Modular Pocket is its ability to fit tighter to the vest than any MOLLE system, which gives the Joker a tactical advantage over any other system on the market. This system is so impressive it's been adopted by the Joint Special Operations Command (JSOC) to replace the traditional MOLLE/PALS system that we've been accustomed to. The top reasons for the switch are weight reduction, customization,  a much tighter fit for noise reduction, and an increase in mobility.
What is Advanced Clothing Materials (ACM) Technology?
ACM is made from American Merino Wool, is lighter, softer, and does a better job at regulating body temperature than most other material found in their competitors. Wearing Merino Wool is perfect for soldiers because it helps reduce odor from sweat and can hold up to 30% of weight in water and still stay insulated (somehow!). Merino Wool will keep you dry, clean, and light, even when the elements dictate the opposite. Although the Joker sin;t 100% waterproof, it's water-resistant, which repels water from penetrating the fabric. For me, the best part about wearing Merino Wool is how comfortable and light it is versus the traditional standard issue wool we all get in Basic Training. Merino Wool is 100% sustainable and if it's disposed of properly, it will degrade into the soil within a few years.
---
2. S&S Precision CR-M
S&S Precision is a great company with all its products made in the United States and sold almost strictly to law enforcement and the U.S. military. The CR-M chest rig is flexible, semi-rigid, and is made to carry a variety of loadouts, depending on the mission's purpose. The CR-M is perfect for operators who deal with a water crossing or need to be submerged underwater. The CR-M is made to be hydrophobic, which allows the vest to repel water so you don't absorb it all and increase your weight. It even comes with a Fin Retention configuration to allow you to secure your fins to rig without them getting in the way. The patented LiftR-40 flotation system is easily attached to the laser-cut MOOLE slits for optimizing your weight. The best feature of this chest rig is its versatility with the different configurations, designed for use in water, land, and Airborne operations. For its ingenuity and versatility, it's more than deserving of a top spot on any list.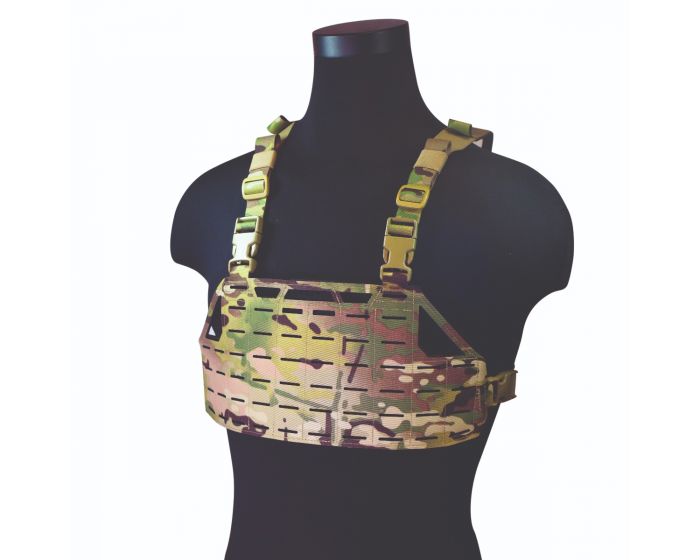 ---
3. Blue Force Gear MOLLEminus Chest Rig
Blue Force's MOLLEminus Chestrig is probably the most unique chest rig on the list because it's built from a precision laser cut laminate, instead of the sewn MOLLE loops. The 1st thing you'll notice is how light this chest rig is. It will feel so light (0.7 lbs!) that you'll immediately doubt its durability and quality. This rig will change how you view MOLLE-less systems with its extreme flexibility and aerodynamics. The Blue Force MOLLEminus Chestrig can fit the equivalent of 12 MOLLE columns wide by 6 columns tall for the ultimate experience in customization. The shoulder harness is easily removable and adjustable to fit any body size for optimizing comfort where you need it most.
---
4. Ferro Concepts Chesty Rig Wide Harness
At $80.00, there are not many chest rigs with the flexibility and comfort that Ferro Concepts have developed. The Chesty Rig is made to be a versatile and MOLLE compatible rig at a lower price than any other model on the list. The ADAPT features that come with the Chesty Rig allow for a variety of customizable attachments that can be easily attached or removed. The Chesty Rig is built with 2 columns wide and 3 columns high on each side of the chest rig to accommodate a light loadout. The waist strap is adjustable along with the H-Harness to accommodate any size soldier or hunter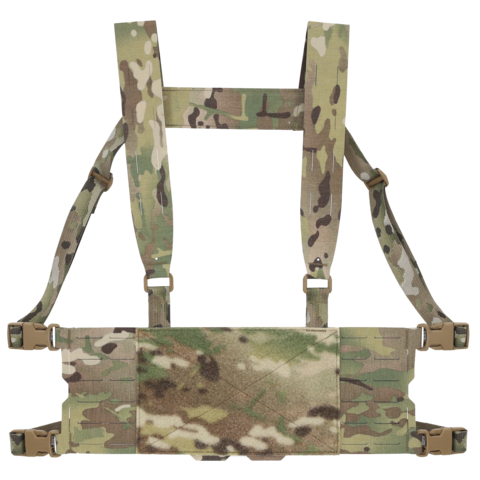 ---
5. HSGI Neo Chest Rig
The HSGI Neo Chest Rig is similar to the Blue Force chest rig with the same style of laser-cut laminate to reduce weight and increase efficiency. It comes with a removable 8″x8″ bib with the same laser-cut slots for MOLLE pouches and any style of loop pocket attachment. The shoulder straps are removable and made of a super soft and comfortable neoprene padding. The belt is made of the same neoprene padding that gives this one of the most comfortable chest rigs on this list. With 5 slots tall and 10 slots wide, the Neo chest rig is easily customizable. One of the most overlooked features is the elastic keepers on the strap ends that allow for minor adjustments and quick and easy retention of the strap placements. This feature gives the chest rig a great balance in load balance to give your shoulders a break from an uneven load.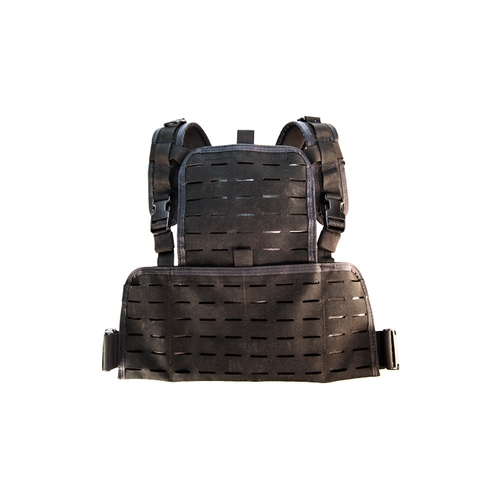 ---
Most Gucci Chest Rig-Viking Patrol Harness-Artic At-X
With a price tag of $331.00, the Viking Patrol Harness (VPH) from FirstSpear is one of those chest rigs that will instantly stand out. The Artic AT-X harness is specifically designed for extremely cold weather, such as in the Hindu Kush or Rocky Mountain Ranges.  The VPH can handle any environment with superb durability and dependability while maintaining mission effectiveness and comfort. It's equipped with 3 fixed full-flap magazine pockets with the capability to hold 2 30-round 5.56mm magazines without compromising the integrity of the harness. The VPH is completely compatible with any MOLLE/PALS system and has an external pouch for your radio (I.E. AN/PRC-148 MBITR) and is fitted with 6/12 panels on the side for complete customization in your loadout. The VPH is even built with extra long shoulder straps to accommodate the extra layers of clothes you'll need to wear in sub-zero temps.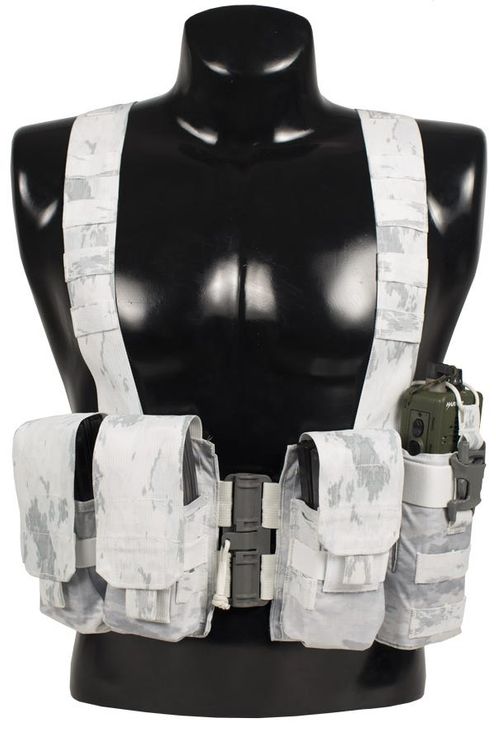 ---
Stay Tuned to the RE Factor Tactical Blog and be part of this all VETERAN-run website. Be sure to follow us on Facebook, Instagram, and LinkedIn for exclusive content and deals.
Visit our Amazon Influencer Page for more products we recommend: https://www.amazon.com/shop/refactortactical