I served in the military as a Marine infantryman and carried my M16/M4 around the world. In addition to that, I've shot thousands of rounds through AR-15 rifles since.
After shooting that many rounds myself, and witnessing my fellow Marines and others outside the military, means I've seen my fair share of malfunctions.
What were those malfunctions caused by most of the time?
Faulty magazines. Some magazines had simply seen their time and needed to retire, some had bent feed lips, others had damaged followers or tired springs.
Whenever a malfunction occurred more than once, we would change mags. Guess what? It almost always fixed the problem.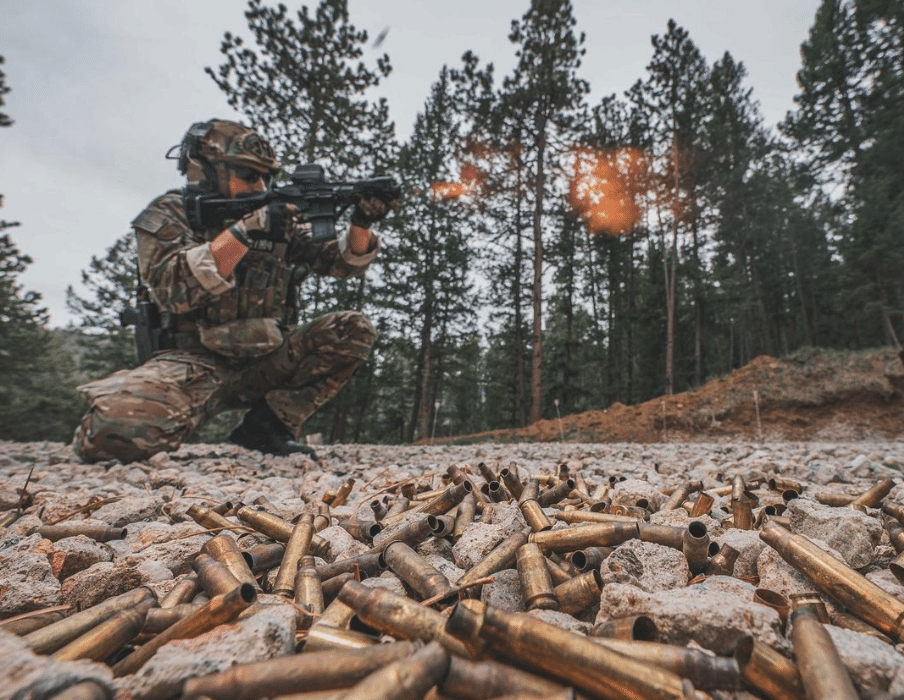 A reliable AR-15 magazine is worth its weight in gold when it comes time to drop the hammer. The best AR 15 magazines won't just feed your rifle reliably, they'll do it under harsh and demanding conditions.
That's why you want the absolute best AR-15 magazines you can get your hands on.
Top Picks For The Best AR-15 Magazine
| | |
| --- | --- |
| Magpul PMAG Gen 3 | |
| Lancer Advanced Warfighter Magazine | |
| ETS  Gen 2 AR-15 Magazine | |
| Hexmag Series 2 AR-15 Magazine | |
| Duramag USGI Metal Mags | |
What Makes The Best AR 15 Magazines Reliable?
When it comes to AR-15 magazine reliability, good ole fashioned craftsmanship always wins out. AR-15 Magazines are very simple pieces of gear, composed of a magazine body, a spring, a floor plate and a follower.
One of the most important components of the AR 15 magazine is going to be the follower.
The follower is the portion of the magazine that the ammunition rests on and feeds from. The spring is putting constant tension on the follower and pushing rounds upwards.
The magazine spring is important for a variety of different reasons. Springs are pretty simple and in many ways identical. The difference is in the spring material.
Stainless steel is the material that the best AR 15 magazines use. It's highly resistant to corrosion and its slick nature ensures smooth reliable operation.
Polymer Mags vs. Metal Mags
The magazine body needs to be tough, and durable. It's likely going to be dropped, exposed to heat, gun oil, and more. Polymer is highly durable and has become the most popular material used to manufacture AR magazines.
Additionally, polymer AR-15 magazines are lighter and less expensive.
Lower quality polymer plastics will often split at the spine, and the feed lips will break off very easily. It's hard to find out exactly what polymer material companies use to manufacture magazines, so you have to go by reputation.
Both styles of magazines will generally be very reliable, last a long time, and serve you well on the range, in the field, and on duty.
Whether you choose polymer or metal, there are a few function tests you can perform to ensure the AR-15 magazine you're using is within industry specs.
Visual Inspection
This sounds obvious, but take a look at each of your magazines and ensure they are in good structural shape.
Visually check for any cracks or dents to the body. Also check the feed lips to ensure they are not bent, chipped, or deformed in any way.
Bump Test
Fully load your magazine and tap the bottom sharply against a hard surface.
You're looking to see if a round ejects out of the magazine. If it does, then there is a good chance that the feed lips are out of spec.
Drop Test
This isn't what it really sounds like. We're not actually dropping the magazine. What we are checking for here is how well the magazine drops from the AR when you press the magazine release.
The magazine should drop freely without any assistance from you. Whether the magazine is empty or fully topped off, it should drop freely from the magazine well.
If they do not drop freely from the magazine well, then the body of the magazine may be out of spec.
Finally, ensure that your bolt locks to the rear on an empty magazine. The easiest way to do this is to perform a mag dump and see if the bolt locks back on an empty magazine.
The Best AR 15 Magazines To Buy
Magpul PMAG Gen 3
It should come as no surprise the Magpul PMAG Gen 3 is at the top of our list.
These crush-resistant mags are designed with modified dimensions so they'll fit not only AR-15's but the FN SCAR MK16 and HK416.
The PMAG Gen 3 is anti-tilt and includes an insertion stop on the spine to stop the mag from over-inserting.
Additionally, the stainless steel spring is known for having a long service life and the follower is self-lubricating.