As a long-range shooter, hunter, or competition shooter, you know that your success depends on your ability to see your target clearly.
That's why spotting scopes and binoculars are essential tools for any serious shooter.
With the right spotting scope, you can easily identify your target and make precise adjustments to your shot. But with so many options available, how do you choose the best one for your needs?
In this guide, we'll take a look at some of the best spotting scopes and binoculars for long-range shooting, hunting, target shooting, and general observation to help you make an informed decision.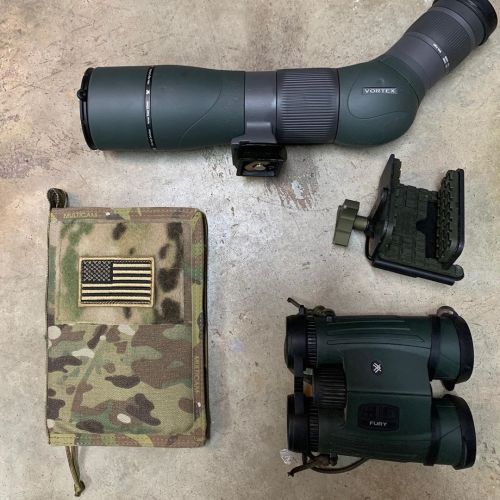 Understanding Spotting Scopes and Binoculars
Spotting Scopes
If you enjoy outdoor activities, spotting scopes can be an excellent tool to have. When it comes to choosing between a spotting scope and binoculars, spotting scopes are the better option if you want an optical device that is both easy to carry and has great magnification capabilities.
While spotting scopes are versatile and can be used for various outdoor activities, they can be heavier and more cumbersome compared to other optical devices like binoculars. Spotting scopes come in different sizes, but they usually need a tripod and a stable platform to produce the best visual results.
The great magnification and outstanding visual quality that spotting scopes offer often come with a higher price tag. However, many outdoor enthusiasts and professionals are willing to pay extra for the higher quality and better results that spotting scopes provide.
Check out the following video for a great explanation on the differences between an angled vs straight spotting scope.
Spotting Scope Applications
Spotting scopes are great when you need to see something from a distance. They can provide high levels of magnification, commonly reaching up to 60x.
However, due to their high magnification, it's best to use them on a tripod to keep them steady. Hand-holding them can cause a lot of image shake, which results in a blurry image.
Spotting scopes are ideal when you need to observe something from a fixed location for an extended period. On the other hand, binoculars are more suitable for covering a lot of ground due to their smaller size and weight.
But if you need to view something from a distance and still require high levels of magnification, then spotting scopes are still the best option.
These scopes are perfect for any situation where you want to observe without being noticed, such as hunting, wildlife watching, birding, surveillance, and more.

Binoculars
When it comes to comparing spotting scopes and binoculars, nothing beats the portability of binoculars. They come in various sizes and magnification capabilities, and although they may not have the same powerful magnification as some spotting scopes, their smaller size makes them easier to carry.
However, binoculars also offer several advantages. Many people who enjoy outdoor activities prefer the fact that binoculars allow them to use both eyes, reducing eye fatigue during long viewing sessions. Since binoculars are shorter and lighter, they are excellent for tracking a moving subject on the go and do not require mounting on a tripod or stable platform to achieve high-quality visuals.
Binoculars are designed to withstand harsh outdoor conditions. They are built to be tough and are often made fog-proof, waterproof, and weather-proof to ensure they can handle any environment. Additionally, binoculars are often designed to be impact-resistant in case they are accidentally dropped, making them a reliable tool for any outdoor adventure.
Binocular Applications
Binoculars are versatile tools that can be used in a variety of situations. Their small size and portability make them easy to carry around, and they're especially useful when you need a lightweight option. However, they're not ideal for viewing subjects that are very far away, as they typically have magnification levels of 12x or less.
One of the strengths of binoculars is their wide field of view, which makes them great for watching moving targets. This makes them a popular choice for activities like hunting, sports games, concerts, and nature watching. But, they do have their limitations when it comes to range, so they may not be the best choice for very distant targets.
In some cases, binoculars can be used to spot a target before magnifying it with a spotting scope for greater detail. However, this requires carrying extra weight and incurring additional expenses, so it may not be the best option for everyone.
When it comes to durability, binoculars are often built to withstand rough environments and adverse weather conditions. While spotting scopes can also have features like water resistance and fog-proof lenses, binoculars are generally tougher overall.
Spotting Scopes vs Binoculars: A Comparison
To give you an at-a-glance view of the differences:
Spotting scopes are designed for viewing things at longer distances than binoculars, and one way they achieve this is by having larger objective lenses. These lenses are typically 80 millimeters in diameter and ensure that the image is detailed and clear, even at great distances.
Binoculars are generally more compact and portable compared to spotting scopes, and one reason for this is that they usually have lenses that are under 50 millimeters in diameter. While this smaller size makes them easier to carry around, it also means that the image quality they provide is not as high as that of spotting scopes.
Spotting scopes take things up a notch with their magnification capabilities, which typically range from 15x to 60x.
Binoculars typically have magnification capabilities that range from 1x to 12x.
Spotting Scope Lens and Magnification
In general, if the objective lens of a device is bigger, it will allow more light to enter and result in a clearer and more detailed image. This is great for improving the overall quality of the image, but there's a catch. If the larger lens is of lower quality, then it won't necessarily produce the same level of clarity and detail. So, just remember that bigger isn't always better when it comes to lenses.
With that being said, when you're comparing two lenses of equal quality, the one with the larger objective lens will generally produce a better image. For instance, spotting scopes often come with quite sizable objective lenses, which can range anywhere from 45mm to 100mm. However, more often than not, spotting scope lenses will typically fall within the range of 60mm to 80mm.
When you increase the magnification of your optics, you can see more detail on your subject, which is great. However, it's important to note that higher magnification isn't always the best choice. When you use higher magnification, you may also experience more image shake, which results in a blurry image. Additionally, atmospheric conditions, such as dust, heat waves, or air currents, can make it difficult to view at high magnification levels, even with high-quality optics.
Most spotting scopes have a magnification range of 15x to 60x. Above this range, it can be too challenging to view the subject clearly during the day due to atmospheric conditions. At 60x magnification, your subject will appear 60 times larger or closer than when viewed with the naked eye.
The field of view (FOV) refers to how much area you can see in the total image displayed by your device. In general, higher magnification means a smaller field of view. The FOV is typically measured at a distance of 1,000 yards and most spotting scopes have an FOV between 50-150 feet at that distance. This means that when viewing through your spotting scope, you'll see an area between 50-150 feet wide, but remember, it will appear 15-60 times larger than it would with the naked eye.
Binocular Lens and Magnification
Binoculars come in a variety of lens sizes. Compact binoculars are designed to be portable and have lenses as small as 25 millimeters. The larger, all-purpose binoculars that you see most often are usually between 40-50 millimeters.
Binoculars typically have lower magnification levels than other optical devices. It's uncommon to see binoculars with magnification levels higher than 12x. Most all-purpose binoculars will have 4x-10x magnification levels.
It's important to keep in mind that higher magnification levels usually mean larger devices. If you're looking for a more compact set that's easier to carry, you may need to settle for a lower magnification level.
One area where binoculars excel is the field of view. As a general rule, as magnification increases, the field of view decreases. However, since binoculars don't have super high levels of magnification, they often have a relatively wide field of view.
Higher-end binoculars typically have a field of view between 300 and 450 feet at a distance of 1,000 yards. This means that you'll see a magnified area that's about 300-450 feet wide when viewing through your binoculars at a distance of 1,000 yards.
Spotting Scopes and Binoculars: Top Picks
Best Spotting Scopes
Just like firearms, there are a plethora of spotting scopes available in the market that can provide you with excellent service and durability for a lifetime.
While big names such as Swarovski provide you with the absolute best glass, spending $3,000 on a spotting scope is not realistic for everyday people. Here are three options that are a bit more common man.
Vortex Optics Viper HD Spotting Scope
With a magnification range of 15x to 45x and an objective lens diameter of 65mm, the Vortex Optics Viper HD is an excellent choice for long-range shooting.
The scope is also equipped with high-density, extra-low dispersion glass that provides a sharp, clear image. The Viper HD is built to last, with a rugged, waterproof design.