RK Guns: Pistols
The pistol selection at RK Guns includes Glock, Smith & Wesson, Kimber, Kel-Tec, Beretta, Daniel Defense, and 43 other handgun manufacturers. Today will be about a handful of some of the hottest pistols on the market this month. The Glock 35 Gen 4, S&W M&P, Kimber Micro 9, and the Kel-Tec PLR-16 have been highly sought after in the past month in our Google and Bing searches. Each of these pistols has been searched for and bought by thousands of gun owners in recent months and we're here to give you a good reason why. All of these pistols are unique and made very well by some of the best gunsmiths on earth.
How Do I Buy A Gun At Rural King?
First you'll go to RK Guns and search for the weapon you want from the choices on the left of the page or the search bar above. Secondly, once you're ready to order your gun, call 1-844-754-8671 and one of their operators will help you. Remember, if you pick up your gun at an RK Guns store, Rural King will waive the fee for an FFL transfer, a requirement, by federal law. Obviously, if you have an FFL give it to the customer service representative and you wont have to pay if you have it delivered to your house. You'll also have to pay a $12.99 shipping fee, regardless of the type of gun. Just think about getting the famous free popcorn and sweet tea as you walk into Rural King and you wont care about the shipping fee.
Glock 35 Gen 4 .40 S&W
The Glock 35 is a competition style pistol created for competitors in the United States Practical Shooting Association (USPSA), National Rifle Association (NRA) competitions, and the International Defensive Pistol Association (IDPA). The Glock 35 (G35) is made with an incredibly light polymer frame, with an extra-long slide, to increase the line of sight to increase accuracy at further distances. On top of the slide, there is a cut-out exposing the top of the barrel to decrease the weight of the gun. All other Glocks we've reviewed are 9mm pistols, and as we all know, the .40mm S&W provides much more kick than any 9mm. With this in mind, the most impressive attribute of this gun is its ability to maintain pinpoint accuracy, shot after shot, with a more powerful bullet.
| | |
| --- | --- |
| Brand | Glock |
| Model Name | G35 Gen4 |
| Caliber | .40 S&W |
| Class | Full-size |
| Action | Safe Action |
| Capacity | 15+1 |
| Barrel Length | 5.32″ |
| Length | 8.15″ |
| Weight | 24.52 oz. |
| Sights | Adjustable |
| Grip | Sinthetic |
| Safety | Safe Action-3 Separate Automatic Safeties |
| Finish | Black, Gas Nitride |
| Color | No |
| Price | $635.97 |
Pros:
Very light trigger pull weight for a .40 S&W
Lightweight frame
great mag capacity
Very accurate (designed for competition)
Best shot after shot accuracy of any Glock and best alternative to the best competitive pistol (STI Guns)
The cut-out on top of the slide is a great weight saving addition
Cons:
On the expensive end for a Glock
The gun is too big to conceal
Features:
Interchangeable Backstraps
Enlarged Reversible Magazine Catch
Dual Recoil Spring Assembly
Rough Textured Polymer Frame
Three 15-Round Magazines
Why You Should Buy The Glock 35
The G35 would be an amazing gun for anyone to own, but I think competitive shooters and law enforcement are its target consumers. The G35 is very big and difficult to conceal and wouldn't be comfortable or even feasible for many civilians to conceal carry. Law enforcement pros are switching to this gun over the standard Glock 22 due to it's follow up shot accuracy and stopping power. One thing to consider is the G35 is a much bigger gun but has its upside, which we discuss below.
Where Can I Buy The G35?
RK Guns is the place to buy your guns if you live in a rural area and want to save money on the FFL transfer fees. The only comparable stores would be Walmart and Dicks Sporting Goods, but RK Guns are typically less expensive and they have a much larger selection of guns. RK Guns has slightly better prices than Palmetto State Armory, but not if you're a Veteran or law enforcement officer. The discount and warranty given by Palmetto State makes the majority of their pistols less expensive than any other store. The Glock 35 from Palmetto State is highlighted below just in case you want to compare.

Kel-Tec PLR-16 .22 LR Pistol
The PLR by Kel-Tec is one of the most unique pistols you'll shoot because it fires the same 5.56 NATO round used in the M4 and M16 rifles and it's semi-auto fire rate. The PLR 16 is designed to be as versatile as possible with its 400 meter max effective range and small size. You can hunt animals as big as dear with this rifle caliber pistol, but make sure you read the caliber regulations for each state. I love the idea of carrying this pistol in my hiking and camping backpack because it's powerful enough to take down any predator and light enough to carry without too much weight. Weighing only 3.19 lbs and 18.5″ in length, this pistol will fit perfectly in your camping, hiking, and hunting bag without making it too bulky, heavy, or obvious.
| | |
| --- | --- |
| Brand | Kel-Tec |
| Model Name | PLR-16 |
| MPN | PLR16 |
| Caliber | .223/5.56 |
| Class | Compact |
| Action | Semi-Automatic |
| Capacity | 10+1 |
| Barrel Length | 9.2″ |
| Length | 18.5″ |
| Weight | 51 oz. |
| Sights | Adjustable |
| Grip | Black Polymer |
| Safety | Crossbolt |
| Finish | Black Nitride |
| Color | Black |
| Price | $482.97 |
Pros:
Very well priced for the versatility it brings
Lightweight
Concealable in backpack
Accurate up to 400 meters
Very powerful 5.56 NATO rifle caliber round with pistol sized frame
Cons:
Expensive to own with the price of 5.56 ammo
I think it's a very fun gun to own, but it's more of a range gun that will impress your friends than anything
Features:
Semi-Automatic fire rate
Accepts any AR-15 magazine
Replaceable sights that can fit most AR-15 rifle scopes
Crossbolt Safety mechanism
Where Can I Buy The Kel-Tec PLR ?
Palmetto State Armory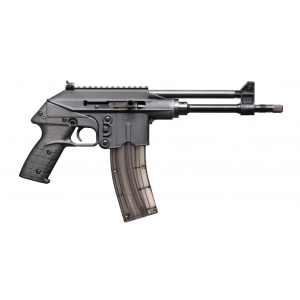 S&W M&P M2.0 Compact 9MM Pistol
M&P M2.0 9mm pistol is one of the most well liked pistols around because of its combination of recoil control and its sleek design, which is accustomed from S&W. Having a 16-round capacity ensures you won't be outgunned in a fight for your life. Being able to put 16 rounds through a pistol with as much control as you get with the S&W M&P compact is very difficult to find in any other gun. I actually like this pistol more than the Glock 19 because it has a manual safety and makes me feel more comfortable carrying it.
| | |
| --- | --- |
| Model Name | M&P9 M2.0 4″ Compact w/Crimson Trace Rail Master Universal Tactical Light Thumb Safety |
| MPN | 12412 |
| Caliber | 9mm |
| Class | Compact |
| Action | Striker Fire |
| Capacity | 15+1 |
| Barrel Length | 4″ |
| Length | 7.3″ |
| Weight | 30.9 oz. |
| Sights | 3-Dot White |
| Grip | Polymer |
| Safety | Manual |
| Finish | Black Armornite/Stainless Steel |
| Color | Black |
| Price | $579.97 |
Pros:
Comes with the S&W reputation for high quality and reliability
Comes in 9mm, .40S&W, .45 Auto
Easily attach aftermarket sights, optics, or lights
Phenomenal trigger is light and crisp with very little creep in the pull
Very durable with their patented Armornite
16-round capacity
Cons:
I would rather go with the Kimber Micro 9 as a concealed carry because it's more than an inch shorter
Features:
Low barrel bore axis makes the M&P pistol comfortable to shoot reducing muzzle rise and allowing for faster aim recovery.
Optimal 18-degree grip angle for natural point of aim.
Four interchangeable palms-well grip inserts for optimal hand fit and trigger reach – S, M, ML, L.
Aggressive grip texture for enhanced control.
M&P® M2.0™ crisp trigger with lighter trigger pull. Tactile and audible trigger reset.
Accurate 1 in 10" twist M&P M2.0 barrel.
 Extended rigid embedded stainless steel chassis to reduce flex and torque when firing.
Armornite® durable corrosion resistant finish.
Where Can I Buy The S&W M&P?
Palmetto State Armory
Kimber Pistol Micro 9
The  Kimber Micro 9 is meant to be used as a primary concealed carry pistol with its lightweight (2.5 lbs) and short frame (6.1″).  The best feature of this compact pistol is the single action trigger that is crisp and offers no creep in the pull for more accurate shots. The lowered and widened (flared) ejection port gives the Kimber a clean and smooth ejection and reload, after every shot. The Micro 9 was built around the 1911 series pistol, but with a significantly reduced profile for optimal concealed carry capabilities and an extended 7 round magazine.
| | |
| --- | --- |
| Brand | Kimber |
| Model Name | Micro 9 Desert Night |
| MPN | 3300197 |
| Caliber | 9mm |
| Class | Compact |
| Action | Single Action |
| Capacity | 6+1 |
| Barrel Length | 3.15″ |
| Length | 6.1″ |
| Weight | 2.5 lbs |
| Sights | TRUGLO TFX Pro Day/Night |
| Grip | Standard |
| Safety | manual |
| Finish | Desert Tan/Matte Black |
| Condition | New in Box |
| Color | none |
| Price | $579.93 |
Pros:
One of the best concealed carry pistols
Less than 1 pound in weight!
3″ barrel is perfect for any concealment option
9mm makes it cheaper to own than a .45 caliber
Durable
Cons:
Heavy trigger pull
Very expensive
Features:
Single-action trigger
new lowered and flared ejection port for easy loading and unloading
All metal, stainless steel
American Made
Where Can I Buy The Kimber Micro 9?
Palmetto State Armory