The Glock 19 is one of the most common and top-selling guns in the world and we are eager to show you why. The 19 is the second model after the 17 and was engineered to be the perfect concealed carry pistol. Weighing less than 2 pounds loaded and coming in at 7 inches long, it's no wonder why millions of gun owners chose the Glock 19 as their self-defense pistol. 
Glock 19
Specs                                                                              
Price MSRP: $500.00-$900.00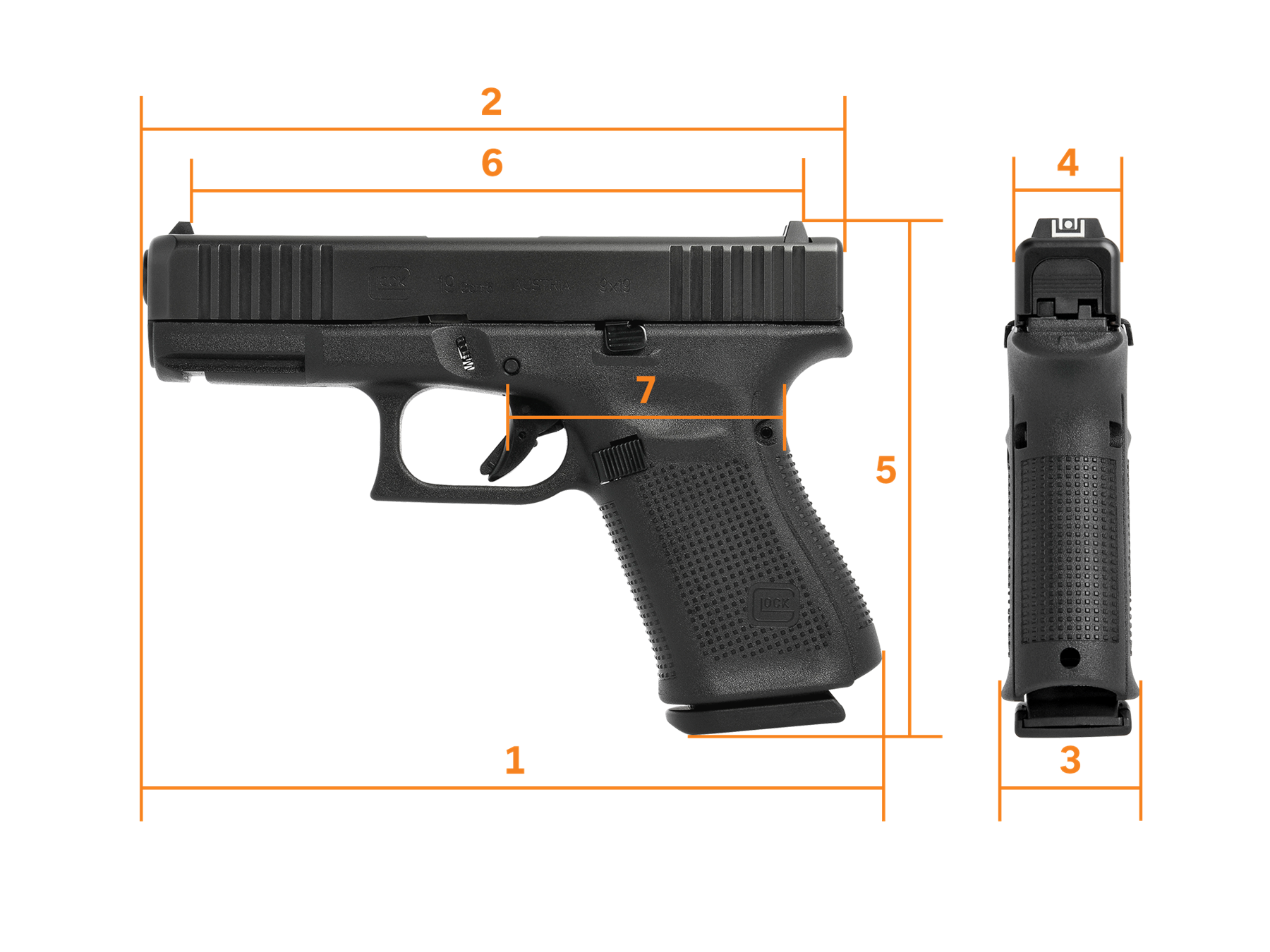 Weight:  Unloaded= 1.3 lbs
Loaded= 1.8 lbs
Height: 5.04 in
Barrel Length: 4.02 in
Overall Length: 7.3 in 
Width: 1.26 in
Magazine Capacity: 15,17,19, 24,31,33
Features
9mm Luger

Safe-Action System

synonymous with Glock

Easily allows customization with different triggers, grips, and sights

Aggressive texture on the grip for maximum control.
Pros: 
Compact

Lightweight

Durable

Accurate

Dependable

Concealed easily

15-round mag
Cons:
Heavy trigger pull

No manual Safety Switch (personal preference)

Original sights are difficult to adjust to

Heavier recoil than expected

The magazine catch is tough for larger shooters to get to

The grip can be too small for larger shooter's comfort

It can be difficult for lefties (read below!)
Glock 19 Explained
Most police forces loved the original 17, but it's a full-sized pistol that can be heavy when fully loaded (2.2 lbs) and doesn't fit on your hip as comfortably as many officers would like. As Glock began to work with local police departments in Austria, they were asked to come up with a gun that would be more comfortable. The Police wanted a gun that could be just as durable, dependable, and accurate as the 17, but easier to handle and conceal. As tall of a task as this sounds, Glock came through in a big way and engineered one the best guns we have ever fired. With a shorter barrel, lighter weight, and a thinner grip, the Glock 19 delivers on every level. Since the gun was created in 1988, Glock has not stopped producing or attempting to make them better. We will get more into the different generations of the gun, such as the Gen 4 and 5 below. 
Glock 19| Gen 4
The whole point of creating different versions of the same model was to make something better, without reinventing the wheel. Think of the Gen 4 and 5 like you would the Playstation or X-Box; Sony and Microsoft would never just scrap their amazing products, but they do make them better every few years. Just like with the new-gen, Glock has no reason to scrap a beautifully designed and amazing gun.
Now, the Gen 4 doesn't look different or make you feel like it's a completely new gun. Glock made several small changes to the 19 that make it a more universal gun, such as a smaller frame, modular backstrap system, an enlarged reversible magazine catch, dual-recoil spring assembly, and a new Rough Textured Frame (RTF). 
Modular Backstrap System
The new backstrap system is designed to give shooters more customization with how the gun feels in their hands. One complaint that Glock received over the years was that the backstrap was too big and bulky, while some felt it was too small. It's almost impossible for Glock to please everybody, but they found a way, yet again. This option allows you to take apart your Glock's backstrap easily and replace it with either a medium (8/100 in added) version or a large version (16/100 in added). The stock Gen 4 G19 comes with the small backstrap. 
Enlarged Reversible Magazine Catch
We felt like this new addition was designed for all the lefties out there that have had trouble transitioning between magazines. A lot of gun manufacturers require extra parts to make a gun reversible, but Glock created one interchangeable part that fits on the right or left.  Another knock on the original G19 was the magazine catch was too small. The Gen 4 fixed that issue with this new feature and we cannot be happier. 
Dual Recoil Spring Assembly
The G19 does not have a single-action firing mode and many people have had issues with that fact. The addition of the dual recoil spring assembly didn't fix the single-action firing mode, but it did significantly reduce the recoil. As most of us know, the trigger pull with a double-action pistol is always going to be heavier than a single action (think Baretta). By adding this new spring assembly, Glock instantly improved the accuracy of many of its shooters. This addition also helps with preventing fatigue and anticipation in less experienced shooters. 
Rough Textured Frame (RTF)
As we've mentioned, the whole point of a new-gen gun is for it to be better than the last, or at least correct any deficiencies in previous models. The new RTF is all about giving the shooter a better and firmer grip on the gun. In this regard, they nailed it! The Gen 4 grip can feel too rough for those with very soft hands, but the rest of us love it. The added traction on this new grip noticeably increases the accuracy of any shooter with a stock grip. 
Pros of Gen 4:
Recoil fixed with dual spring assembly

Customizable grips for any sized shooter

New RTF grip

adds a lot of traction

Reversible Magazine to accommodate lefties (Thank you, Glock) 

The magazine catch is significantly enlarged to accommodate larger shooters

Cheap to shoot (Check out our 9mm ammo blog)
Cons of Gen 4:
Trigger pull is still heavy for a lot of shooters

Not fully ambidextrous 
Why You Should Buy the Gen 4 Glock 19
You should buy this gun if you're a Glock fan, but found the same or similar negatives with the first-gen G19. The Gen 4 is a little shorter overall than the original G19 and has a shorter trigger distance. This gun is so well made that it is able to accommodate every shooter we can think of; whether you have small or large hands, you're a lefty, or not very strong, this gun works for you. 
Glock 19| Gen 5
Our favorite thing about the Gen 5 is the piece of mind that we, as customers are being heard and listened to. The first thing you'll notice in the Gen 5 is how different it feels in your hand. The traditional look to the Glock is still there, but they made 20 different modifications to enhance the entire experience. We don't want to get away from the purpose of this article, so we will only focus on the 5 biggest modifications. 
NDLC Finish
Every shooter at some point will either drop, scrape or hit their gun, this is why Glock decided to use a technologically advanced ion-bonded finish on the Gen 5. This ion-bonded finish prevents scratching your gun, whether you drop or hit it on other metal objects. It not only extends the life of your gun, but it's tested the most extreme environments on Earth. This gun will perform whether you're in Florida with the humidity and heat or in Montana with the extreme cold. After shooting this gun, we are starting to think Glock is close to an indestructible gun!
Glock Marksman Barrel 
The Glock Marksman Barrel (GMB) is engineered specifically with improving accuracy in every shot. The Gen 5 has improved rifling and crown of the barrel to enhance the accuracy of the G19. The shorter distances should be very accurate, regardless of the new-gen addition, but this new barrel specifically impacts distances at 25 meters and beyond. The grouping that you'll be able to get with this new barrel is noticeable.
No Finger Grooves
A very popular complaint with the majority (until Gen 5) of Glock owners is the grooves set in the grip for your fingers. The finger grooves are designed to enhance traction and keep good placement on the grip. However, these grooves often don't provide the placement or added traction they're meant to. The answer with the Gen 5 was to remove the grooves and give each individual shooter their own way of gripping the gun. The Gen 5 provides a more ergonomic and comfortable grip than any previous model. The RTF without finger grooves also gives the shooter more control over recoil by keeping your hands flush with the pistol. 
Pros of the Gen 5:
Trigger pull was lightened to 5.84 lbs from 6.29 lbs (makes a difference!)

The new finish will extend the life of the gun by years

The new fingerless grip adds stability, accuracy, and comfort

The new marksman barrel increases your range to at least 25 meters
Cons of the Gen 5:
We do not like the stock sights for the G19
Glock 19 Gen 5 Vs. The Sig Sauer P320 RX
One of the best comparisons to the Glock 19 is the Sig P320 RX because of how similar they appear to be. Both guns manufactured incredibly well, as we'd expect nothing less from Sig Sauer and Glock. The Glock 19 Gen 5 is easier to conceal than the P320 RX but is a little heavier. If you'd like to learn more about Sig Sauer or the more compact P365, we have a great resource for you below.
| | | |
| --- | --- | --- |
|   | Glock Gen 5 | Sig Sauer P320 RX |
| Caliber | 9mm Luger | 9mm Luger |
| Weight | 1.94 lbs | 1.84 lbs |
| Overall Length | 7.28 in | 8.0 in |
| Barrel Length | 4.02 in | 4.7 in |
| Width | 1.34 in | 1.4 in |
| Magazine capacity | 15+1 | 15+1 |
| Price MSRP | $540.00 | $750.00 |
Glock 19 Sights
The standard sights on the Glock 19 are bulky and do not present as good a picture as we'd like.  The night sights are a great way to highlight your target without squinting or putting too much focus into your sight picture instead of your mechanics. We recommend several options to choose from that are better than the stock sights. If you have any concerns with your sight picture, read this blog to help you out.
Glock 19 Accessories
There are so many accessories for the Glock 19 that we couldn't possibly go over all of them in one blog. However, we can make sure you know exactly where to get the best quality and price for any accessory you might need. We will highlight a couple different accessories that really give you next-level customization.
Glock Pistol Light
Pistol lights are an awesome way to customize your Glock, just remember it will add a little bit of weight and we suggest you practice at a range before carrying it into the world. The Inforce light gives you an incredibly high powered light that will light up distances further than you can accurately shoot. They start at around $115.00, but if you're going to add a light, this is one to consider.
Glock 19 Gen 4 Compensator
A compensator is used to reduce the recoil, muzzle flip, and need for a threaded barrel. We recommend this for competition shooters or Special Operations forces who need to be able to manipulate the slide with one hand. Adding a compensator cuts the time down, between accurate shots and reloading, but can be a little bulky. Either way, they're an awesome way to customize your Glock
Conclusion
Glock is an exceptional company that makes some of the best guns in the world. The Glock 19 is one of the top-selling and performing guns trusted by millions of gun owners, from the police to military and even the Federal Bureau of Investigation (FBI). We recommend going with the Glock 19 Gen 5 because of the upgrades and customization you can have with this firearm.
Buying anything except the Gen 5 right now would be like buying the Playstation 1 when you can have the Playstation 5. We don't see any point in going backward and we don't want you to overthink this purchase. The Gen 5 will last longer than any other generation Glock and it will perform better on a more consistent level.