Gaston Glock, an Austrian engineer, and businessman founded GLOCK Ges.m.b.H in 1963 and began production with his first line of knives and machine-gun belt links in the '70s. After the successful launch of Glock knives and belt links, Gaston Glock created the first Glock semi-automatic pistol in 1982.
Glock saw a need for the Austrian Army to be outfitted in a service pistol that could be ready at a moment's notice. With this in mind, he created his patented Safe Action pistol design. The 3-internal safeties, the Glock is made to be fired quickly and controlled to prevent accidental discharge by a police officer or soldier.
Gaston Glock has been instrumental in changing the entire gun industry with his incredible design and engineering teams. As the Austrian government asked for a lighter pistol with a higher magazine capacity, Glock went right to work and created the Glock 17.
In 1984, the Glock 17 passed every test NATO threw at them with the highest of markings in durability, simplicity, and reliability. Shortly after the Norwegian Army adopted the Glock 17 as their standard-issue duty pistol, the rest of the world caught on and made the Glock the most renowned pistol across the world.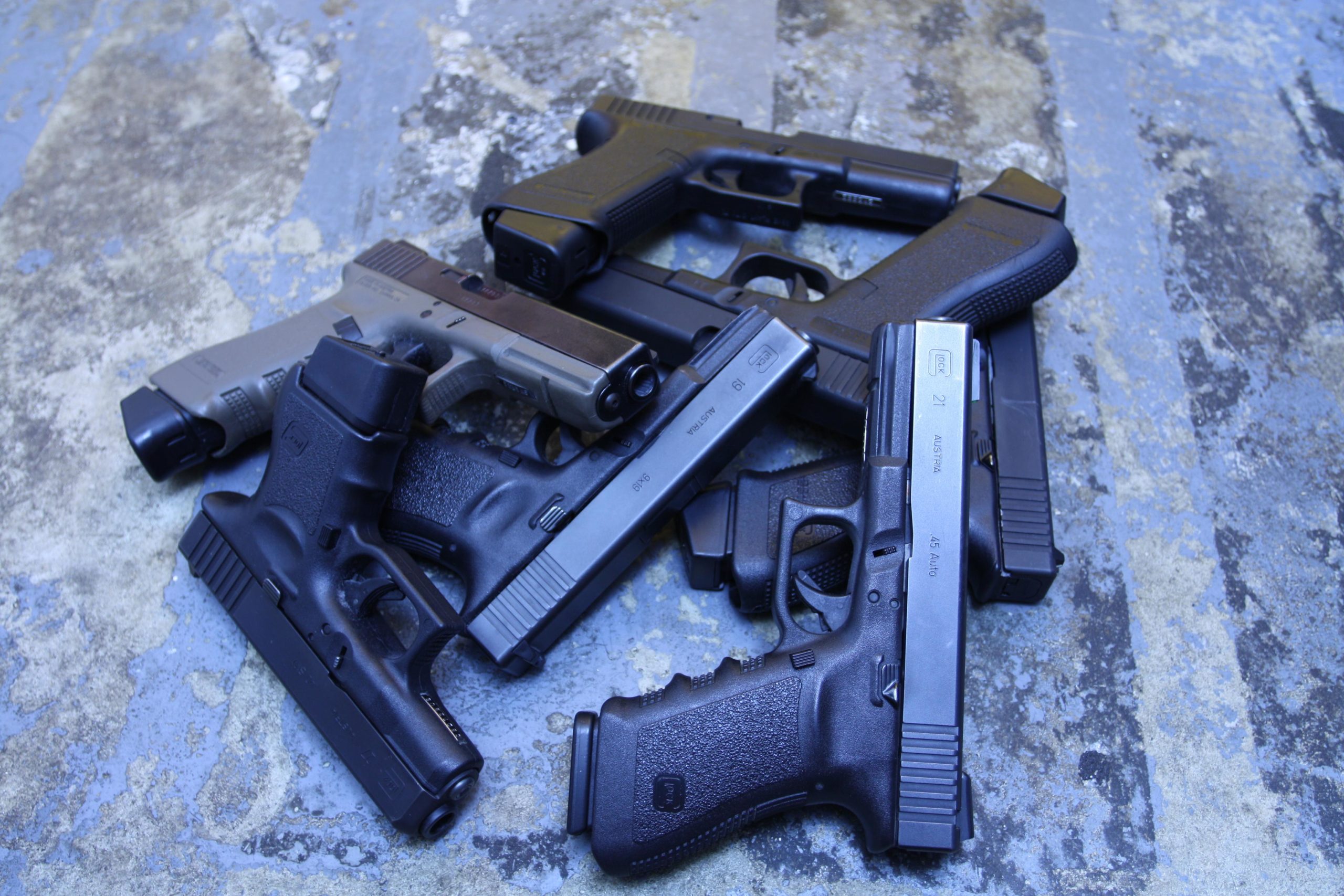 Glock 17
The Glock 17 is the pistol that started it all for striker-fired pistols on the American Market. The 17 was originally designed for law enforcement officers (LEOs) who needed a larger capacity sidearm while maintaining control and accuracy. At more than 8 inches long and 5.47 inches in height, it's not likely to be carried as a concealed carry weapon (CCW). However, it's perfect for an open-carry scenario and has the versatility to carry as many as 33-rounds in one magazine. To learn more about the Glock 17, read our blog, "Glock 17 | Complete Guide to the Glock 17".
Specs
| | |
| --- | --- |
| Overall Length | 204 mm | 8.03 inch |
| Slide Length | 186 mm | 7.32 inch |
| Width (Overall) | 32 mm | 1.26 inch |
| Slide Width | 25,5 mm | 1.0 inch |
| Height incl.Mag. | 139 mm | 5.47 inch |
| Line of Sight (Polymer) | 165 mm | 6.50 inch |
| Line of Sight (Steel) | 164 mm | 6.46 inch |
| Line of Sight (GNS) | 163 mm | 6.42 inch |
| Trigger Distance | 72 mm | 2.83 inch |
| Trigger Pull Weight | 28 N/ 6.29 lbs. force |
| Caliber | 9x19mm |
| Safety | Safe Action® |
| Mag. Capacity | 17/19 / 24 / 31 / 33 |
| Barrel Length | 114 mm | 4.49 inch |
| Weight without magazine | 625 g | 22.05 oz |
| Weight with empty magazine | 705 g | 24.87 oz |
| Weight with a loaded magazine | 915 g | 32.28 oz |
| MSRP | $579.00 |