What if you could only have one rifle?  What would it be?
What if you needed the ability to engage fast up close and then transition out to medium distances?
The Evolution of the RECCE Rifle
The original RECCE rifles used by Navy DEVGRU (SEAL Team 6) teams were typically based on the M4 platform and had specific modifications tailored to their needs. While the precise specifications may vary over time, some common features of these rifles included:
Barrel Length: RECCE rifles often had a 16-inch barrel, which provided a balance between maneuverability and accuracy.
Free-Float Handguards: They were equipped with free-floating handguards, such as Knights Armament Company (KAC) tube handguards, to enhance accuracy and allow for the attachment of accessories.
Optics: These rifles were typically equipped with high-quality optics, including scopes and red dot sights, to improve target acquisition and accuracy at varying distances.
Suppressor Compatibility: Many RECCE rifles were designed to accommodate suppressors to reduce noise and muzzle flash, especially during covert operations.
Ambidextrous Controls: Ambidextrous controls for safety selectors, magazine releases, and charging handles were often featured to cater to both left and right-handed shooters.
Enhanced Trigger: Upgraded triggers were sometimes used to improve the rifle's overall precision.
It's important to note that specific configurations might have varied based on individual preferences and mission requirements. These rifles were optimized for accuracy, reliability, and versatility, making them ideal choices for the demanding tasks undertaken by DEVGRU teams.
Transitioning from the original RECCE rifles used by SEAL Teams to a more modern, extremely lightweight version, let's explore how advancements in technology and design have led to the development of a highly portable and agile recce rifle from Faxon Firearms; The ION-X.
Pre-Built Recce Rifle: Faxon ION-X Hyperlite 5.56
The Faxon ION-X Hyperlite 5.56 rifle is the ultimate choice for your lightweight RECCE Rifle build. Manufactured in-house at their Greater Cincinnati, Ohio facility, it embodies precision and durability.

This rifle's standout feature is its remarkable lightweight design, featuring a 16″ 5.56 NATO pencil profile barrel and a slim 3-port muzzle brake. The streamlined muzzle brake allows easy gas block and barrel nut removal without detaching the device.
Beyond its lightweight barrel, the Faxon ION-X Hyperlite 5.56 Rifle boasts high-quality components such as the Faxon Gunner Lightweight M16 Bolt Carrier Group, Carbon Fiber M-LOK Handguard, and adjustable gas block.
Backed by Faxon's Lifetime Guarantee, this rifle guarantees longevity and quality. It's an investment in precision and reliability for serious shooters.

Lightweight RECCE Rifle Build
Let's break down the components of the Faxon ION-X Lightweight Rifle.
Receiver Set
The Faxon HyperLite AR-15 Receiver Kit elevates our acclaimed forged receiver set by incorporating advanced design enhancements while concurrently diminishing overall mass and weight. Weighing in at just .96 lbs., inclusive of the ejection port and dust cover, this receiver kit is 2.08 ounces lighter than our standard forged set.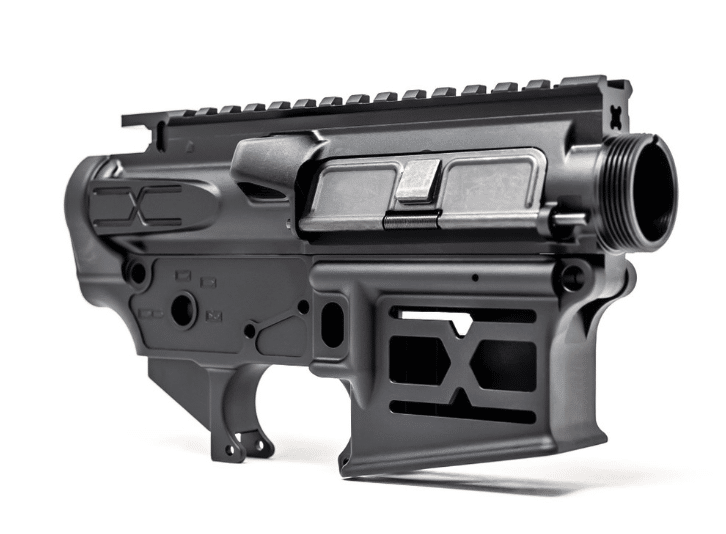 Each component of this kit is meticulously trued at Faxon's state-of-the-art facility in Greater Cincinnati, Ohio. Further optimizing performance, the inner bore has been honed to ensure the bolt carrier group operates smoothly.
A standout feature is the omission of the forward assist, coupled with the introduction of a skeletonized Picatinny Rail, which not only reduces weight but is also adorned with manually engraved T-marks for precision. The skeletonized shell deflector enhances its streamlined appearance and functionality. To ensure a superior fit, Faxon implemented tighter tolerances on the lugs.
In tribute to Faxon's rich heritage, the upper undergoes aesthetic milling, displaying the iconic "X" logo, which contributes to the material and weight reduction. Complementing this is the "X" skeletonized magwell, a testament to our commitment to maximizing weight savings.
Handguard
Apart from giving the rifle a sleek, modern look, the Carbon Fiber M-LOK handguard offers durability and heat resistance. Plus, the M-LOK system means easy customization with a plethora of attachments.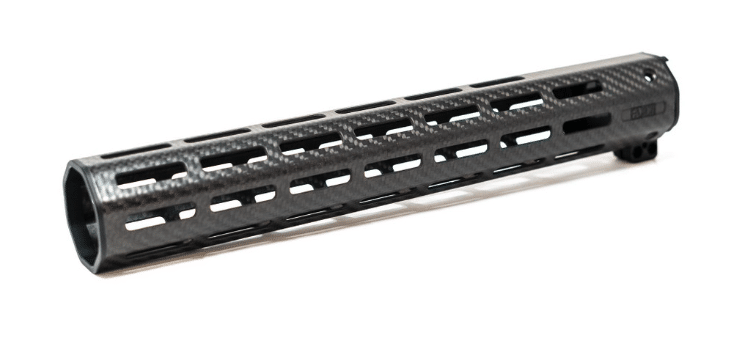 Barrel
At the heart of this rifle is its 16″ 5.56 NATO pencil profile barrel; a prime example of how meticulous design can lead to impeccable performance. The barrel not only contributes to its lightness but also guarantees the kind of accuracy you need in a recce rifle.

Enhanced Duty Trigger
The Hiperfire EDT Designated Marksman trigger offers a sophisticated enhancement to the standard MIL-SPEC AR trigger system. Engineered for precision and reliability, this trigger incorporates a robust SwingFast hammer head, ensuring rapid lock-up. Its duplex trigger bow design provides an elevated position for secure safety engagement under high-pressure situations, while the lower position is optimized for precise tactical operations.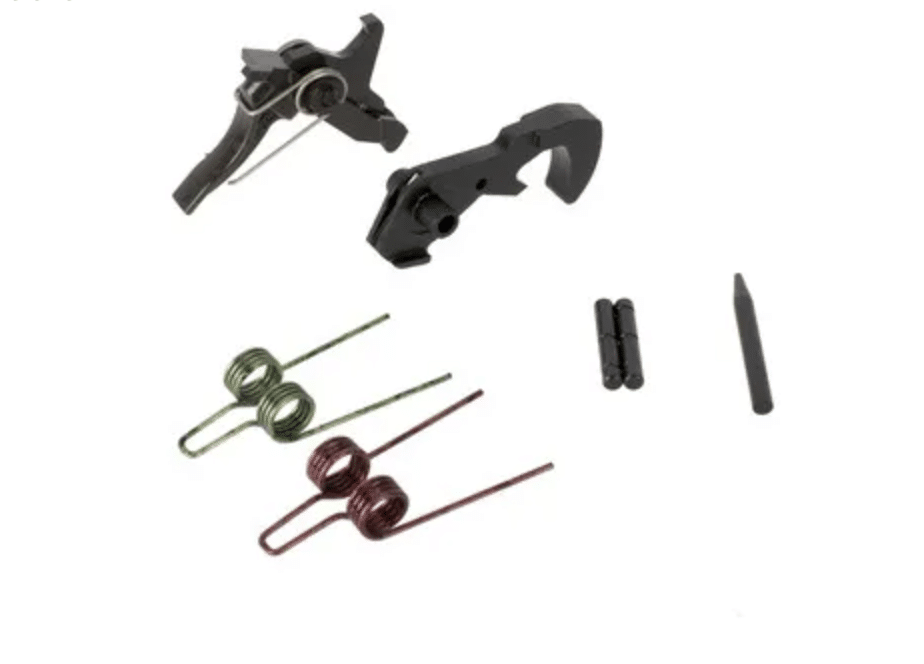 Features:
Single stage semi-auto
Radical sear mechanics
4½ and 5½ lb trigger springs
MIL++ heavy-duty hammer springs
Hard hammer strikes
SwingFast hammer head
Duplex trigger bow
Crisp, clean, trigger break
Short over-travel
Positive reset
MFT BATTLELINK Minimalist Milspec Stock
This Mission First Tactical stock seamlessly meets all functional specifications while maintaining a weight under 6 ounces. This stock offers dynamic adaptability to various environments and operational needs, thanks to its customizable accessory mounts and optimized sling configuration. It stands as the market's lightest stock in its category.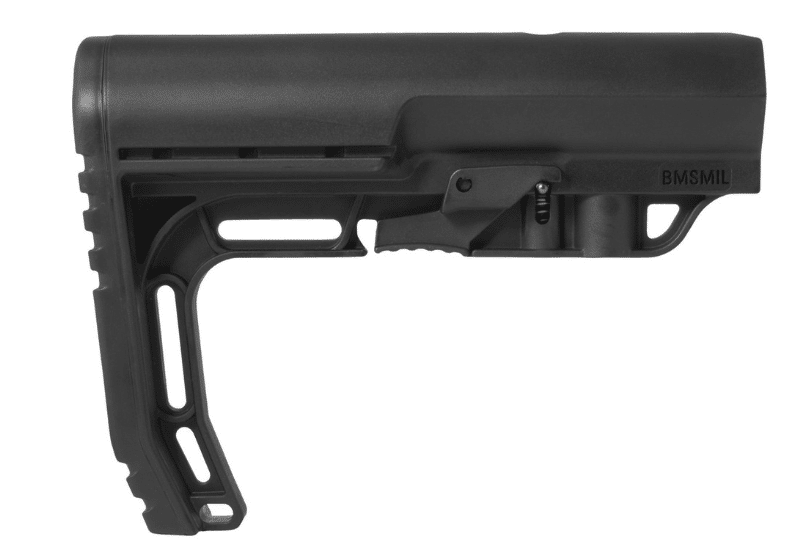 Features:
A streamlined replacement for the conventional collapsible butt stock.
An angled, rubberized, non-slip buttpad designed for swift weapon presentation, compatible even when wearing body armor.
Multiple sling slots with dedicated single-point attachment.
A strategically positioned Quick Detach Sling mounting point, catering to both right-handed and left-handed users.
The upper section is crafted to offer an improved cheek weld.
Compliant with MilSpec Buffer Tube specifications.
Muzzle Device
The slim 3-port muzzle brake is another standout feature. The Faxon SLIM 3 Port Muzzle Brake is an exemplary muzzle device, meticulously engineered to mitigate recoil and minimize muzzle lift. This ensures enhanced target retention and shooting precision.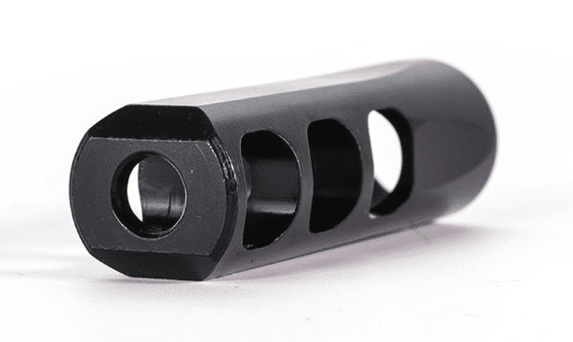 Leveraging a distinctive three-port configuration, this muzzle brake proficiently redirects gas, thereby reducing recoil. This unique design further aids in minimizing muzzle lift, optimizing accuracy for subsequent shots.
Manufactured using premium-grade steel, the Faxon SLIM 3 Port Muzzle Brake is fortified with a QPQ Nitride finish, ensuring heightened durability and resistance to corrosion. Its sleek profile design ensures minimal additional weight and bulk, making it the preferred choice for those seeking an unobtrusive yet high-performing muzzle accessory for their rifle.
Primary Arms SLx 3x Optic
The SLx series is renowned for its innovative design, unwavering reliability, and exceptional value. Every SLx optic is meticulously field-tested during its development phase to ensure optimal performance in diverse conditions.
Introducing the SLx 3x MicroPrism, a pioneering optical system that melds the lightweight and compact characteristics of a microdot with the robustness and precision of a 3x magnified optic. This MicroPrism boasts 13 illumination settings, enhanced with the AutoLive® motion-sensing on/off technology, and is versatile with multiple night vision compatibilities.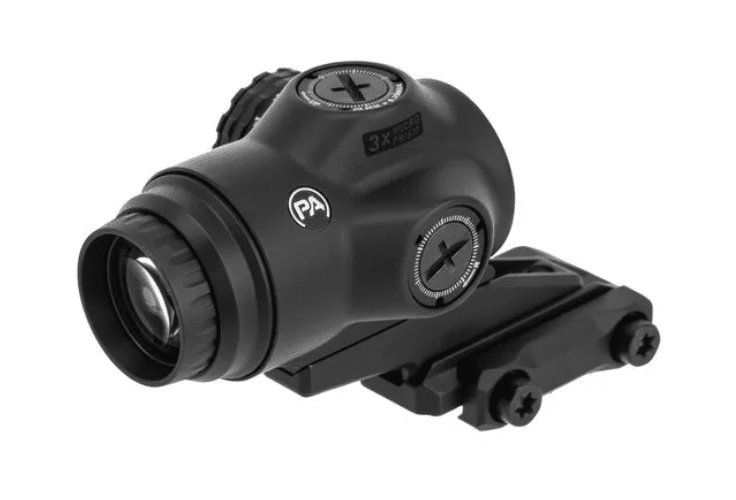 With a weight of less than 8oz, the SLx 3x MicroPrism not only stands out as more compact and lighter than many red dot sights but also showcases pristine glass clarity and a 3x magnification, enhancing accuracy over extended ranges. Its expansive field of view and accommodating eye relief ensure rapid target acquisition, even in close-quarter scenarios.
The Primary Arms SLx 3x MicroPrism optic offers several advantages over traditional Low Power Variable Optics (LPVOs) when used in a recce rifle build.
Read our Review of the Primary Arms SLx 3x MicroPrism
The MicroPrism's compact design provides a lighter and more streamlined profile, making the rifle easier to handle and carry for extended periods. This smaller footprint allows for easier integration of other accessories or backup iron sights without overcrowding the rifle's top rail.
Additionally, the fixed 3x magnification eliminates the need for adjusting zoom levels, ensuring quicker target acquisition without the potential confusion of variable settings. The inherent durability of prism optics also means that even if the illuminated reticle fails, the etched reticle remains visible, ensuring constant functionality. For those prioritizing weight savings, simplicity, and reliability, the SLx 3x MicroPrism is a compelling choice over traditional LPVOs.
Best Ammo for a 5.56 Recce Rifle
For a recce rifle chambered in 5.56 NATO, ammunition selection is critical to maximize performance, especially when the mission calls for accurate engagement at varying distances.
The 77-grain Open-Tip Match (OTM) round has been a preferred choice for several Tier 1 military units due to its exceptional accuracy and terminal performance.
Its heavier weight, compared to the standard 55-grain or 62-grain rounds, allows it to maintain stability in flight, resulting in consistent accuracy across varying distances.
Additionally, the open-tip design ensures reliable expansion upon impact, making it effective for neutralizing threats. In short, for those who demand precision and reliability from their recce rifle, the 77-grain OTM stands out as a top contender.
The RECCE rifle has gained popularity with civilian gun owners over the years, and it's easy to see why.
A lightweight, accurate, and easy-to-use rifle is a hell of a force multiplier to have.  Especially in the times, we live in now.
---
Stay Tuned to the RE Factor Tactical Blog and be part of this all VETERAN-run website. Be sure to follow us on Facebook, Instagram, and LinkedIn for exclusive content and deals.
Check out our DAILY DEALS page for industry deals and discounts.
Visit our Amazon Influencer Page for more products we recommend: https://www.amazon.com/shop/refactortactical