When it comes to gun cleaning, I've heard everything from cleaning them after every use to I've run 1,000 rounds through my gun before giving it a good cleaning.
So which is it? How often should I be going through a gun cleaning regimen?
We're going to answer that question for you and talk about what a good quality gun cleaning kit looks like.
What Happens if You Don't Clean Your Weapon
Every time you shoot your gun, carbon, lead, and copper residue are left in the barrel, chamber, and action. After hundreds or even thousands of rounds, this residue can begin to build up.
Over time, this residue, if not dealt with, can impact a gun's reliability. You'll find that a dirty gun eventually begins to cause malfunctions. Mileage will vary depending on the type of gun, type of ammunition used, and frequency of shooting.
Almost all bullets, centerfire and rimfire, are constructed of a lead core with some type of copper jacket on the outside. Even lead-free ammunition contains some amount of copper. Regardless of the ammunition used, there will be fouling left behind. Here are the three most common types of fouling that will build up over time when you don't clean your weapon regularly.
Carbon fouling occurs as a result of the burning gunpowder that propels the bullet from the chamber through the barrel.
Copper fouling is caused by copper-jacketed bullets leaving residue in the gun's barrel after being fired.
Lead fouling is caused by lead bullets leaving residue in the gun's barrel after firing.
Additionally, moisture from the weather and your body sweat can cause rust to severely damage your gun's metal finish and even the movement of internal metal parts. Rust also will affect the rifling in the barrel causing pits to occur, thus affecting reliability and accuracy.
How Often Should I Oil My Gun
There is no hard and fast rule stating when you should clean your guns. Some people clean their guns after every shooting session. Others never clean their guns. Some go thousands of rounds before cleaning. There is no right or wrong answer.
The easiest way to answer this question is to ask other seasoned shooters, and then formulate your own opinion based on your specific firearms and frequency of shooting.
I took a poll of several shooters in the industry to see how often they cleaned their guns and why. Here are the results of that poll.
"I personally clean them every time I shoot them, especially my Glock 17 I carry every day. Always making sure lint hasn't found its way inside the gun (it always will if you conceal carry), has optimal lubrication, and ensuring all parts are in working fashion. I never understood why people avoid or even brag about never cleaning their guns. If my life depends on it, you better believe I'm going to ensure it is in tip-top shape."

"I shoot Glocks and I don't oil them. Every 3-5000 rounds (yes I shoot them that much) I detail strip them, clean them with Simple Green in a 1:1 mix with water, and a toothbrush in a plastic pan out on my deck. I then wash them down with hot water in the kitchen sink and let them dry. Afterward making sure that all is dry including drying things that are still wet, I put it all back together and lube the points shown in the Glock factory manual as lubrication points with gun grease, not oil. There are many brands of gun grease out there and that is your choice. There is no need to Oil a Glock. Some other brands of guns will need oil and it will attract dirt which may cause issues. Modern firearms of good designs do not need lots of lube/grease. When I clean and grease my Glocks I do the cleaning and greasing of them and then take them to the range to ensure they will fire. Do it in reverse (shoot then teardown and clean) you never really know if it will fire afterward. I always carry dirty guns."

"Depends on the gun and the climate. Out here in the AZ desert, conventional oils (e.g., CLP) don't last long if your gun is exposed to heat. The inside of my car today was over 100 when the ambient was about 85F. If the oil doesn't evaporate then it migrates downward due to gravity. The guns that travel in the car with me will usually get Brian Enos' "Slide Glide" on surfaces like the slide rails, and conventional oil on parts that have rotating bearing surfaces, like trigger pins. Obviously, the weather here is extreme, but especially in warm weather, it's a good idea to pay attention to your gun's lubrication. I'd say every other week is probably good enough. And if you anticipate temps close to freezing, eliminate any thoughts of using grease!"

"I usually clean them when I have time. I will lube them before every long day at the range."

"Usually before and after shooting. If we shoot over 200 rounds, I may do it. Just depends on how everything is working."

"Field strip and oil once a month whether I shoot it or not. high humidity and summer heat can really be hard on them. Plus it gives me a chance to inspect for signs of wear or damage."
As you can see from the responses, it's all over the board. Take it for what it's worth. On average it looks like once a month is the most common, but it's ultimately up to you, your comfort level, and confidence in your firearms.
Related Article – Best Rifle Cleaning Kit For Gun Owners
How Often Should I Clean My Gun Barrel
Another common question that comes up a lot has to do with cleaning your gun barrel; specifically, applying oil to the barrel. This is one of those highly debated topics in the gun industry right along with 9mm vs 45 and 28 or 30 rounds in a Magpul PMAG 30.
The short answer is yes, you should oil the inside of your barrel. Oiling the inside of the barrel will protect it from damaging rust, just don't use too much. You're using oil for protection, not lubrication of the barrel.
You should only put a light application of oil in the bore. Only use 2 or 3 drops of oil per bore patch to have the slightest amount of oil possible. Run that patch or boresnake down the barrel only once or twice at the most.
How To Clean a Gun Without a Gun Cleaning Kit
Most shooters will already have a gun cleaning kit or at least a few of the necessary tools to clean their guns.
If you're a new gun owner though, you might not have all the tools and accessories just yet. So what can you use in the meantime to oil your gun and keep it clean? There are some recipes online for making your own gun lubricant from household chemicals, but I would steer clear of those.
All you really need is a roll of paper towels or shop towels, an old toothbrush, and some automotive motor oil. Wait…what? Motor oil? For your car?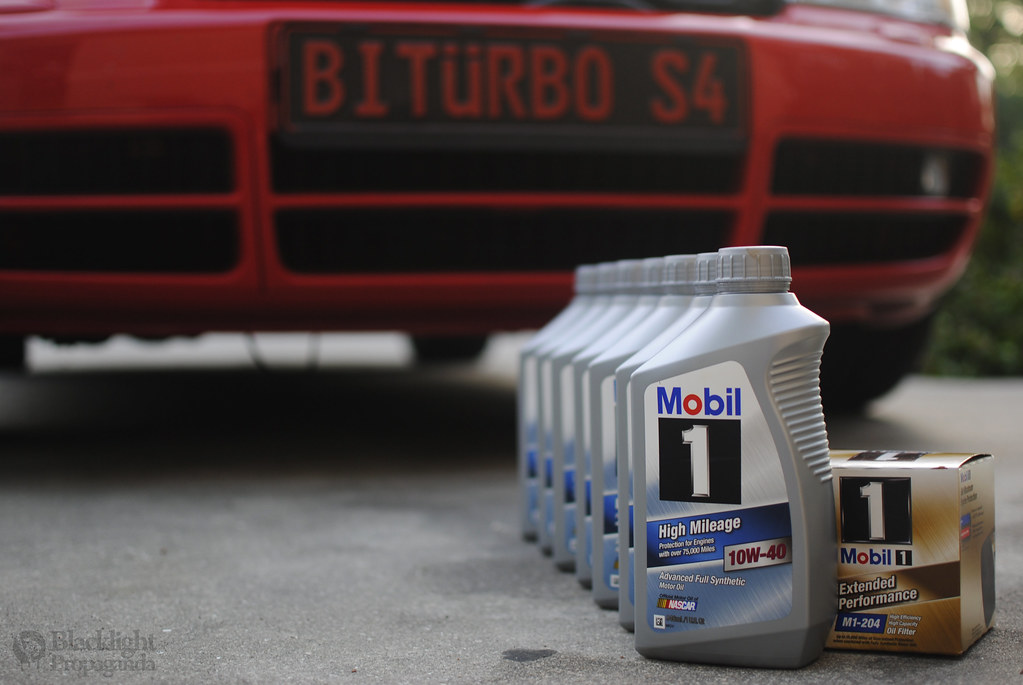 Yes, motor oil works just fine for lubricating the moving parts of the gun, just don't wipe down the outside of your gun with it.
The main difference between your expensive gun oil and motor oil is rust prevention. Gun oil contains rust-inhibiting properties which is why you can wipe down the outside of your gun to prevent rust from forming.
Motor oil does not prevent rust, it only lubricates, making it ok to use in that manner.
Mobile 1 Synthetic 5W-30 is the best option as it has better properties with lubricating high-wear metal parts for longer periods of time.
When using motor oil, it's best to transfer a small amount from the original container to a smaller squeeze bottle for application. If you've got a can of Ballistol in your garage or workshop, then you've got a 1-stop solution for cleaning AND lubricating.
What Is The Best Gun Cleaning Kit
Cleaning your gun with household items will get you by in a pinch, but you should have a dedicated kit, whether that is a full-blown gun cleaning kit or just a few specific tools to get the job done.
Obviously, the kit and tools themselves will be dependant on the type of firearm and caliber.
Over the years I've become more of a minimalist with my gun cleaning kit and like to keep it as streamlined and simple as possible. Instead of going for a pre-made kit, I opted for getting a few specific items I needed and nothing more.
RELATED ARTICLE – Best Gun Cleaning Kit For Your Pistol
If you want to take the guesswork out of what you need, then a pre-made kit from a reputable company such as Tipton is the way to go. The Tipton Ultra Gun Cleaning Kit has everything you need in one convenient portable kit.
If you want something smaller that you can throw in a range bag or backpack, take a look at the Tipton Compact Pistol Cleaning Kit.
Otherwise, you can do as I did and piece your kit together based on your specific needs. For a list of individual Tipton cleaning tools, check out this Amazon page.
---
Stay Tuned to the RE Factor Tactical Blog and be part of this all VETERAN-run website. Be sure to follow us on Facebook, Instagram, and LinkedIn for exclusive content and deals.
Check out our DAILY DEALS page for industry deals and discounts.
Visit our Amazon Influencer Page for more products we recommend: https://www.amazon.com/shop/refactortactical