The Sig MCX platform has 7 distinct guns that carry unique features, capabilities, and, unfortunately, legal concerns. We'll do our best to keep you updated on any new laws that pass, regarding AR-pistol braces and SBRs, but for now, we're excited to share our thoughts on the PDW brace from Maxim Defense.
Not only will you have a complete understanding of the Sig Sauer MCX line of guns, but also which guns are perfect for the Maxim Defense PDW Brace. 
Installing a brace for added stabilization is a brilliant choice for anyone trying to optimize their PDWs. Maxim Defense has uniquely fitted the PDW Brace with any Sig MCX to provide versatility, improved performance, and durability that's hard to match.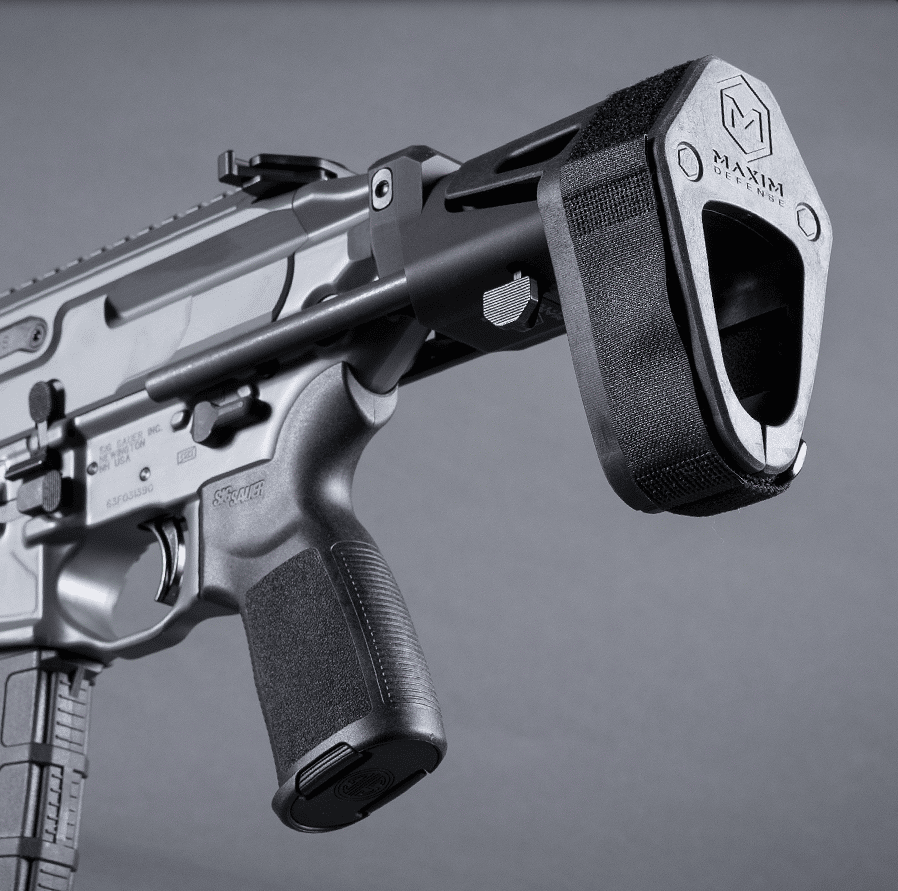 Regardless of which Sig MCX you have, the PDW Brace fits perfectly with the help of a bench gun vice grip and armorer's wrench. 
What is a Pistol Brace?
A pistol brace has very distinctive features that, once you know, you'll never forget. For starters, if it's classified as an SBR or AR-pistol brace, it has to have a hole to fit your arm through, with an adjustable strap to tighten for added stability. A pistol brace will attach to your forearm to provide the stability of absorbing the felt-recoil of a 5.56 NATO bullet. Pistol braces are shot with one hand but can be legally shouldered without forcing yourself to get a federal tax stamp for the brace.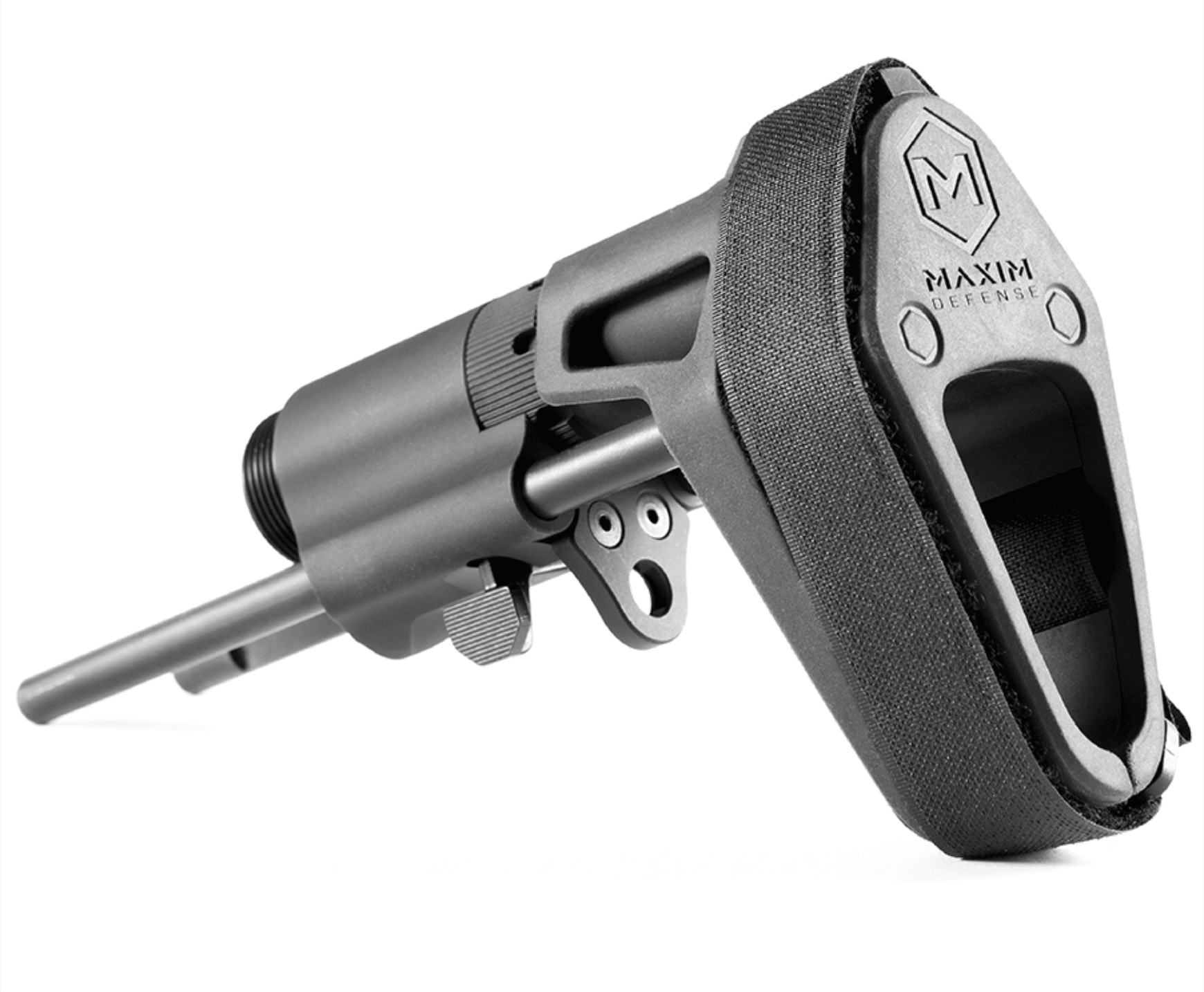 What is an SBR?
A Short Barrel Rifle (SBR) is a gun with a barrel of less than 16" and an overall length of less than 26", but also meant for use as a rifle. For example, an AR-pistol would be an SBR without a shoulder stock and designed to be fired with one hand like a pistol. The way you can avoid getting into trouble with the ATF is to have a pistol brace with an opening for your arm and a strap for securing your forearm to the weapon platform. As long as you can prove that your MCX SBR is meant for single-arm fire, you can shoulder it without having to register with the NFA.
Why Would You Need A Pistol/SBR Brace?
A pistol brace is to help shooters control high-powered gun calibers, like the 5.56 NATO, .300 BLK, 6.5 Creedmoor, and a new caliber like the .277 FURY(6.8x51mm) in a shorter platform. If you're following along with the ATF, they classify an SBR as having a barrel length of less than 16". Our advancements in engineering have given us guns that have assault rifle capabilities but are on sub-compact platforms. 
For all the veteran shooters out there, you know, with a shorter barrel and higher caliber; the recoil is going to be felt in your bones and your muzzle will flip like a gymnast. A pistol brace takes the place of a traditional shoulder stock and allows the shooter to stabilize the gun with one arm. 
Can You Shoulder a PDW Brace?
So, to make things a little simpler, an AR pistol brace has a hole in it and typically has a Velcro strap that's intended to wrap around the arm. A pistol brace doesn't actually have to be velcroed to your arm though, it just has to work as a brace, meaning it can sit against your arm providing an additional point of contact to stabilize the firearm.
As far as the legality of it all, an SBR is shoulder-fired with both hands on the gun. A brace is there to support your arm while you fire with one hand, therefore, a brace won't affect the legality of the gun if it's longer than 26" and designed to be shoulder-fired. There are obviously a lot of insinuations in the ATF laws, that's why they're changing the law. 
What type of gun is the SIG MCX?
There are currently 7 Sig MCX guns in production, with varying purposes and features to fit any mission type. Before we get into the aftermarket weapon upgrades, I think it's vital to understand each weapon platform and how they're different. I've only shot the Sig Rattler SBR and the Sig MCX Virtus SBR, so this won't be as much of a review as it is an educational blog to help you understand the purpose of each Sig MCX model. 
| | |
| --- | --- |
| MCX Rattler Canebrake |   |
| Caliber | 300 Blackout |
| Weight | 6.5 lbs. |
| Barrel Length | 5.5" |
| Overall Length | 29.25" |
| Width | 2.8" |
| Height | 8" |
| Action | Semi-Auto |
| Barrel Material | Carbon Steel |
| Trigger | 2-Stage Match |
| Twist Rate | 1:5 |
| Threading | 5/8 in – 24 TPI |
| Grip | Polymer |
| Forend | Alloy |
| Receiver Finish | Cerakote E190 |
| Capacity | 30+1 |
| MSRP | $3,049.00 |
Why Should I Choose the Sig MCX Rattler Canebrake?
I would choose the Canebrake if I were looking for a CQB gun that will give me the firepower needed to take on multiple assailants, but also provide modularity for customization. Sig specifically designed the MCX Rattler Canebrake as an AR-pistol. The whole point of this gun was to run a suppressor for clandestine military operations where stealth and fire superiority are a must. 
The Sig inert training device at the muzzle of the barrel provides the shooter the ability to attach any 7.62mm suppressor, with no additional tools or components. This is important because, for as much money as this gun costs, buying an additional threaded barrel or adaptors can add up quickly. You'll need an NFA tax stamp for the CaneBrake, but once that's done, you can attach a suppressor free from hassle from the government. 
Why Should I Choose the Sig MCX Virtus Patrol Rifle?
The MCX Virtus Patrol rifle is one that I would have given a finger to use over my M4, during OIF. For gun owners, it's incredible because it's not an SBR or AR-pistol, therefore, you won't need a tax stamp. The 16" carbon steel barrel dissipates heat better than stainless steel and will last years longer than a traditional steel barrel. This rifle is perfect for a long gun to use for intermediate and CQB targets. 
Sig has always been one of the most revolutionary gun manufacturers, with pistols and rifles used by militaries around the world. The Virtus Patrol rifle is perfect for infantry soldiers, and police officers, who need an effective full-size rifle for combat operations. 
| | |
| --- | --- |
| MCX Virtus Patrol |   |
| Caliber | 5.56mm |
| Weight | 7.9 lbs. |
| Barrel Length | 16" |
| Overall Length | 35.5" |
| Width | 2.8" |
| Height | 8" |
| Action | Semi-Auto |
| Barrel Material | Cold-Hammer-Forged Carbon Steel |
| Trigger | 2-Stage Match |
| Twist Rate | 1:7 |
| Threading | 5/8 in – 24 TPI |
| Grip | Polymer |
| Forend | Alloy |
| Receiver Finish | Cerakote E190 |
| Capacity | 30+1 |
| MSRP | $2,400.00 |
Why Should I Choose the Sig MCX Rattler SBR?
The MCX Rattler SBR is my favorite and the choice I'd make if I were looking for an SBR. Not only does the gun come in both .300 Blackout and 5.56 NATO, but it's also 6" shorter than the CaneBrake and almost a full pound lighter if you choose the .300 BLK platform. My only complaint about the MCX Rattler is the minimalist stock because it doesn't seem to help much with the felt recoil. 
Adding an after-market stock to the MCX Rattler will enhance the capability and performance of the gun. The original Rattler SBR is also $500-$600 cheaper than the CaneBrake and offers the same capacity. The only differences that make the CaneBrake more expensive are the barrel finish, stock, and FDE finish to the gun. Regardless, the Matchlite trigger system inside the 5.56 NATO Rattler provides one of the smoothest breaking triggers I've shot with, outside of a bolt-action rifle. 
| | | |
| --- | --- | --- |
| MCX Sig Rattler SBR | .300 Blackout | 5.56 NATO |
| Weight | 5.7lbs. | 6lbs |
| Barrel Length | 5.5" | 5.5" |
| Overall Length | 23.5" | 23" |
| Width | 2.8" | 2.8" |
| Height | 8" | 8" |
| Action | Semi-Auto | Semi-Auto |
| Barrel Material | Cold Hammer Forged Carbon Steel | Cold Hammer Forged Carbon Steel |
| Trigger | 2-Stage Match | Matchlite Duo |
| Twist Rate | 1:5 | 1:7 |
| Threading | N/A | 1/2 in – 28 tpi |
| Grip | Polymer | Polymer |
| Forend | Alloy | Alloy |
| Stock | Folding Minimalist  | Folding Minimalist |
| Receiver Finish | Hard Coat Anodized | Hard Coat Anodized |
| Capacity | 30+1 | 30+1 |
| MSRP | $2,537.99 | $2,537.99 |