We all have EDC items that we carry every day. For some, it's just a phone, wallet, and keys, others have that plus some defensive equipment like a concealed handgun and pocket knife.
What about medical gear? Is that anywhere to be found in your EDC?
If your life and the lives of your family are on your mind every time you leave the house, then you should seriously evaluate what you're taking with you.
The reality is that you're far more likely going to use medical items than you are your concealed carry pistol.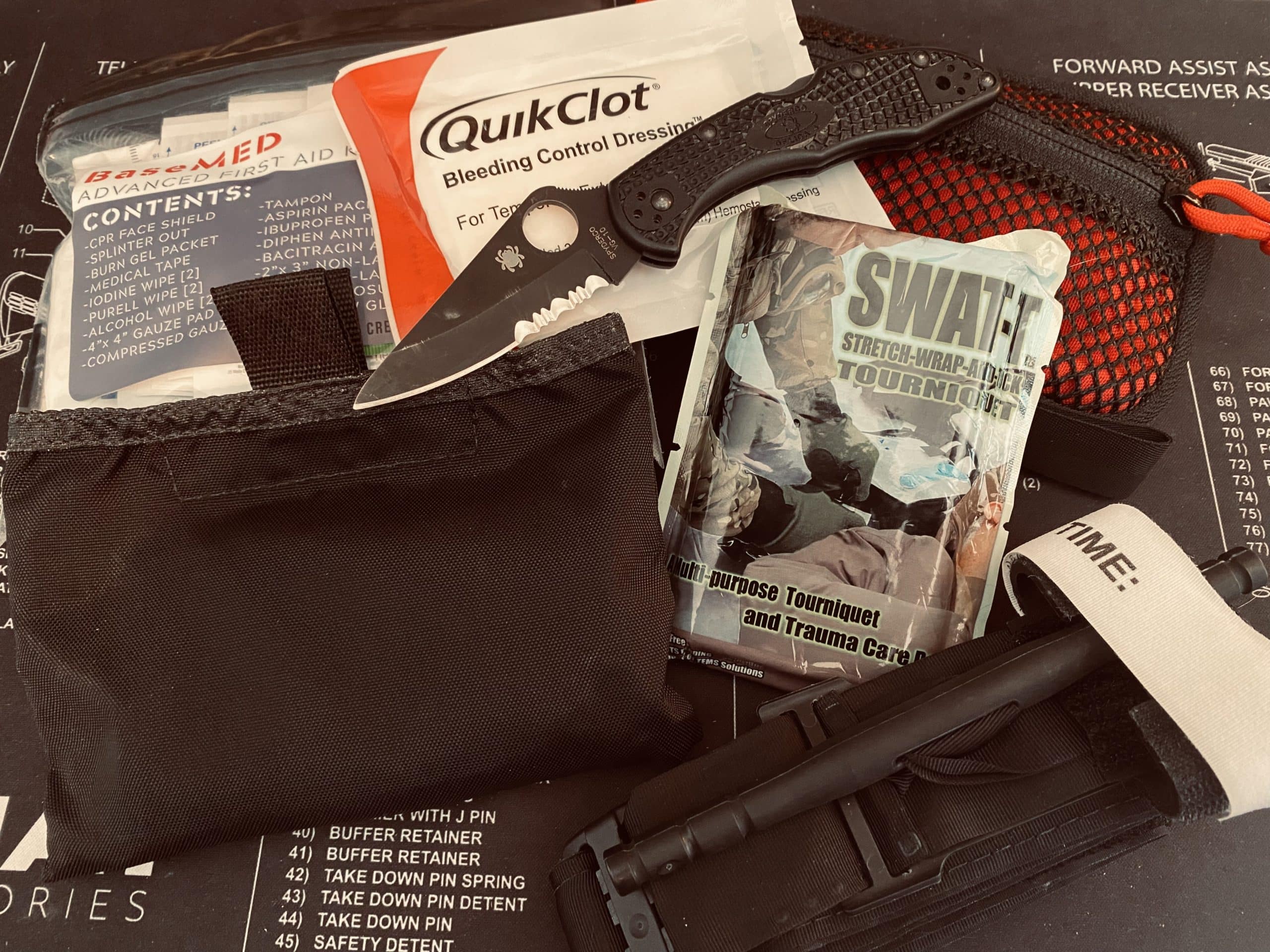 Even if you are forced to defend yourself and other innocents from a violent mass attack, you need to know how to save your own life and the lives of others around you.
We're going to break down exactly what medical gear is useful to carry and the best EDC medical kit to contain it all.
Should You EDC a Tourniquet?
The short answer is YES, especially if you're carrying concealed. If you're carrying something that makes holes, then you better be carrying something to plug holes.
Chances are much higher that you're going to use a tourniquet than your concealed firearm. Whether you're first on the scene to a car accident or a young kid falls off his bike, that tourniquet could save lives.
The average EMS response time is 8 minutes across the board. Give or take a minute depending on your distance from the 911 center.
So how long does it take on average to bleed out from a femoral artery? About 4 minutes. Do the math and you'll more than likely be dead by the time EMS is on the scene. Remember the time chooses you, so be prepared to respond.
You're the stop-gap for your life and possibly the life of another until emergency personnel arrives on the scene.
Although we recommend that everyone carry some type of EDC medical kit, a tourniquet, at a minimum, NEEDS to be part of your EVERYDAY carry. Tourniquets have become a standard in emergency medical care due to ease of use, rapid application, and their ability to completely stop a massive hemorrhage.
Best EDC Tourniquets
What is an EDC Trauma Kit?
Before we get into our favorite EDC medical kits, you need to understand the difference between an EDC trauma kit and EDC first aid kit; they are two different animals.
An EDC First Aid Kit is for minor, non-life-threatening injuries, such as cuts and scrapes while an EDC trauma kit is for an injury that requires immediate action in order to preserve life.
An EDC trauma kit has the essential medical gear to handle the things that will kill us the quickest. The #1 cause of death is a massive life-threatening hemorrhage otherwise known as bleeding out.
What Goes in an EDC Trauma Kit
At a bare minimum, you need to have a proven tourniquet, not the latest "cool guy" tourniquet or something from China.
Next, you should have some hemostatic gauze like QuikClot along with a pressure dressing to reinforce the hemostatic agent and hold it in place. The SWAT-T is great for doubling as a pressure dressing.
If you have the space, add a pair of compact chest seals so that you have the ability to stop the bleeding and start breathing.
Tourniquet
The CAT Gen 7 tourniquet is the gold standard and I keep one in my truck and in each of my larger medical kits. For EDC though, carrying a CAT tourniquet can be a challenge. For my EDC trauma kit, I prefer the SWAT-T. I've trained with it and carried it for years.  Is it the best TQ out there? No, but it's better than nothing and is something I will carry daily.
The SWAT-T is a low-profile tourniquet that is easy to carry in my back pocket every day. It has become a routine every morning when loading up for the day. The SWAT T tourniquet is also considered to be a multi-purpose tourniquet as it can also be used to secure a pressure dressing or a splint. Have a K9 or small children? It can be used on them too due to the stretch, wrap and tuck design.