In a previous article, we discussed how the Special Operation Command North planned on retrofitting six Chevy Suburbans for their Crisis Response Teams.
Those Suburbans were retrofitted in a way that kept them low vis but offered enhanced capabilities to go from city streets to offroad trails.
As I continue with the Trail Boss upgrades, I recently upgraded a few items under the hood to give the Trail Boss some performance gains.
Thanks to K&N Filters, we've been able to increase the airflow to the engine, giving the Trail Boss a little more horsepower and acceleration.
Improving Engine Performance with K&N Filters
My 2019 Chevy Trail Boss has the 4.3l V6 engine, which apparently isn't as common as their other two V8 options. With that said it was a challenge finding an air intake kit for the V6. Most well-known companies that are supplying air intake upgrades only offer them for the V8 options of the Trail Boss.
After some online research, I was pleasantly surprised to find out that K&N Filters offers several products for the 4.3l V6 engine.
I ended up purchasing the 63-3116 performance air intake system, which replaces and upgrades the factory air filter and intake tube. Additionally, I also decided to pick up the K&N VF2071 cabin air filter, which replaces and upgrades the factory cabin air filter.
The new K&N Trail Boss cold air intake provides a noticeable boost in performance. In addition to the performance boost, both the high-flow air filter and cabin air filter increase the capabilities of my truck by making it more self-sustaining.
Both filters are washable and reusable, meaning you don't have to worry about buying replacements when they become too dirty. Just pull out the K&N Filters, wash them off, and put them back into service. No need to make a trip to the local auto store to buy another filter.
Installation of the Performance Air Intake System
Required Tools
Flathead screwdriver for the hose clamps
5/16″ socket with extension for the factory air box screws
Adjustable wrench for installing the vent fitting onto the K&N intake tube
Installation was relatively straightforward and only took about 45 minutes.
The only challenge I really had was removing the stock air plenum. Once you loosen the hose clamps going to the throttle body and airbox, you have to rotate the stock air plenum counter-clockwise 90 degrees and lift it off the hinge.
Once that is out of the way, it's just a matter of installing the new hose couplers, intake tube, and vent hose.
Once the air intake upgrade was complete, I swapped out the factory air filter for the K&N high-flow air filter.
Upgrading the 2019 Silverado Cabin Air Filter
What is the importance of cabin air filter maintenance and why choose to upgrade to a K&N cabin air filter?
A cabin air filter protects the integrity of your vehicle's internal ventilation system. If your cabin filter becomes too dirty or even clogged, your vehicle's A/C motor can become strained. You'll notice that it takes longer for fogged windows to clear. The cabin of your vehicle will take longer to heat and cool.
Most automotive manufacturers recommend replacing your cabin air filter every 12,000 to 15,000 miles. K&N recommends cleaning/servicing their filters every 12,000 miles.
The K&N cabin air filters are electrostatically charged to capture most mold, mildew, fungus, spores, bacteria, germs, and other contaminants. This gives you cleaner air to breathe while driving on a dusty trail or through an urban area with hazardous air quality. Installation of the cabin air filter is pretty straightforward and easy to do.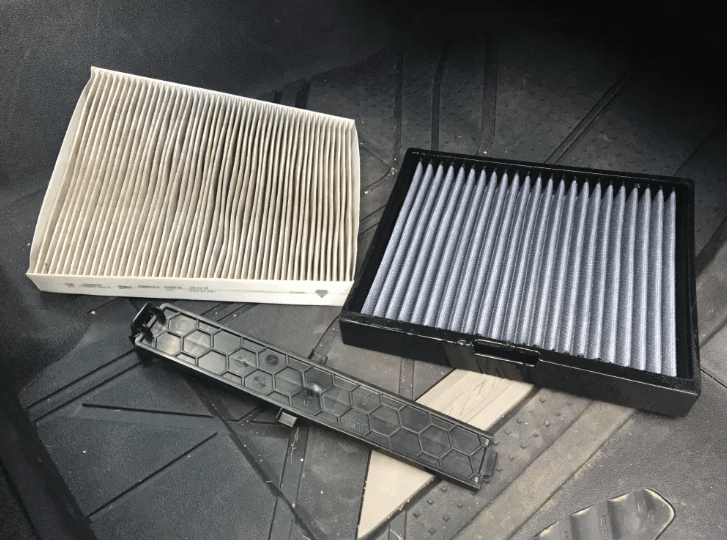 For the Trail Boss, the cabin air filter is located behind the glove box.
Advantages of upgrading to a K&N Cabin Air Filter
Flow up to 25% more air than typical aftermarket disposable filters
Washable and easy to clean and reuse
Engineered to last for the life of your vehicle
Designed filter media is pleated to increase the contaminant-capturing surface area
Treated to help capture contaminants that cause odors
Pre-treated and ready to install
Fits directly into your factory cabin airbox
10-Year/Million Mile Limited Warranty
*This article was originally published on The Gear Bunker
---
Stay Tuned to the RE Factor Tactical Blog and be part of this all VETERAN-run website. Be sure to follow us on Facebook, Instagram, and LinkedIn for exclusive content and deals.
Check out our DAILY DEALS page for industry deals and discounts.
Visit our Amazon Influencer Page for more products we recommend: https://www.amazon.com/shop/refactortactical