There are so many concealed carry weapons (CCW) on the market today that it can be very difficult to find the best one for you. We've done a handful of CCW pistols, holsters, accessories, and ammo already. Today's blog is going to focus on the everyday carry (EDC) pistols that are currently on the shelves at Palmetto State Armory (PSA). Since the pandemic, we've seen ammo and gun sales go up by as much as 200% in most places across the country. As businesses like PSA start to restock their shelves, some Americans are buying up everything they can find before thinking about the purchase. We hope this blog gives you an idea of some of the best EDC pistols back on the market at the height of the Pandemic.
Glock 43 
The Glock 43 is built to be an EDC because of its small overall size and weight. We've already written a full blog on the Glock 43, so I won't go into as much detail here. However, I'll go over the basics to ensure you have what you need to know. The Glock 43 is a single-stack 9mm with a smaller capacity (6+1) and a thin grip width to make it as compact as possible. The biggest spec that stands out for concealed carry purposes is the height of the Glock 43 is only 4.2″. This provides any shooter, from the tallest to the smallest to carry the Glock 43 without worrying about printing too much. 
One of the best things about Glock is the endless amount of accessories they have for their guns. From the first look of this pistol, you can tell it's meant for people who enjoy the beauty of craftsmanship and aesthetics. There are many other ways to customize your Glock, but the Burnt Bronze paint is incredibly rare to find and can be even more expensive than the $600.00 price tag from PSA. Buying this pistol will ensure you have an accurate EDC, that will never fail and never print through your shirt as you carry in public. 
Specs:
| | |
| --- | --- |
| Weight (loaded) | 20.4 oz (1.27 lbs) |
| Overall Length | 6.2 in |
| Barrel Length | 3.41 in |
| Height | 4.2 in |
| caliber | 9mm Luger |
| Magazine Capacity | 6+1 |
| Width | 1.06 in |
| Price | $600.00 |
Springfield XD-S Mod.2 OSP
The Springfield XD-S is one of the most popular handguns in the country because of how clean and nice it looks and the durability of the pistol. The new XD-S Mod 2.0 OSP is a single stack 9mm pistol with a great capacity versus most other single-stacks (9+1). This is the lowest profile pistol on the list with a grip width of less than 1″ and a height of 4.4″. The OSP model gives you a red dot reticle from Crimson Trace that is already attached and ready to zero at the range.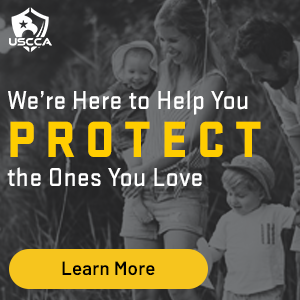 The Black Polymer frame with Enhanced Grip Texture provides a rigid pistol with an aggressive grip feel. This is important because the pistol is so small that you'll need an aggressive grip to shoot this consistently, especially if you have larger hands. The Dual Captive Recoil Spring with a Full-Length Guide Rod reduces the felt recoil by more than 30% and ensures a smoother cycle to put shots on target every time. 
Specs:
| | |
| --- | --- |
| Weight (loaded) | 21.5 oz (1.34 lbs) |
| Overall Length | 6.3 in |
| Barrel Length | 3.3 in |
| Height | 4.4 in |
| caliber | 9mm Luger |
| Magazine Capacity | 9+1 |
| Width | 0.9 in |
| Price | $549.00 |
Glock 26 Gen 5
The Glock 26 Gen 5 is also known as the "Baby Glock" because of how small the gun is. Since we've done a complete review of the Baby Glock, we won't beat a dead horse and regurgitate the same material. If you're interested in learning everything about the Glock 26, read our Blog Glock 26| Review of the "Baby Glock". You'll notice the fingerless grip, which has been one of the best additions to the Gen 5 besides the Glock Marksman Barrel (GMB). This Glock is incredible because it has a similar feel to the Glock 43 or Glock 19, but in a smaller frame. The awesome thing is the magazine capacity for this gun can vary from 10 to 33 rounds, depending on how you want to carry this pistol. 
Specs:
| | |
| --- | --- |
| Weight (loaded) | 26.07 oz (1.62 lbs) |
| Overall Length | 6.4 in |
| Barrel Length | 3.43 in |
| Height | 4.1 in |
| caliber | 9mm Luger |
| Magazine Capacity | 10/12 / 17 / 19 / 15 / 24 / 31 / 33 |
| Width | 1.0 in |
| Price | $649.00 |
Sig Sauer P365 XL
The new Sig Sauer P365 XL XSeries 9mm pistol feels and looks incredible while offering optimal versatility. The XSeries Polymer grip provides an aggressive grip, without irritating shooters with softer hands. I'd still probably add a Talon Grip to it, but there are only a couple of pistols that have good enough stock grip and the P365 XL is one of them. Don't let the XL name deter you from giving this gun a chance. The specs are nothing like what you're probably anticipating when a gun says XL.
Sig always has great triggers that are always crisp, clean, and light. It's a double-stack 9mm with a 12+1 magazine capacity and is built with a flat trigger with a 90-degree break. These features ensure even a novice shooter can put multiple rounds on are a target when they need to use the gun. The top of the frame is optics ready and comes with Xray3 day/night sights.  I love the fact that if I don't want an optic, the night sights are good enough to not spend extra money on better night sights. 
Specs:
| | |
| --- | --- |
| Weight (loaded) | 20.7oz (1.31 lbs) |
| Overall Length | 6.6 in |
| Barrel Length | 3.7 in |
| Height | 4.8 in |
| caliber | 9mm Luger |
| Magazine Capacity | 12+1 |
| Width | 1.1 in |
| Price | $579.00 |
Beretta APX
My military experience has almost ruined Beretta for me, but the new  APX pistol has regained my confidence in their ability to adapt and innovate. I'd probably replace the stock sights with a nice tritium night sights. Beretta includes 3 interchangeable backstraps to accommodate the different hand sizes. Since this pistol is designed for soldiers and police officers, the slide was designed with extra-aggressive serrations. If slide serrations are of your personal concerns, there is no other pistol with more aggressive and rigid slide serrations than this Beretta APX.

There are very specific features that a pistol needs to have for it to accommodate soldiers or law enforcement officers (Leo). The slide needs to be aggressive, rigid, and durable to manipulate your slide in multiple positions and withstand the punishment of a deployment. The pistol needs to have great safety features and needs to fit every soldier, regardless of their dominant hand. The APX has all of those bases covered with its striker deactivator,  and ambidextrous slide stop, and reversible magazine release. 
Specs:
| | |
| --- | --- |
| Weight (loaded) | 28.24 oz (1.76 lbs) |
| Overall Length | 7.55 in |
| Barrel Length | 4.25 in |
| Height | 5.6 in |
| caliber | 9mm Luger |
| Magazine Capacity | 17+1 |
| Width | 1.3 in |
| Price | $419.00 |
Mossberg MC1SC
Mossberg will always be known for producing some of the best shotguns made and I don't think that's a bad thing. However, their MC1sc (sub-compact) 9mm pistol feels like a lighter, more affordable Glock 43. Their specs are almost identical except the MC1sc is lighter, has a higher capacity, and has a Button Rifled Six Groove barrel. The Mossberg trigger breaks at 5-6 lbs and is more ergonomic than Glock 43 with its flat-profile trigger. The barrels are treated with just as much care as their famous Mossberg 500 with a DLC coating and a Matte finish.
The best thing about the Mossberg MC1sc is the fact that you can buy this pistol for around $350 at Palmetto State Armory. You can buy 2 of these pistols for the same price as the Glock 43. I do believe the Glock 43 is a little better with recoil, but every other difference can be evened out with practice. I have searched online in many places and haven't found this gun listed for a lower price. 
Specs:
| | |
| --- | --- |
| Weight (loaded) | 19 oz (1.19 lbs) |
| Overall Length | 6.25 in |
| Barrel Length | 3.4 in |
| Height | 4.3 in |
| caliber | 9mm Luger |
| Magazine Capacity | 6+1, 7+1 |
| Width | 1.03 in |
| Price | $429.00 |