We've taken a look at many tactical shotguns (Mossberg 590, Mossberg 930, Mossberg Shockwave, and the Mossberg 835) and which ones we like the best, but we haven't gone into specific purposes yet.
This blog is dedicated to the shotguns that we view as the best gun for home defense and close quarters combat.
If you're not too familiar with close quarters combat, think of being in tight places, such as a house, hallway, narrow alleyway, or a public office building with cubicles. Members of the Special Operations community and law enforcement find themselves in these situations all the time.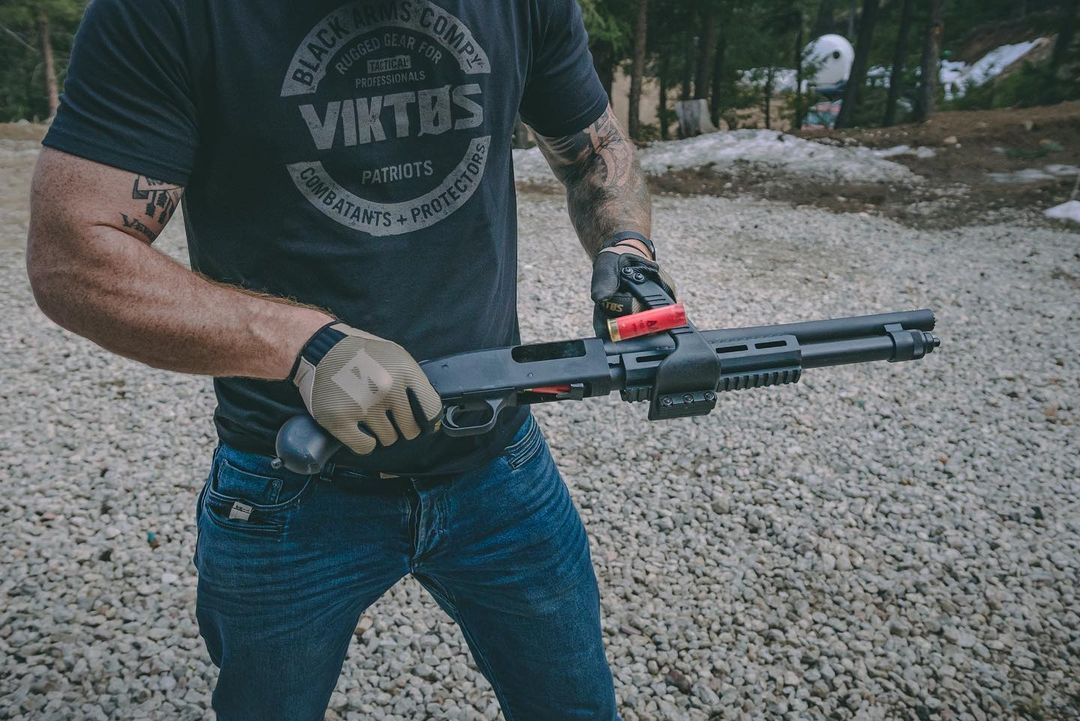 The 5 shotguns below provide the military, law enforcement, and those defending their homes with the capability to maneuver within tight spaces and maintain fire superiority in situations where space is severely limited.
Mossberg 590 Shockwave
The Mossberg Shockwave has taken the shotgun world by storm with its Raptor's Bird Head pistol grip. The 590M Shockwave is made in collaboration with Shockwave Industries to provide Mossberg with a low-profile, shortened version of their 590 shotgun. The 590 Shockwave is built around a 15" barrel versus the 18.5" barrel for the standard Mossberg 590 Tactical. To make it more mobile, the Raptor's Birds Eye stock is at least 8" shorter than any of the 590 stocks and weighs 6.55 lbs instead of 6.75lbs. The Magfed shockwave almost doubles the loadout from 6 shells to 11 shells. The 590 Shockwave comes with the forend strap to ensure you maintain control with each shot and an optional wrist strap to hold the shotgun to your firing wrist for extra support.
Specs
| | |
| --- | --- |
| Gauge | 12 |
| Capacity | 10+1 |
| Chamber | 2.75" |
| Barrel Type | Heavy-Walled |
| Barrel Length | 15" |
| Sight/Base | Bead |
| Choke | Cylinder Bore |
| Barrel Finish | Matte Blued |
| Stock Finish | Raptor Grip / Corn Cob Forend w/ Strap |
| Weight | 6.55 |
| Length | 27.5" |
| MSRP | $721.00 |
Why Should I Buy The Mossberg 590 Shockwave?
The 590 Shockwave is built for CQB operations in tight quarters with 11 shells to fire before reloading and is the shortest shotgun model on the market. Please be aware that the Mossberg Shockwave is controversial and may not be legal in your state. Mossberg was able to get the shotgun rated as a firearm instead of a Class 3/NFA Firearm, but each state has different laws and regulations. If your state allows this shotgun, it will be great for home-defense with its unmatched firepower and maneuverability. The Shockwave also looks incredible and will get the attention of anyone on the range due to its one-of-a-kind aesthetics.
Where Can I Buy the Mossberg 590M Shockwave?