When it comes to keeping your family and home safe, having a dependable weapon can make all the difference.
A lot of folks choose a shotgun for home defense because they're pretty easy to use, powerful, and adaptable. But with so many different shotguns to choose from, it can be tough to know which one is the right fit for you.
Whether you're an experienced gun owner or a newbie, we've got you covered with all the details you need to make an informed decision. So let's dive in and find the perfect shotgun to protect your home and loved ones.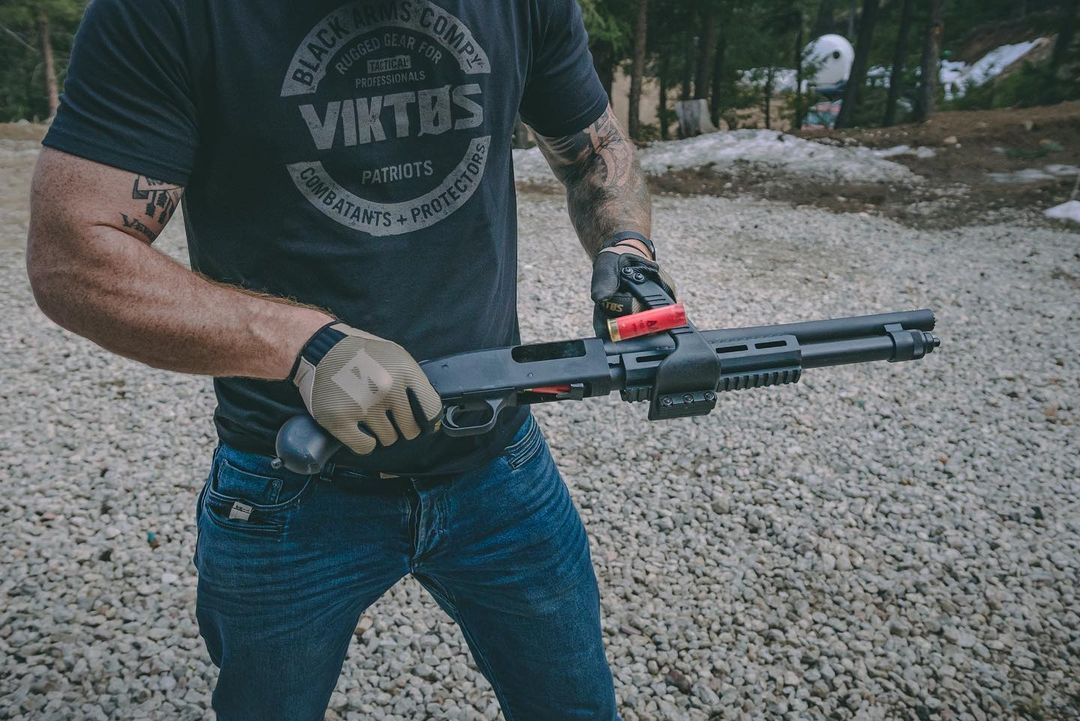 Pump vs Semi Auto Shotgun
When selecting a shotgun, a crucial decision you must make is choosing between semi-automatic and pump-action.
Pump Action
Pump-action shotguns are renowned for their reliability. Every time you cycle the pump, regardless of the ammunition type, they just work.
Because of that reliable design, these guns can handle damn near any type of shotgun load without fail, making them a popular choice for home defense.
Additionally, pump shotguns are significantly less expensive compared to semi-auto shotguns.
Related – Maverick 88 Home Defense Shotgun Review
Semi-Auto
Pump-action shotguns have long been considered one of the most reliable designs, but semi-automatic shotguns are becoming just as highly regarded. They are trusted by various military branches worldwide and have evolved in their designs.
One of the biggest advantages of semi-automatic shotguns is the lower recoil and faster rate of fire.
Semi-auto shotguns are also more user-friendly as there is no need to cycle a pump after each shot. Even in high-pressure situations where you may be fighting for your life, all that's required is to pull the trigger, making it easier to operate under stress.
The five shotguns below provide the military, law enforcement, and those defending their homes with the capability to maneuver within tight spaces and maintain fire superiority in situations where space is severely limited.
Which one is best for you? Each design, whether pump-action or semi-automatic, has its own advantages and disadvantages, and ultimately, the choice depends on what you're comfortable with. Personally, I have both in my gun safe.
If I were to select only one shotgun for home defense, I would probably go for a semi-automatic. However, this decision comes after investing significant time at the range and becoming deadly, at a subconscious level, with the shotgun.
If you prefer a simple and straightforward option, that is likely to survive an apocalypse, then a pump-action shotgun is unbeatable.
Top 5 Best Home Defense Shotguns
Mossberg 590 Shockwave
The Mossberg Shockwave has taken the shotgun world by storm with its Raptor's Bird Head pistol grip. The 590M Shockwave is made in collaboration with Shockwave Industries to provide Mossberg with a low-profile, shortened version of their 590 shotgun. The 590 Shockwave is built around a 15" barrel versus the 18.5" barrel for the standard Mossberg 590 Tactical. To make it more mobile, the Raptor's Birds Eye stock is at least 8" shorter than any of the 590 stocks and weighs 6.55 lbs instead of 6.75lbs. The Magfed shockwave almost doubles the loadout from 6 shells to 11 shells. The 590 Shockwave comes with the forend strap to ensure you maintain control with each shot and an optional wrist strap to hold the shotgun to your firing wrist for extra support.
Specs
| | |
| --- | --- |
| Gauge | 12 |
| Capacity | 10+1 |
| Chamber | 2.75" |
| Barrel Type | Heavy-Walled |
| Barrel Length | 15" |
| Sight/Base | Bead |
| Choke | Cylinder Bore |
| Barrel Finish | Matte Blued |
| Stock Finish | Raptor Grip / Corn Cob Forend w/ Strap |
| Weight | 6.55 |
| Length | 27.5" |
| MSRP | $721.00 |
Why Should I Buy The Mossberg 590 Shockwave?
The 590 Shockwave is built for CQB operations in tight quarters with 11 shells to fire before reloading and is the shortest shotgun model on the market. Please be aware that the Mossberg Shockwave is controversial and may not be legal in your state. Mossberg was able to get the shotgun rated as a firearm instead of a Class 3/NFA Firearm, but each state has different laws and regulations. If your state allows this shotgun, it will be great for home-defense with its unmatched firepower and maneuverability. The Shockwave also looks incredible and will get the attention of anyone on the range due to its one-of-a-kind aesthetics.
Where Can I Buy the Mossberg 590M Shockwave?