When you consider how much benefit you gain from an armorer's wrench, it's surprising to hear most shooters don't use a modern style armorers wrench.
Whether you're installing a scope, laser, or light attachment, having the proper wrench will give you the best chance to maintain your weapons and gear.
Before I learned how amazing an armorers wrench was, I was using the stainless steel wrench that I use for everything else.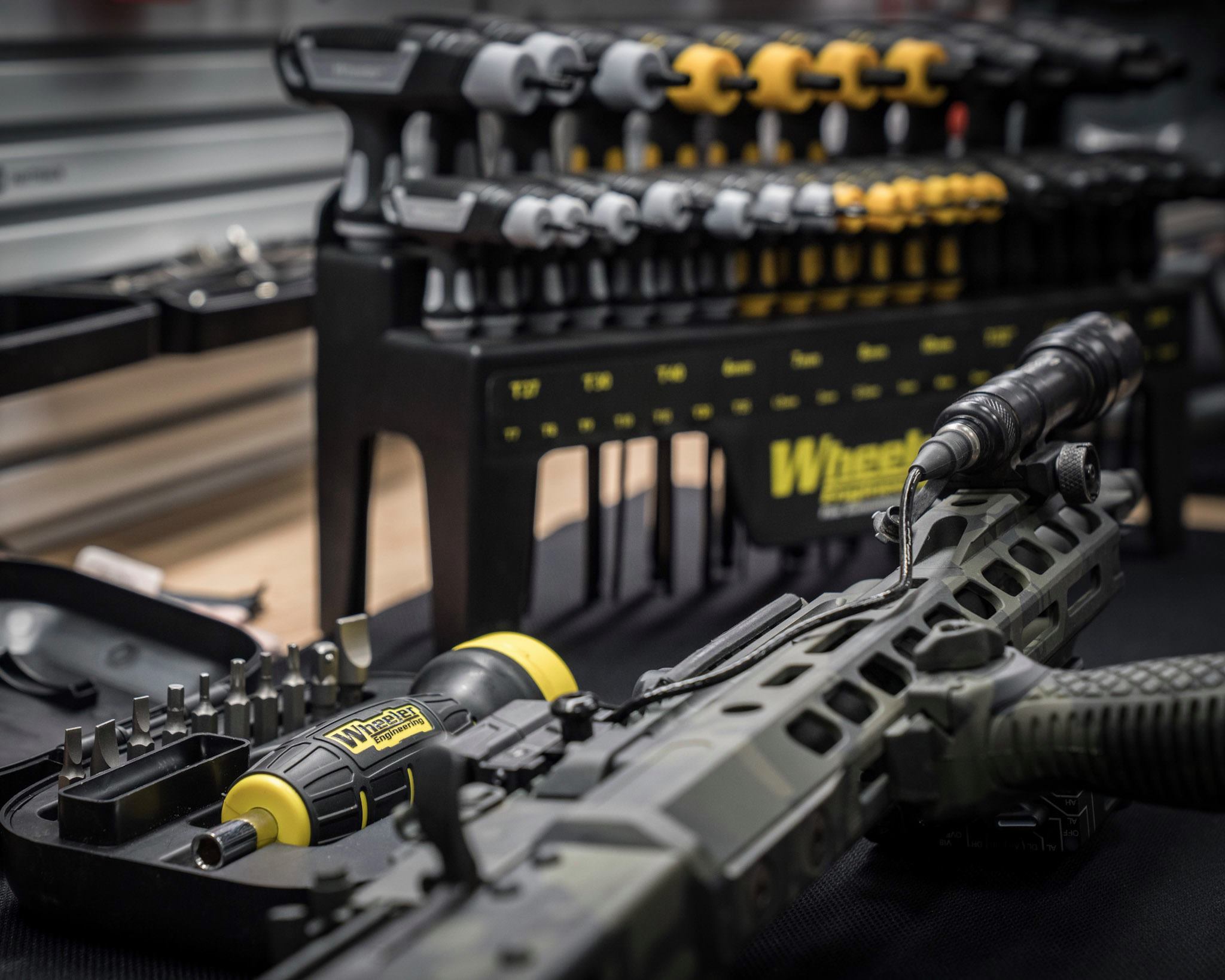 I am hoping to shed light on what a torque wrench is, how to calibrate one, and how to use a torque wrench. 
What is a Torque Wrench?
A torque wrench is used to apply a specific amount of pressure to a fastener, such as a nut, bolt, guard screw, or lag screw. They build most torque wrenches from a socket wrench platform, but with specialized internal components that ensure proper tension. Using a torque wrench will allow you to not have to worry about over-tightening a screw or bolt if you use it correctly. 
How Do I Use a Torque Wrench?
Each torque wrench has a tightener at the end of the wrench handle. Loosen the cap at the bottom of the wrench. Normally, you just twist counter-clockwise with your hand to change the setting for the torque wrench. 

Pro-Tip: Don't twist it all the way off the wrench. It will be tough to put it back together. Turn until you don't feel resistance and move to step 2. 

2. Identify the torque measurements on your wrench. Torque measures in foot-pounds or inches-pounds for an armorer's wrench. Combine the number on the left with the number on the right to come up with the specified torque. 

Example: If you look at the number 50 on the left and add the number 50 on the right, your overall torque would be 100.

3. By turning the fastener on the bottom, the bar in the window will go up or down. Read the manual for each product you wish to tighten and it will show you the proper amount of torque needed for each product (i.e. scope, laser, light, optic)
4. Screw the fastener back once your torque sets. Place the bit inside the top of the wrench. If you started by turning counter-clockwise, you'll tighten the fastener back with a clockwise turn. Once the fastener no longer moves, it's locked in place and ready to go. 
5. As you apply your wrench to the nuts, bolts, or screws on your weapon system, the F.A.T. Wrench will make an audible click sound to let you know the screw or bolt tightens enough. 
Wheeler Firearm Accurizing Torque (F.A.T.) Wrench
Wheeler's F.A.T. Wrench (Firearm Accurizing Torque) takes all the guessing out of installing a scope or other weapon attachment. The F.A.T. wrench works perfectly every time as long as you read the manual before you work on your scope rings or rail systems. 
With the F.A.T. wrench, all I do is tighten until I hear a click after I set my torque for each specific screw, bolt, or nuts. WIth other torque wrenches, you have a similar audible click, but the F.A.T. wrench is so much smaller and compact. It allows you to control the torque wrench with one if needed and you can properly set your desired torque anywhere you want, including the field. 
The improved availability of the F.A.T. wrench over the traditional style found in any other brand right now is really what sets it apart. You could use a vise and install it on a bench, but what if you didn't have a bench and wanted to make sure your scope attaches?
Most places we get to hunt require a bumpy ride somewhere in the hills or mountains of North America. The Wheeler F.A.T. wrench has been the best addition to my hunting bag last year. I'm able to check if any of my screws loosen from a big pothole or rocky mountain road. 
Which Bits Come With the Wheeler F.A.T.  Wrench?
Hex to square adapter
Wheeler Screwdriver #10 Flat Blade Deluxe Bit
Wheeler Screwdriver #11 Flat Blade Deluxe Bit
Wheeler Screwdriver #32 Flat Blade Deluxe Bit
Wheeler Screwdriver Allen Deluxe Bit 3/32Inch
Wheeler Screwdriver Allen Deluxe Bit 5/32in
Wheeler Screwdriver Allen Deluxe Bit 7/64in
Wheeler Screwdriver Specialty Bit Leupold-Buehler
Wheeler Screwdriver Specialty Bit Torx Deluxe T15
Wheeler Screwdriver Specialty Bit Torx Deluxe T20
How Do You Use the Wheeler F.A.T. Wrench?
You simply use it in the same way you would every other screwdriver. Just be careful to not overload the torque setting past 120 lbs in because you can ruin the internal components and damage your scope or weapon mod.
While many other torque wrenches require a rachet or click-style wrench, the F.A.T. wrench is easier to operate than most other brands. For the analog model, the floating bar will level out at the pre-set torque and make a clicking sound as it reaches the setting. 
Where Can I Buy the Wheeler F.A.T. Wrench?