Last fall, USSOCOM selected the SIG MODX-9 9mm suppressor for use with the Mk27 handgun.
The Mk27 handgun is a SOF unique pistol that is known commercially as the Glock 19 and is currently in service in several variants.
The user-configurable MODX-9 Suppressor is comprised of seven, 3D-printed titanium baffles and an encapsulator with 21-points of impact adjustment.

The length is adjustable from 3.25 inches to 7.5 inches, the weight is adjustable from 5 ounces to 8 ounces, and the sound is adjustable from 127.4dB to 145.3dB.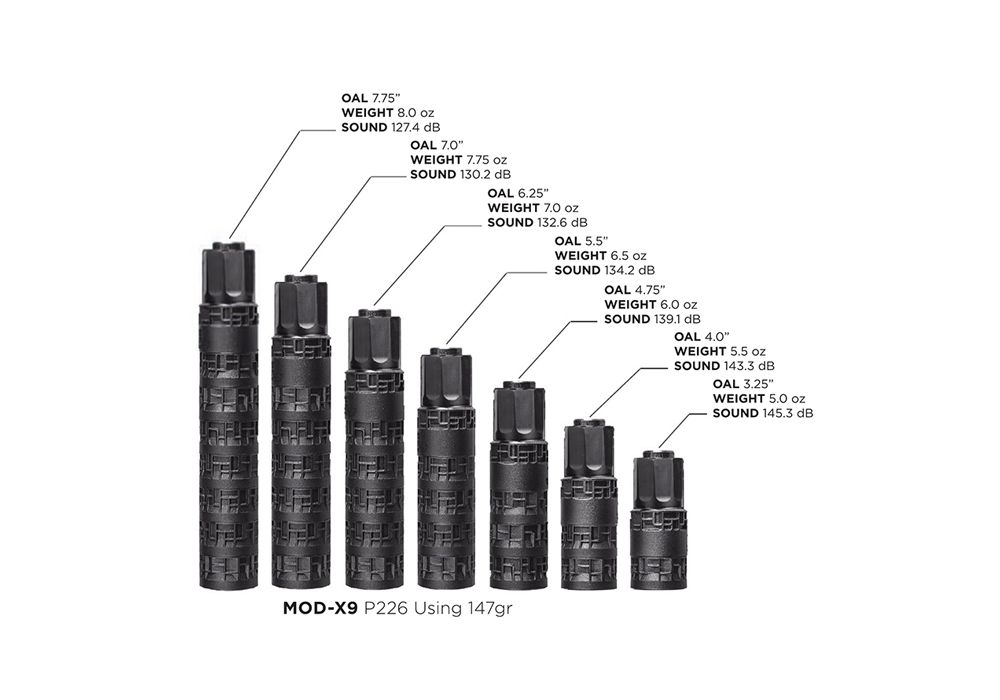 With a handgun suppressor requirement on the books for years, the capability was finally acquired via an Other Transactional Authority acquisition which saw several manufacturers offer commercially available suppressors compatible with the Glock handgun.
Participating vendors demonstrated their suppressors to the command during a private range event in 2020.
Then, they selected two suppressors to move forward with operator testing and a technical evaluation at the Naval Surface Warfare Center; which handles the procurement of weapons for Special Operations Forces. The result was the selection of the SIG MODX-9.
"The newest pistol suppressor line from SIG SAUER features completely modular and configurable titanium baffles for the ultimate, light-weight performance that allows the user to personalize their suppressor for overall length, weight, and sound. The MODX-9 provides class-leading sound performance and can be easily disassembled and reconfigured with fewer baffles when your priority is size over sound. The MODX suppressors feature 21 points of impact adjustment and come with a fixed barrel spacer for carbine use. Each MODX suppressor includes the most popular metric and metric piston for its given caliber." – Sig Sauer
SIG MODX-9 Handgun Suppressor Specs
Caliber: 9mm Luger
Diameter: 1.34″
Overall Length: 7.5″
Threads: 1/2×28
Weight: 8 oz
Material: Titanium and Stainless Steel
Attachment Type: Direct Thread
The SIG MODX-9 9mm Suppressor is also compatible with the following firearms (with threaded barrels).
GBRS Group Recently had a chance to test and evaluate the new SIG Suppressors. Check it out!
In a nutshell, here are their initial thoughts after getting their hands on these.
QD MOUNTING SYSTEM:  The QD lock-up system is top-notch and feels much more secure than most other systems out there.
THE HYPE IS REAL: We've heard a lot about the (blow through) technology which pushes the gas forward and reduces the toxic gas blowback towards the user's face. Our main concern was having enough energy to cycle the bolt every time and not degrade the confidence or the reliability of the weapon system. During our testing, we used a wide variety of ammo brands and grain weight and we had zero malfunctions.
SIZE: Everyone wants to talk about the length and weight of the suppressor. In our opinion, reducing the gas blowback is more important for a number of reasons and we will cover all of those in great detail as we get more time with these cans. We love the scalability of the suppressors, they are clearly labeled 5.56/ 7.62, etc. Doesn't sound like a big deal until you have a bunch of guys on the range and everyone is just swapping cans and not confirming what they have on their platform.
---
Stay Tuned to the RE Factor Tactical Blog and be part of this all VETERAN-run website. Be sure to follow us on Facebook, Instagram, and LinkedIn for exclusive content and deals.
Check out our DAILY DEALS page for industry deals and discounts.
Visit our Amazon Influencer Page for more products we recommend: https://www.amazon.com/shop/refactortactical