Introduced in 1994, the Russian AK-100 series took the proven AK-74M internal systems and updated its manufacturing process to facilitate greater interchangeability of parts.
One of the most beloved designs from this family is the AK-104, a carbine variant of the AK-103 with a 12.25″ barrel.
The AK-104 is chambered for 7.62x39mm and feeds from any standard 7.62x39mm AK pattern magazine.
Americans who wished to own an AK-104 carbine in the past were limited to custom-built variants, but Kalashnikov USA just brought down that wall with the release of the KR-104 SBR.
From Kalashnikov USA
With a long history of offering authentic and rugged firearms, we take immense pleasure in introducing the SBR configuration short barrel rifle KR-104 SBR.  Made with superior technology and state-of-the-art innovation in America. The KR-104  is renowned for its use by the Russian Federal Protective Service.  With a 12.25" Cold Hammer Forged , chrome lined barrel,  this rifle qualifies as a "Short Barrel Rifle".  It is a semi-automatic AK-style rifle that takes over from the authentic and durable design of Mikhail Kalashnikov.
The KR-104 SBR rifle is a perfect firearm in any circumstance considering its compact size and smooth handling. It comes with a side-folding buttstock.  The rifle accepts standard AKM style magazines.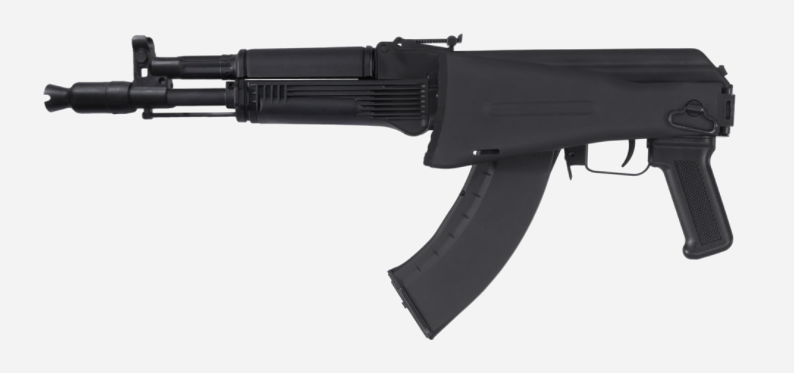 Kalashnikov USA KR-104 SBR Features
Forged Trunnion
Forged Carrier
Side Optic Rail
Hammer Forged Chrome lined barrel
Cleaning rod
30 round magazine included
100% MADE IN THE USA
Kalashnikov USA KR-104 SBR Specs
| | |
| --- | --- |
| Weight | 7.4 pounds |
| Dimensions | 44 x 11 x 17 inches |
| Firearm Type | Short Barreled Rifle |
| Caliber | 7.62x39mm |
| Barrel Length | 12.25 inches |
| Stock | Side Folding Stock |
| Magazine | 30 Round Magazine Included |
| Manufacturer | Kalashnikov USA |
| Model | KR-104 |
| Made In | USA |
The KR-104 SBR has an MSRP of $1,399 and offers a great balance of size and performance, with its 12.25″ short barrel being just long enough to not compromise the ballistics of the 7.62x39mm round.
For more on Kalashnikov USA, please visit kalashnikov-usa.com.
---
Stay Tuned to the RE Factor Tactical Blog and be part of this all VETERAN-run website. Be sure to follow us on Facebook, Instagram, and LinkedIn for exclusive content and deals.
Check out our DAILY DEALS page for industry deals and discounts.
Visit our Amazon Influencer Page for more products we recommend: https://www.amazon.com/shop/refactortactical