The Glock 17 is one of the most balanced full-size pistols on the market. And it's been that way since it was introduced back in 1982.
You know exactly what you're getting when you purchase one; a dependable firearm that's easy to manipulate and shoot. Glock pistols attract almost as many haters as they do loyal followers. Regardless of all the hate, they're reliable guns.
Not to mention, Glock pistols are one of the most customizable thanks to a robust aftermarket. One of the easiest and most practical aftermarket upgrades you can do is upgrading the OEM barrel to a match-grade barrel.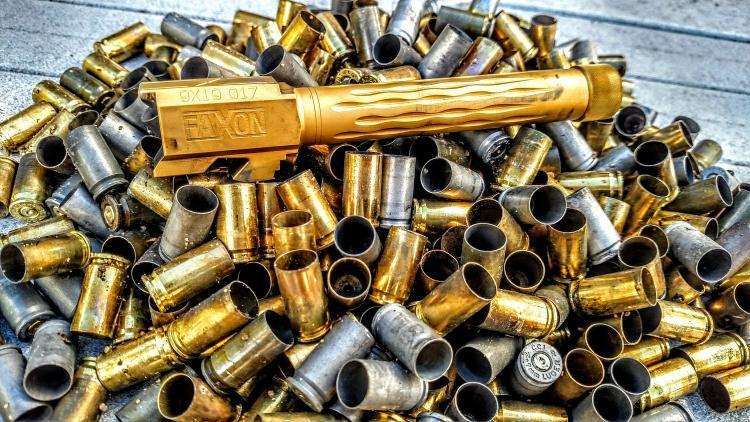 Before we get into the weeds of the Faxon Glock 17 Barrels, let's talk about why you would want to upgrade your stock Glock 17 barrel.
Why Upgrade Your Glock 17 Barrel?
OEM Glock barrels use polygonal rifling which is actually more accurate than the industry standard rifling used in many other firearms. The polygonal rifling allows for cheaper manufacturing processes to be used, which in turn saves the end user a little money.
However, the OEM Glock barrels do have one shortcoming. They can't use lead bullets. Well, technically you can, but Glock doesn't recommend it because lead can build up to unsafe levels in the polygonal rifling.
Another benefit of upgrading to Glock aftermarket barrels is that many of them are threaded, for use with suppressors and pistol comps.
Additionally, match-grade aftermarket barrels are more accurate than factory barrels. Glocks are already more than adequate for defensive use or general shooting, but if you really want to cut your groups in half at 50 yards, then a quality match-grade barrel is key.
Lastly, aftermarket Glock barrels are great for improving the appearance of your gun. Glocks are without a doubt durable and dependable, but they leave something to be desired in the aesthetics department.
In addition to dialing in your accuracy, If you want a match-grade barrel with a unique color, different finish, or fluting then you need to take a hard look at what Faxon Firearms has to offer.
Best Aftermarket Glock Barrel
Faxon Glock 17 Barrel
Faxon Firearms has been impressing the industry for a while now with its AR-15 barrels, handguards, bolt carrier groups, and even full-blown firearms.
And their Glock barrels are no exception, specifically the Glock 17 barrels.
Faxon Pistol Barrels for Glock 17 / G17 are machined 100% in-house from stress relieved 4150 CMV steel (Duty Series) or 416-R stainless steel (Match Series). 
Then, our barrels are given a black Nitride or PVD coating to increase lubricity, resistance to surface wear, and barrel life. We conventionally rifle all our pistol barrels to allow for a wider range of compatible ammunition, including cast lead. 
Don't worry about gunsmithing, as these barrels easily drop into factory-spec slides. We ensure a consistent tighter lockup than OEM with better-than-factory tolerances.