An Every Day Carry (EDC) kit is a select group of items that a person carries when interacting with the public, hiking, hunting, or an event with lots of people, such as a concert or sporting event. 
If you ask each member of our team what they carry, you will get a different answer from each person, regardless of their background and service connection. This is because an EDC kit is extremely personal, and there is no one-size-fits-all. 
This blog will give you an idea of the things that you should consider for your own EDC, regardless of the scenario. 
EDC Knives
Most people I know carry at least 1 knife in their EDC kit, and many carry 2 separate knives. Why would someone bother with 2 knives? It all depends on what you're lifestyle is like and your preferred tools. For example, carrying 2 knives will allow you to use 1 knife as your go-to for all things non-combat-related, such as opening Amazon boxes, cutting rope, opening bags, and even cutting food at a campsite.
However, you should always have a knife strictly for self-defense because you want to make sure that knife is always sharp and never dull enough to compromise your fighting capability. There are so many knives to choose from, but I always recommend a fixed blade for fighting and a folding blade for every day in stress-free environments. However, one of my favorite EDC knives is a folding blade with a glass breaker on the bottom of the grip. 
Spyderco Delica 4
The Spyderco Delica 4 might quite possibly be the perfect EDC folder in its class. Now that I've had a few years of use with it, I can confidently say that my statement holds true. The biggest advantage I see out of the gate is the price point. The MSRP direct from Spyderco is $142.00, but you can find them on Amazon for around $85. At that price point, you're getting one hell of a folding knife made with quality materials.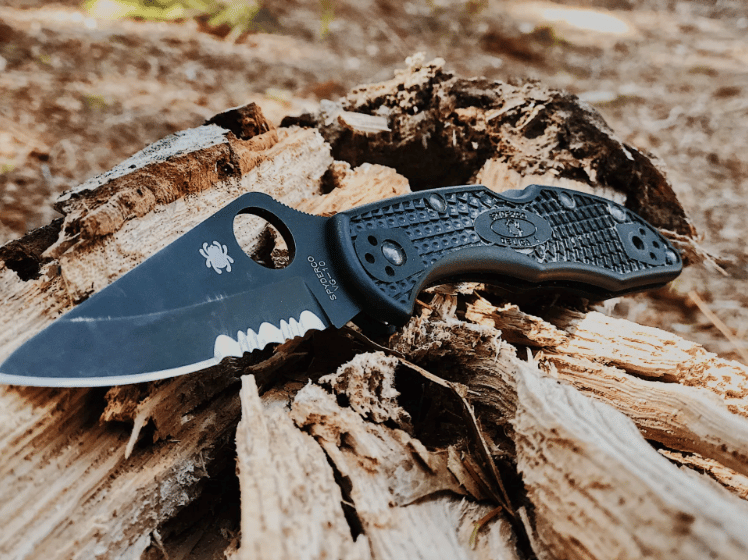 Not only is this a great lightweight folder to carry on you everywhere you go on your urban adventures, but it really does a stand-up job as a wilderness EDC folder too. I've used the Delica 4 countless times in the woods for carving, prepping kindling for a fire, and striking my Ferro rod to produce sparks for the fire.
I also carried this knife clipped to the waistband of my board shorts, while at the beach for a week. The knife was submerged in saltwater for the better part of the week. After I returned home, I disassembled the knife, wiped it down, and gave it a light coating of oil. Absolutely no issues whatsoever.
The Spyderco Delica 4 is now a constant companion when running during the spring and summer. Like I did at the beach, I just clip it to the waistband of my running shorts and head out for a run. Through rain and sweat, the knife has never failed me. Take care of your gear and it will take care of you.