If you're looking for laser sights, look no further. Actually, you'll have to look a tad further, because we don't sell any. However, this is a great place to start before you actually buy a sight.
Here's our full buyers' guide to everything laser sights.
Related Article – Best Laser Sights For Glock 43, Glock 43X, Glock 48, and Sig Sauer P365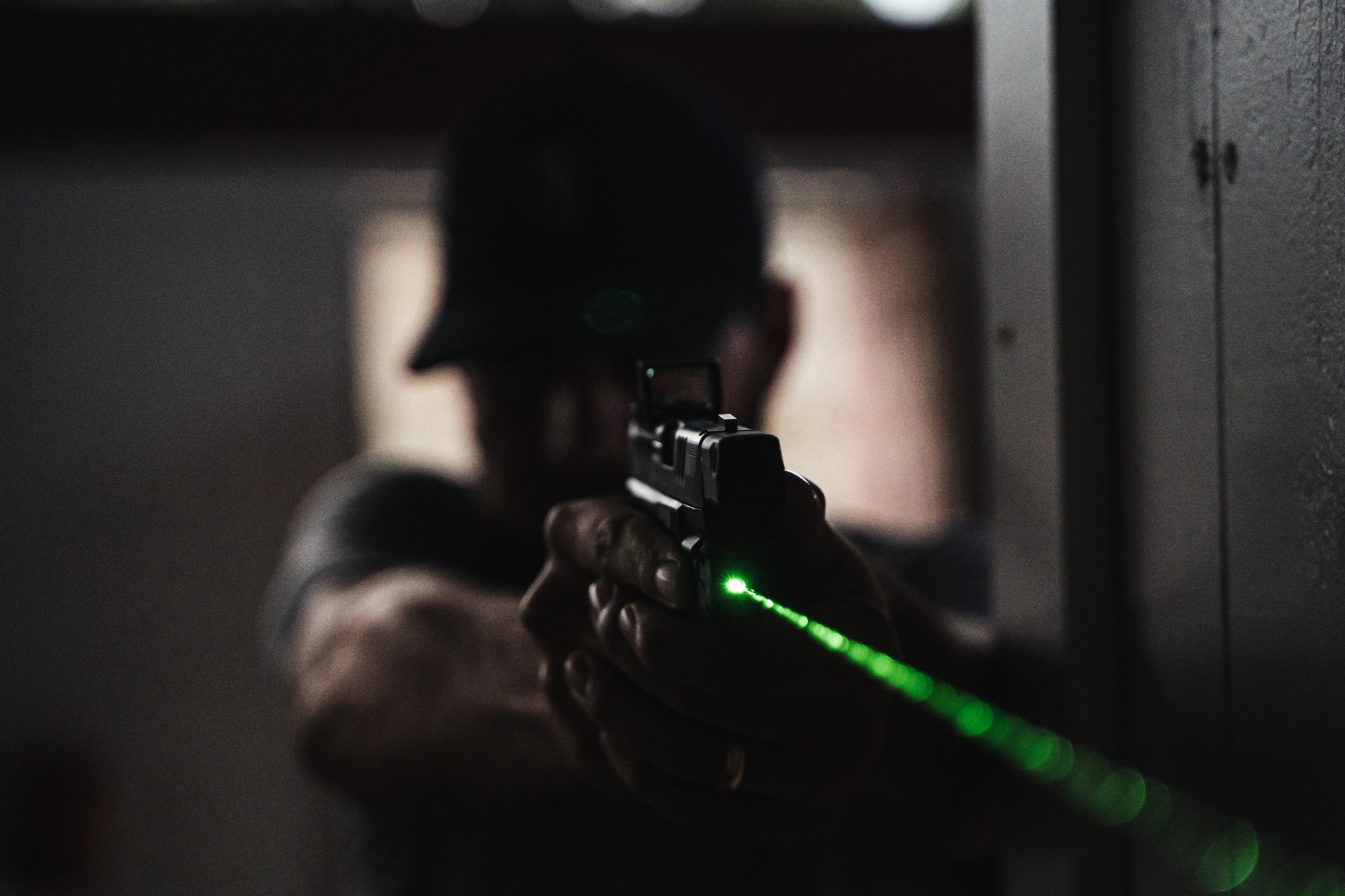 Top Red Laser Sights
Red laser sights are probably the most popular. Not because they're better, but because they're cheaper than a green laser. Red lasers work great in low-light conditions and work well up to 25-30 yards in well-lit conditions (such as outside during daylight hours with no overcast).
Description
Crimson Trace® LG-410 Lasergrips® are a compact and versatile laser sight system for Kimber® EVO SP pistols. With a simple replacement of the factory grips, the LG-410 features Crimson Trace's famed Instinctive Activation™, allowing the laser to be activated with a normal grip on the pistol – via front activation button.
These Lasergrips include a Master On/Off switch, are fully adjustable for windage and elevation, and are eligible for Crimson Trace's "Free Batteries For Life" program.
LG-410 Lasergrips fit Kimber EVO SP Two Tone, TLE™, Raptor™, CDP2 and Custom Shop models.
Price: $339.00
Description
Low Power Mode for Low Light Conditions
Stainless Steel Bore Rods (2) Fully Adjustable for Windage / Elevation Rotary Switch for Easy Operation
Powered by One AA Battery
Includes Arbors for these Calibers:
    ⁃    .22/.223/5.56mm Oversize
    ⁃    .223/5.56mm
    ⁃    7mm
    ⁃    .30/.308/30-06/7.62mm
    ⁃    .38/.357/9mm
    ⁃    .40/10mm/.45/.50
Price: $279.00 (Must purchase directly from Steiner for this price)
Description
White 170 lumen LED and red laser for long-range targeting
3 modes: White LED only, Red laser only, or both LED and Red laser
Runs 1.5 hours to the 10% output level ( LED only or LED and laser); 15 hours (laser only)
Compact – weighs 2.81 oz. (79.7 g) with included battery; 2.73″ (6.93 cm) long
Key kit included for mounting to a variety of weapons (H&K USP models do not include key kit)
Rail clamp designed to rapidly attach/detach from side of the weapon. One handed snap-on and tighten interface keeps hands away from muzzle when attaching/detaching
Windage and elevation adjustment screw mounted in bushing for dependable zero retention of laser
Ambidextrous momentary/steady On-Off switch
Uses one 3V CR2 lithium battery (included)
Impact-resistant polymer construction with durable anodized aluminum facecap
Borofloat high-temperature glass lens
Operating temperatures of -20°F to +120°F
IPX4 water-resistant
Serialized for positive identification
Models also available for H&K USP Compact frame and H&K USP Full-Size frame
Limited lifetime warranty
Assembled in the USA
Price: $131
Top Green Laser Sights
Green laser sights are generally more expensive than red lasers. This is because the technology behind a green laser is more advanced. Green lasers work better than red lasers in well-lit environments. For instance, if it's during peak daylight hours and you're outside, you'll be able to see your laser for up to 100 yards. In low-light conditions, the green and red lasers are about the same. However, green lasers are more powerful, which means the battery life isn't as long as a red laser sight.
Description
The LG-401G green laser sight for 1911 pistols combines Crimson Trace's celebrated Lasergrips® platform with the visible advantages of green laser technology. Using the smallest laser green laser diode available, the LG-401G emits a powerful green beam yet still provides over two hours of run time on (4) #2016 batteries.  The LG-401G utilizes Crimson Trace's famed Instinctive Activation™ technology – meaning that when the pistol is held in a normal firing grip, the laser sight is activated.  A Master On/Off switch allows the shooter to completely power down the unit for range training without the laser.  Green Lasergrips® set a new standard in 1911 green laser technology.
This product is not compatible with ambidextrous safety levers. We stock shortened ambi-safeties from Wilson Combat® in BLACK and STAINLESS. Gunsmith installation is required.
Price: $399.00
Description
The TOR Micro is a sub-miniature rail mounted aiming laser for pistols available with a green or red laser.
The TOR Micro features a Type III hard-anodized machined-aluminum housing and rail mount. It is dustproof and splash-proof to IP54 standards and is available in red (635 nm) or green (520 nm) lasers. Both the green and red lasers are direct diode type allowing them to operate in extreme cold weather. Other features include left and right fire buttons for ambidextrous use, constant power drive that ensures the laser output remains constant throughout the life of the battery, low battery indication, as well as windage and elevation bore sight adjustment screws.
The universal rail mount on the TOR Micro will fit all pistols that have a Picatinny or Weaver style rail forward of the trigger guard. This design of the TOR Mini and TOR Micro allows optimum positioning of the laser so that the fire buttons are easily accessible for a wide range of users.
Price: $199
Description
510-530nm direct drive green laser with a wide operating temperature range
Green laser provides long-range targeting even in daylight
White LED delivers 300 lumens and 12,000-candela peak beam intensity
Runs 2.5 hours (LED/Laser simultaneously); Laser only function runs 17 hours
Powered by two 3V CR123A lithium batteries with a 10-year storage life
Rail grip clamp system securely attaches/detaches quickly and safely with no tools and without putting your hands in front of the muzzle
Mounts directly to handguns with Glock-style rails and to all MIL-STD-1913 (Picatinny) rails.
Includes keys for Glock-style, Picatinny, Beretta 90two, S&W 99 and S&W TSW and Sig P320
Durable, anodized aluminum construction with high-impact, chemical-resistant polymer laser housing
Ambidextrous momentary/steady on/off switch
User programmable strobe can be enabled/disabled
Windage and elevation adjustment screws mounted in bushings for long life and dependable zero retention
Highly accurate sight repeatability when remounting
Fits existing light bearing holsters
3.39 in. (8.61 cm); 4.72 oz (133.8 grams)
Operating temperature: -40°F to +120°F.
IPX4 water-resistant
Lithium Battery Notice under DOCUMENTATION
Remote switches are available as optional accessories and must be used in conjunction with 69130 remote door switch. All switches and door switch are sold separately. Reference TLR Accessories Brochure in DOCS/INFO tab for more information.
Limited lifetime warranty
Assembled in the USA
Price: $316
Why Mount a Laser on your Pistol
You might be asking why you should mount a laser on your pistol, especially if there are things like the guide rod laser, which requires replacing your original guide rod and won't make your pistol any bulkier than it already is.
Well, you see, the smaller your laser is, typically, the less powerful it is. You might consider doing a mounted laser because these tend to be more powerful, meaning you can see the laser better. However, you'll never get anything more powerful than 5 mW—legally speaking.
Related Article – Top 6 Pistol Red Dot Sights
Green vs. Red Laser Sights
We've already pointed out that green lasers require more advanced technology, they work better in a well-lit environment, and they're more expensive. People who purchase green lasers do so because it works for the environment they plan to be using it in.
With that being said, yes green lasers are easier to see, particularly because humans see green better than any other color. And yes, that makes green lasers seem brighter than red lasers. However, the amount of power needed to operate a green laser effects more than the battery life.
All that power also means green laser sights are sensitive to temperature, which doesn't affect your red laser as much. A green laser sight can operate between 40 and 100 degrees Fahrenheit. So, if you want to shoot in conditions under 40 degree or over 100 degrees, you should probably look into getting a red laser sight instead of the green option.
Disadvantages of Using a Laser Sight
Besides having to buy a new holster dedicated to holding your pistol with a laser on it, there are a few other disadvantages. One of these is that some people become too reliant on the tool and forget that the basics still matter. Your laser is meant to be a tool to use with your iron sights, and it can be easy to forget that for some.
A laser is not an excuse to forget the fundamentals. It is also not an excuse to disregard the fundamentals if you are a beginner. This, however, does not mean lasers can't be a great learning tool – we'll get into that shortly.
Advantages of Using a Laser Sight
While disadvantages of using a laser sight include the possibility of losing fundamental shooting skills—because you stop practicing or focusing on this—it does not mean there is a lack of advantages. In fact, it can help improve your aiming. You still have to use your fundamental skills, but it's a great option for improving speed to acquiring sight picture.
Laser Grips
Laser grips are great for those who aren't looking to add extra bulk and weight to their pistol. You can get grips that automatically turn the laser on from the pressure of your hand or a grip you must make a conscious effort to switch on. The downsides to these are, they aren't interchangeable between all pistols, and they aren't ambidextrous.
Best AR-15 Triggers | 2019 Buyers' Guide
Left-Handed Laser Grip Options
Unfortunately, the number of left-handed laser grip options are limited. If you're left-handed and choose to purchase a right-handed laser grip, know that the possibility of your hand impeding the laser is likely.
Rear Sight Lasers
Rear sight lasers are a popular choice because they tend to be lightweight compared to some other options out there. They're typically much easier to install compared to a guide rod laser. However, some users have complained that the laser is not as powerful because it's much smaller than other laser sight options.
Trigger Guard Mounted Lasers
Trigger guard mounted lasers are convenient because they can be used on multiple pistols. However, if you're purchasing this type of laser for an existing pistol you carry, you'll likely have to buy a new holster too.
These lasers are bigger and will add weight to your pistol. The laser is typically more powerful on a trigger guard mounted laser as well. However, your accuracy may be affected negatively if the mounting bracket doesn't provide the secure attachment you'd expect—which is a common issue with this type of laser sight.
Guide Rod Lasers
Guide rod lasers are great for those of us who don't want to add additional weight to our pistols or don't want the worry of purchasing a new holster. However, unlike some other laser options out there, they're a bit more complex when it comes to installation, as it requires you to replace the existing guide rod. If you know how to do this it may not seem like a big deal. However, it will affect your ability to adjust your sight's windage or elevation.
Rail Mounted Lasers
If you have enough rail space to mount your laser, rail-mounted lasers are simple to install. However, you might find it difficult to keep the laser completely still, as some mounting brackets just aren't that good.
Legalities of Laser Sights
Believe it or not—insert dramatic eye roll—the federal government does have regulations on laser sights. This involves the power of your laser. Legally you can have a laser sight, so long as it is no more than 5 mW.
Concealed Carry with a Laser Sight
Depending on what style of laser sight you have on your pistol will depend on how much it affects your concealed carry. Some options will make your firearm bulkier, meaning it might be harder to conceal the fact that you're carrying, because you'll also need a larger holster. However, some laser systems—such as the guide rod laser—won't make much of a difference.
Holsters for Pistols with a Laser Sight
In most cases, when you attach a sight to your pistol, chances are you'll need to purchase a new holster. Some laser sights, such as the guide rod laser, won't require a holster change. However, if you're planning to add a laser to your trigger guard or do a rail-mounted laser, you'll be adding bulk, which means you'll be needing a new holster. So, if you're set on keeping the holster you have but also want a laser, you might have to settle for a smaller and less powerful laser.
Training with your Laser Sight
Anytime you add something new to your pistol you must practice with it. Yes, a laser can help you find your target quicker, but that doesn't mean you should opt-out of training with your new tool.
Chances are a laser will change the weight of your weapon, how you function—need to turn the laser on first or is it automatic—and maybe even the holster in which you're drawing from. These changes may seem small, but they could mean the difference between hitting your target in time and not. So train to be comfortable with the changes. Train so you maintain accuracy. Train for safety. And always keep your fundamentals as a part of said training.
Fundamental Handgun Skills
A laser sight is not meant to correct or replace poor form—trigger squeeze, proper stance, etc. It is a great tool but it is not intended to make up for a lack of training.
How to set up your Rifle Sights and Optics
Laser Sight FAQs
Below are some of the most frequent questions people are asking about lasers.
Are laser sights legal?
Yes.
Which is better, a red or green laser?
The answer will depend on your environment. Green is easier to see in a well-lit environment. Green is also more expensive. Both options work well in low-lit conditions.
Are laser sights useful?
Yes, and no. Maybe you'd be surprised to hear that laser sights aren't always a good idea, depending on who you are, how you operate, and even the weaponry you use.
For many, lasers can have people forgetting their fundamentals or attempting to use them as a crutch rather than an additional tool. Of course, you can prevent this by training, but often people forget to train on the basics after attaching a laser. You might laugh about this, but it's seen too often not to address.
Lasers, however, can be a very useful tool. Your laser is intended to be used with your iron sights. A laser simply helps you find sight alignment a little quicker in high-threat situations and when you're in an awkward position to find that same sight alignment and sight picture with the iron sights.
Laser sights are also great training tools – especially for new shooters. The laser not only makes it easier for the instructor to immediately notice that you've shot low and to the left, but it also lets the shooter see that they don't have proper sight alignment. Again, the laser is a tool – it does not replace your iron sights. You should train with both your iron sights and laser sight to maintain proficiency.
Are green lasers legal?
Yes, green is just as legal as red lasers. However, in both cases, the power of your laser cannot exceed 5 mW, per federal regulation.
How far do laser sights work?
The answer to this depends on which laser you're using and your light conditions. A green laser in a well-lit environment can work up to 100 yards. However, a red laser in a well-lit environment might only give you a distance of 25-30 yards. Both are great options for low-lit situations.
---
Stay Tuned to the RE Factor Tactical Blog and be part of this all VETERAN-run website. Be sure to follow us on Facebook, Instagram, and LinkedIn for exclusive content and deals.
Visit our Amazon Influencer Page for more products we recommend: https://www.amazon.com/shop/refactortactical