There are many manufacturers in the firearms industry, but some of those manufacturers focus their expertise on an industry niche. For Faxon Firearms, that niche is barrels.
Many firearms manufacturing facilities produce quality firearms and components for those firearms.
There are always shooters searching for components to level up their competition or tactical edge. This is where Faxon Firearms steps into the ring; specifically with the 300 blackout barrel.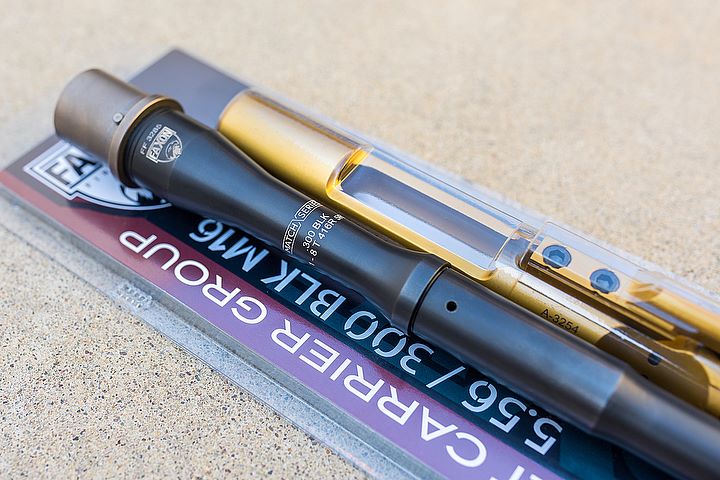 What is the Best Barrel Length for 300 Blackout?
The main question you need to ask yourself is whether or not you plan on using a suppressor. If you're looking for the quietest and best handling setup, one could easily go as short as 7.5" which is offered by Faxon Firearms.
Remember, a suppressor will add length to the barrel and subsequently increase velocity to somewhat make up for the shorter barrel length.
Overall a good compromise would be either a 7.5" or 9" 300 blackout barrel, which will offer an overall barrel length of roughly 14 to 16", providing you with solid muzzle velocity with almost all 300 Blackout loads, handling that is similar to a 16" carbine set up and has the benefit of having a suppressor attached.
Based on our personal experience and research we've done, the 9-inch 300 blackout barrel would probably be your best bet with or without a suppressor, especially since an 8" barrel is the minimum warranty barrel length for many suppressor manufacturers.
If you want maximum velocity with a barrel still shorter than the standard 16" and don't plan on using a suppressor, 10.5" is a great choice for an AR pistol setup. And even if you opted to add a suppressor, you're still at or under an 18-inch barrel length.
Available Faxon 300 Blackout Barrel Lengths
Compared to other barrel manufacturers who are considered the Jeep of AR barrels, Faxon Firearms is without a doubt the Cadillac. They currently carry 9 different 300 Blackout barrels on their website in the 6, 7.5, 9, 10.5, and 16-inch range.
The gold standard and quite possibly the most popular of these is their Match series 9-inch Gunner model. Constructed of 416R stainless and black nitrided against wear, it has precision 5R rifling. Faxon's Gunner profile combines the durability of the Gov't profile with the weight savings and maneuverability of the Pencil profile.
Faxon 6" 300 Blackout Barrel
The 300 Blackout cartridge yields increased performance in shorter barrels and effective subsonic performance. By speeding up the twist rate to 1:5 from common 300 BLK rates of 1:7 and 1:8, the Faxon 6" Match Series Gunner Barrel increases projectile stabilization and energy on target.
Barrel Material: 416-R Stainless Steel
Barrel Type: Button Rifled – 5R
Barrel Caliber: 300 BLK
Barrel Twist: 1:5
Barrel Length: 6"
Barrel Profile: Gunner
Barrel Gas System: Pistol
Inside Finish: Nitride
Outside Finish: Nitride
Muzzle Thread: 5/8-24
Gas Block Diameter: .750"
Gas Block Journal Length: 1.03"
Barrel Extension: M4
Weight:  .74 lbs
Magnetic Particle Inspected
Recessed Target Crown