Everyone has a preference whether they carry their pistols in an Inside the Waistband (IWB) or Outside the Waistband (OWB) holster. Some people even prefer leather and some prefer the hard polymer composite material (plastic). Our favorite holsters are all lightweight, comfortable, ergonomic, and fit the most common concealed carry handguns on the market today.
Most of these holsters on the list are going to be what is most comfortable for us at RE Factor Tactical, but it's not meant to be an all-exclusive list. We hope you enjoy our favorites!
Concealed Carrier | Glock Holster
Concealed Carrier is a Combat Veteran Owned Company that specializes in gun holsters and offers a lifetime warranty on their entire product line. I like this holster because it will fit almost every model of Glock, including the Glock 17, Glock 19, and the "Baby Glock" 26.  As a lefty, it's not easy to find a holster that's made for us, but this IWB holster fits perfectly in your waistband and doesn't slide around as you walk. It features adjustable retention for each individual shooter to customize how much retention they want on the pistol.
I know some people prefer their guns to be firmly locked into the holster, while others don't. Personally, I prefer there to be less retention, so I can draw my pistol a little faster if I need it. The cant is adjustable, as well, with the capability to move the cant from 0-20 degrees. The Concealed Carrier Universal IWB holster is only 2 oz. in weight and allows you to fit your Glock MOS models with laser or flashlights attached. 
Which CCW's Fit?
Glock 17/19/19x/22/23/26/27/31/32/33/45
---
Relentless Tactical |

The Defender Leather IWB Holster For S&W M&P Shield 
The Relentless Tactical IWB holster is one of the most diverse holsters on the market and can be used as your go-to holster for your entire CCW list. Personally, I don't like the feel of leather as much, but this holster is hand-crafted with no synthetic material being used. This holster is made in America by Americans and comes with a lifetime guarantee on the leather. If I were going to wear a leather holster, this is the holster Id carry because of the high-quality craftsmanship and the versatility to carry almost any pistol you own with relative comfort.
Which CCW's Fit?
GLOCK

17/17L / 22 / 31/19 / 19X / 23 / 32/26/27/33/43

Springfield XD & XDS

S&W SD9/SD40/M&P Shield/ M&P Shield 2.0

H&K VP9 / VP40

Sig Sauer P226 / P229 / P250

Taurus 111 / 140 Millennium G2 / G2C

Plus All Similar Sized Handguns
---
Covert G9 – IWB holster fitting several gun models
The Covert G9 from Fab-Defense is about as practical a holster you can buy on the market today with awesome retention features and it's available for both right and left-handed shooters. I currently carry this holster for my Glock 19 and I absolutely love how thin (0.07″) the holster is and how it never prints in any shirt I own. The Covert G-9 features adjustable retention for added customization and versatility.
This holster will fit on any belt up to 1.75″ and features a covert spacer that can be removed to get the holster closer to your body. This feature further prevents printing, especially if you're trying to wear a tighter shirt than you'd normally wear while carrying. The sweat guard polymer on the back of the holster prevents the holster from digging into your side if you sit down or bend over for even more comfort.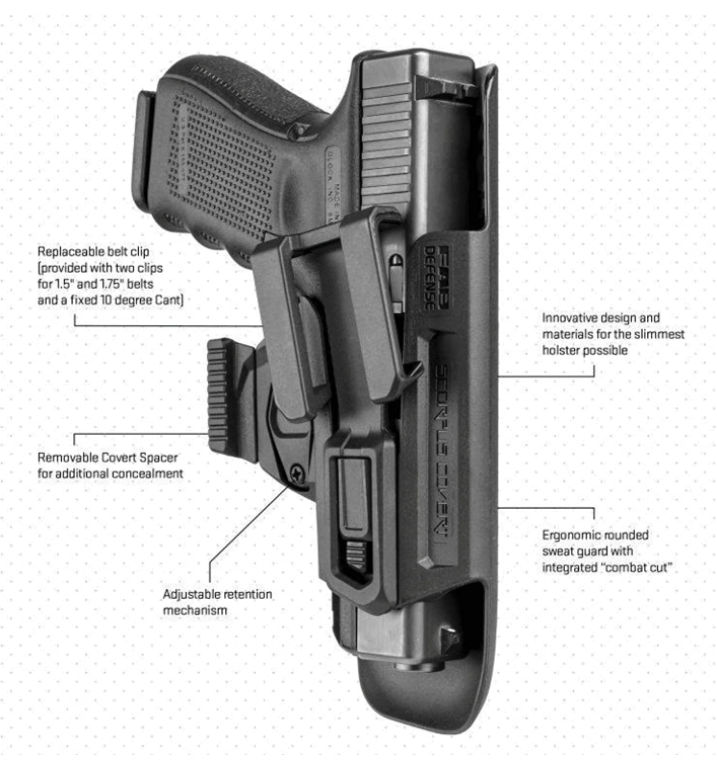 Which CCW's Fit?
Glock 17/19/22/23/26/27/31/32/33
CZ: P-10 C
H&K: VP9
Walther: P99
FN: FNS-9/FNS-9 Compact
Ruger: SR40
Grand Power: K100/T12
Schmeisser: SLP-9
FMK: 9C1 G2
---
Alien Gear ShapeShift 4.0 IWB Holster for Concealed Carry
Of all holsters, this is the one I carry most often due to versatility and how well it fits my Walther PPS M2. For whatever reason, not as many holsters fit my PPS M2 as well, but this one fits like a glove. The Alien Gear ShapeShift allows you to carry this CCW holster up to 10 different ways. For example, you can wear it IWB, OWB, pocket, shoulder, or anywhere on your hip with ease. Just make sure you select the exact model for the gun because each holster is specifically molded to fit your gun to ensure the best possible fit.
The ShapeShift holster is incredibly comfortable with the soft neoprene backing to allow for any kind of movement without the holster or pistol digging into your hip or shoulder. The soft neoprene backing also serves as a wicking material to prevent rashes or irritation from a long day carrying it on your hip. 
Which CCW's Fit?
GLOCK

17/17L / 22 / 31/19 / 19X / 23 /26/27/30/30sf/31/32/33/43/43x/48

Springfield XD & XDS

S&W SD9/SD40/M&P Shield/ M&P Shield 2.0

H&K VP9 / VP40

Sig Sauer P226 / P229 / P250

Taurus 111 / 140 Millennium G2 / G2C

Plus All Similar Sized Handguns

Ruger SR40C
Many more models
---
Maxx Carry IWB Leather CCW Holster
The Maxx Carry IWB holster is specifically designed to fit the smaller CCW on the market. For those of you that have a PPS or Glock 43x, this holster is perfect for you with an incredibly tight fit.  The Maxx Carry is made from cowhide leather and fits IWB with higher backing to provide protection for your body and the pistol. This holster features a steel spring clip that slides into place easily on your belt and will fit all belts up to 1.75″. The interior of the slide is lined with suede to protect your gun from hard surfaces in order to ensure no scratches or marks deteriorate the metal.
Which CCW's Fit?
Glock G43/G43X

CZ 2075 RAMI

Springfield XDS Hellcat /45 ACP/40 S&W

Walther PPS, PPS M2

Taurus Slim PT709

Smith and Wesson M&P 380 Shield EZ

Ruger Security 9 Compact/SR22/ 22 LR

Kahr CW45/PM45/TP45
---
CYA Supply Co.

Walther PPS M2 IWB CCW Holster
CYA Supply company is another veteran-owned holster company that provides a great product that's made in America by American workers. I chose this holster because it's a very simplistic holster that fits the Walther PPS M2, specifically. As this is my main carry pistol, I can tell you how awesome it feels on my waist and how tight it fits my gun.
The CYA Supply IWB holster features an adjustable cant of 0-15 degrees and adjustable retention for even more personalization. The retention lock system has an easily noticeable audible click when the gun is placed and locked in the holster. The sweat guard backing prevents any irritation or discomfort while carrying for a long day or even during a hike or walk.
Which CCW's Fit?
---
Sticky Holsters MD-2 Medium CCW Holster
Many people have never heard of Sticky Holsters, but they're a newer and creative company that will fit your smaller CCWs in almost any configuration. The Sticky Holster is designed to be a modular system that can be adjusted to fit on your ankle, in your pocket or IWB on your hip. The best part about this holster is the versatility to accommodate all the pistols below as long as you follow their size chart on Amazon.
Sticky Holsters are also designed to fit your CCW with lasers or flashlight attachments. They can be used in sweatpants, yoga pants, jeans, and everything without a belt. As long as your holster stays on your pants, it will not budge and can be used in almost any type of clothing.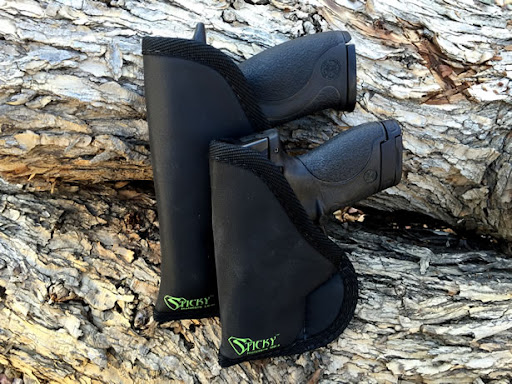 Which CCW's Fit?
Berretta Nano/Cheetah 84/85/PX4 SC
Bersa Thunder/CC 380/BP9cc/Ultra C
CZ Rami/PCR/75 C/ P-07/SDP/p10 S
FN FNS C
Glock 43/43X/26/27/28/33/36/39/48
Walther PPK/PPKS/PPS/P22/PK380/CCP
Springfield XD-S/XD-E/XD-M C/XD Mod3/EMP3
Taurus 709 SLIM/708/740/PT111/140/G2C/145/745/THC/G3/85/850/605/650
Ruger LCR
SCCY CPX-1/CPX-2
Sig Sauer P290/P230/P232/P365 XL/P225P239/320 XC
S&W Shield C/M&P2.0/Shield EZ/ M&P SC/Revolver J Frame up to a 2.225″ barrel
---
ComfortTac Ultimate Belly Band CCW Holster
Many people are very skeptical about wearing a belly band type of holster because I think they look too uncomfortable. However, the ComfortTac Belly Band Holster is designed to fit your waist size to ensure a proper fit.  For example, it comes in 3 sizes to fit up to a 37″ waist, 42″ waist, and even a 53″ waist for the biggest of men and women.
The ComfortTac Ultimate Belly Band Can be worn IWB,  OWB, cross draw,  5 O'clock (behind hip), small of the back, a shoulder holster, or concealed carry shirt. It's made of surgical grade elastic that is designed to be worn on the skin with comfort. My favorite feature of this holster is the ability to wear in many different configurations and is very easy to conceal when worn on your stomach.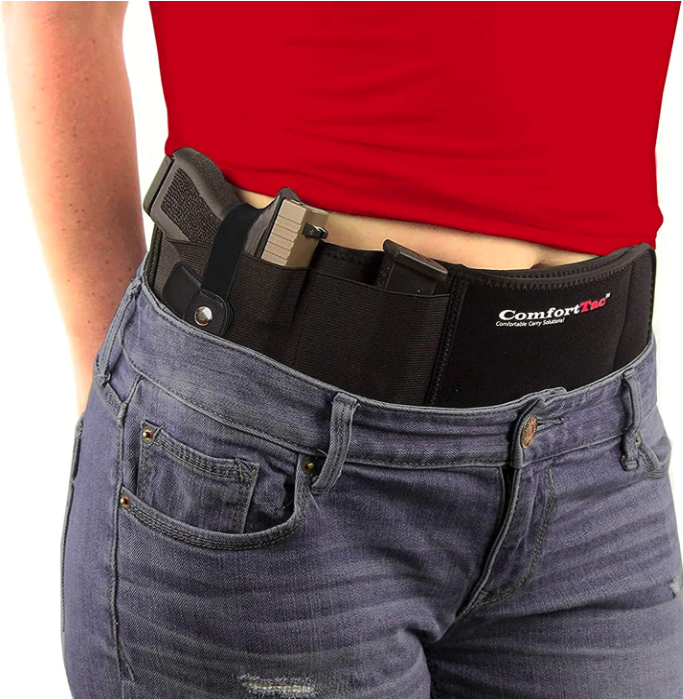 Which CCW's Fit?
Glock 19/23/38/25/32/26/27/29/30/32/28/33/42/43/36

Walther PPS/PPS M2/ CCP/PPK
Taurus 709 SLIM/708/740/PT111/140/G2C/145/745/THC/G3/85/850/605/650
Springfield XD-S/XD-E/XD-M C/XD Mod3/EMP3
Bersa Thunder/CC 380/BP9cc/Ultra C
Berretta Nano/Cheetah 84/85/PX4 SC/92F
Sig Sauer P290/P230/P232/P365 XL/P225P239/320 XC
Kimber Micro 9/EVO/1911
S&W Shield C/M&P2.0/Shield EZ/ M&P SC
Many more models!
Conclusion
All 8 of the holsters listed above have been worn by either myself or another writer in RE. This is in no way an all-exclusive list, but it's our favorite holsters to use as a CCW.  Make sure you read each description carefully to find the best one for you. Each of these holsters has been proven to work in the field for us and we hope they work for you. Always remember to take care of your gear and always clean your holster after those sweaty days to make it last longer.