Blue Force Gear is an American company dedicated to making the best gear on the planet. From slings to plate carriers and mag pouches.
They make a bit of everything for the military, law enforcement, and the prepared citizen.
The Blue Force Gear Vickers Combat Application Sling is likely what they are most well known for. They make a wide variety of different Vickers Sling configurations for just about every use.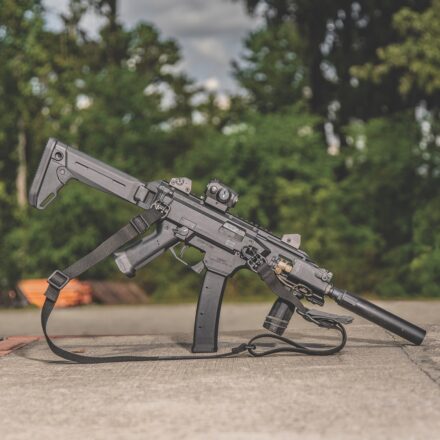 They recently launched a new sling for a submachine gun with the help of Larry Vickers, but first, let's cover the original sling since many of its features carry over to the new SMG sling.
The Original Vickers Sling
Larry Vickers has never been a fan of single-point or those complicated three-point slings. He identified the issues with the standard two-point slings and set out to design one based on his operational experience.
The problem with two-point slings is that in some situations they are too long, and in other situations, they are too short. Larry Vickers didn't invent the adjustable two-point sling, he took the original design to the next level in order to be easier, faster, and more adjustable.
So, what sets the Vicker's Combat Application sling apart from other two-point slings? The ability to rapidly adjust the length.
Grab the adjustment tab, pull it towards your body and the sling gets longer. Grab the tab and push it away from your body and the sling gets shorter. It's that simple.