Integrally suppressed firearms offer many advantages over a direct thread or quick-attach suppressor.
By design an integral suppressor on your rifle offers improved accuracy over many other types and designs of detachable suppressors; there's no impact shift to deal with. If you've ever swapped around a suppressor to different firearms, you know how that can affect the point of impact and in some cases require you to re-zero.
In addition to variances in the bullet impact, is overall size with detachable suppressors. When using a detachable suppressor, you're roughly adding 6″ of length to your barrel which can affect the velocity of your ammunition.
Related Article – The Most Accurate AR15 Out Of The Box
Black Collar Arms Press Release
The culmination of extensive testing and development, Black Collar Arms is thrilled to announce the launch of our SBD line of integrally suppressed firearms. In partnership with AB Suppressor, we have created a compact, lightweight, accurate, and highly capable system that is among the quietest centerfire rifle caliber setups ever made.
Black Collar Arms currently builds SBDs in three flavors [Rifle, Modular Integral Pistol, and Modular SBR]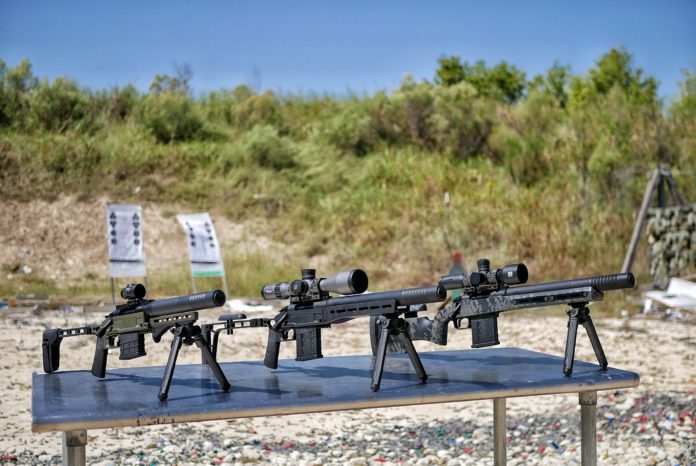 Rifle
16.25-inch legal length with permanent, all-titanium, integral suppressor made by AB Suppressor (one-stamp gun). Available in our Pork Sword Chassis with folding Stock Option and SD Handguard (~6 lbs 13 oz) or in a custom-inletted Grayboe Ridgeback stock with Grayboe DBM (~8 lbs 6 oz).
The SBD rifle is an insanely quiet gun that's fully suppressed within the length of a standard, 16-inch rifle, and it's only 27 inches long with its Stock Option folded! Chambered in 300 Blackout, .308 Winchester, 6.5 Creedmoor, or 375 Raptor.
Modular Integral Pistol
Available only in 300 Blackout. A 6.5-inch 1:5 twist barrel in our Pork Sword Chassis, ready to accept the Picatinny rail-compatible pistol brace of your choosing (or file a Form 1 to SBR it and pick up a Stock Option after approval). Removable AB Suppressor Raptor 7.62 silencer with 5-inch reflex mount and 5/8×24″ flush mount, available with either 6 baffles or 8 baffles.
This is a one-stamp gun (standard transfer on the pistol, one Form 4 for the silencer). In a 5.0-pound package, the SBD Modular Integral Pistol provides all the badass looks and much of the sound suppression performance of an integrally suppressed firearm, but the silencer is removable!
Now you can have your integral cake but use it on other firearms as well.
Modular SBR
Just like the Modular Integral Pistol, but it ships from Black Collar as a factory SBR with our folding Stock Option already mounted. This is a two-stamp gun (one Form 4 for the SBR, one for the silencer).
SBDs are custom built to order on Black Collar Arms' Pork Sword Custom Actions (a version of the fantastic Bighorn Origin) with uniquely purpose-built, match-grade barrels. While integrally suppressed firearms have historically earned a reputation for excessive weight and poor accuracy, neither is the case with the SBD.
In fact, we have achieved the same length, weight, and accuracy of a high-quality, unsuppressed 16-inch rifle all with some of the most effective sound suppression in the world built right in.
For more information, technical specifications, and photos/videos, or to configure your own SBD, visit Black Collar Arms HERE: https://blackcollararms.com/product/sbd/
About Black Collar Arms
Based in Austin, TX, Black Collar is dedicated to creating innovative and functional firearms and components. The Pork Sword Chassis forged the market for minimalist, modular firearm chassis and the Custom Pork Sword Pistol configurator allows buyers to spec out a completely custom gun from the ground up. There's much more to come from Black Collar, so stay tuned!
Questions, feedback, concerns, or naughty pics to share? Email our boy Jeeves at manservant@blackcollararms.com or find us on Instagram, Facebook, and www.BlackCollarArms.com
To ensure you're not missing our content, you can have it delivered to your email inbox. Just sign up below and stay informed of new content and exclusive deals only our email subscribers know about.
---
Stay Tuned to the RE Factor Tactical Blog and be part of this all VETERAN-run website. Be sure to follow us on Facebook, Instagram, and LinkedIn for exclusive content and deals.
Check out our DAILY DEALS page for industry deals and discounts.
Visit our Amazon Influencer Page for more products we recommend: https://www.amazon.com/shop/refactortactical