Are you ready to take your coyote hunting adventures to the next level? Look no further!
In the realm of nocturnal pursuits, having the best thermal scope can be a game-changer. Imagine having the ability to see through the cover of darkness with unrivaled clarity and precision.
In this article, we unveil the best thermal scope for coyote hunting. Whether you're a seasoned hunter or just starting out, our expert recommendations will help you make an informed decision.
Get ready to dominate the night and become the ultimate predator!
Best Thermal Scopes at a Glance
Is a Thermal Scope Worth It?
A thermal scope can be a useful tool for coyote hunting, as it allows you to detect the heat signatures of animals in low light conditions or through obstacles such as vegetation.
However, whether or not it is worth buying a thermal scope for coyote hunting depends on several factors, such as your budget, hunting style, and hunting environment.
If you frequently hunt in low-light conditions or heavily wooded areas with limited visibility, a thermal scope can be a valuable investment.
Additionally, if you are a serious hunter and want to improve your chances of success, a thermal scope can help you locate coyotes more effectively.
However, if you typically hunt during daylight hours in open terrain, a thermal scope may not be as necessary. It is also important to consider the cost of a thermal scope, which can be quite high compared to traditional hunting scopes.
Night Vision vs Thermal Scopes
Night vision amplifies ambient light such as moonlight or starlight, whereas thermal imaging relies on detecting heat signatures.
Night vision is an excellent tool for hunting during nighttime as it eliminates the necessity of using lights for scanning. Additionally, it produces clear and high-quality images, making it even more desirable for the purpose.
Thermal scopes are capable of functioning in situations where night vision fails because it relies on detecting heat instead of light. Moreover, it can detect residual heat from objects such as hoofprints and pawprints for varying lengths of time.
Unlike night vision, high-end thermal scopes can offer a greater range of vision, with some capable of detecting heat signatures a thousand yards away.
However, thermal imaging can be affected by rain, and the level of detail captured by the device may vary depending on the severity of the inclement weather.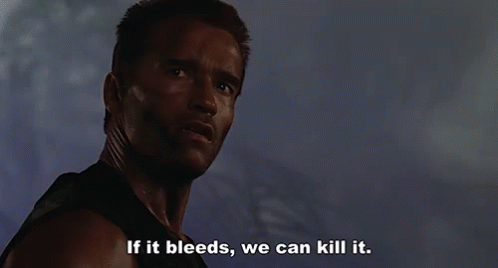 Best Thermal Scope for Coyote Hunting
Trijicon IR Hunter
The Trijicon IR HUNTER and its tactical counterpart, the REAP-IR, are both impressive. They are straightforward to use and easy to zero, equipped with a 4.5X optical and 8X digital zoom, and offer a 7-degree field of view.
Additionally, the Trijicon IR HUNTER includes azimuth and elevation indicators, a stadiametric rangefinder, and a battery extender. This thermal scope is at the forefront in terms of performance.
The battery extender, which utilizes CR123 batteries, proves useful during longer hunts.
Finally, for those interested in recording their hunting experience, it also provides video functionality to record the hunt.
The Trijicon IR Hunter, without a doubt, is a higher-end scope and comes with an equally high price tag.