Just as you can with Glock handguns and AR-15 platforms, you can build a Ruger 10/22 entirely out of third-party parts. I damn near did that with my personal gun.
I was gifted a bone stock Ruger 10/22 for Christmas, and everything but the wood stock has been upgraded; the barrel, the receiver, and even the internals of the bolt including springs, firing pin, and extractor.
Every component of your 10/22 is important, but none are as critical as the receiver. Your Ruger 10/22 receiver houses the engine of your rifle and is responsible for the firing process, so having an unreliable receiver is not an option.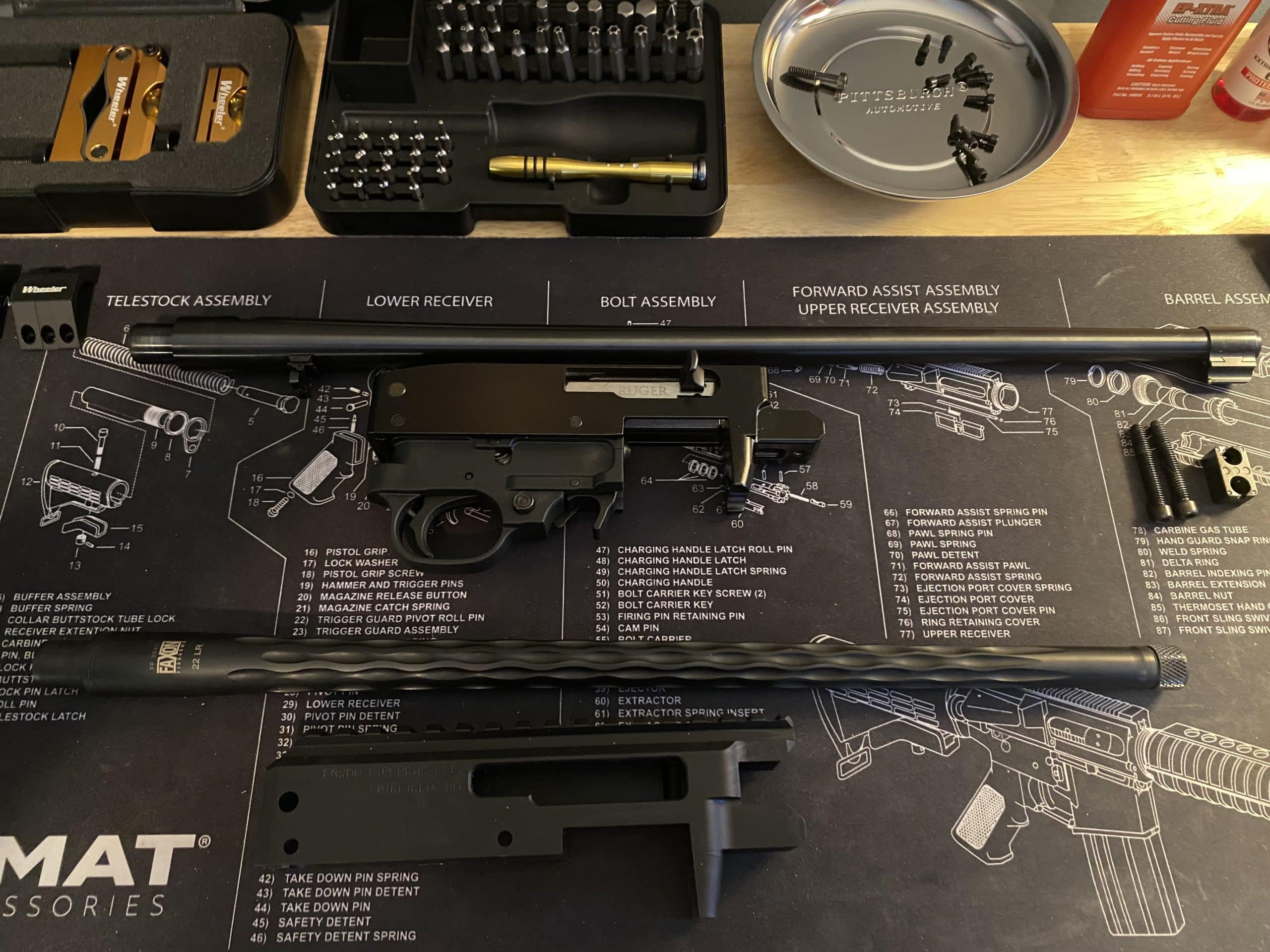 Best 10/22 Receivers at a Glance
Before we get into the benefits of upgrading the 10/22 receiver, what to look for, and our top picks, we wanted to give you a quick reference to the best Ruger 10/22 receivers currently available.
To learn more about the receivers we included in this list keep reading!
Why Swap a 10/22 Receiver?
If you're looking to improve accuracy and performance with just one upgrade, then upgrading to a precision machined receiver such as the one available from Faxon Firearms is your best bet.
Although you can upgrade the receiver for aesthetic reasons, most make the move to improve reliability and overall performance.
In addition to the performance increase of upgrading the 10/22 receiver, many third-party options provide some type of rail to attach optics such as red dots or scopes.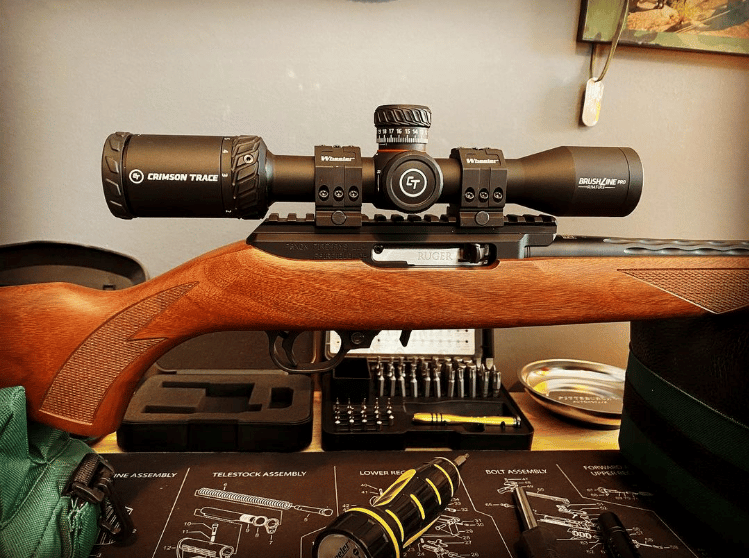 While you can get away with running the OEM 10/22 receiver, if you truly want to take your 10/22 to the next level I suggest you upgrade the receiver before any other 10/22 upgrades.
What To Look For In a 10/22 Receiver
In order to identify what constitutes the best 10/22 receiver, you need to understand the different design elements that go into a receiver build. Those elements are materials, finish, compatibility, and reliability.
Type of Metal
Most 10/22 receivers are made from either stainless steel or aluminum. Depending on what material is used and the manufacturing process to create the receiver, will dictate the price. Stainless steel is more durable and heavier which means you're paying more out of pocket.
Aluminum on the other hand is lightweight which will aid in keeping the overall weight of the gun to a minimum, but the durability takes a hit as it's not as robust as stainless steel. But that doesn't mean it's not worth getting.
As manufacturing processes evolve, the way in which aluminum is manufactured can sometimes outperform stainless steel. The metal finish used on the aluminum also adds an additional layer of durability.
Metal Finish
Stainless steel receivers don't generally have a finish on them due to the inherent properties of the steel. An aluminum 10/22 receiver on the other hand will have some type of anodized finish to protect it from moisture, dirt, and carbon buildup.
Companies such as Faxon Firearms use a black hard coat anodized finish on their 10/22 receivers giving the 6061-T6 aluminum an impenetrable barrier of protection.
Although the jury is still out on what type of metal finish is best for firearms components, it most of the time comes down to personal preference and how much money you want to spend.
Compatibility
With any firearm, if you're upgrading with aftermarket components, you must verify compatibility with your existing platform. The same goes with the Ruger 10/22, specifically the receiver. Most 10/22 receivers are considered 'drop-in' meaning they will drop right into the OEM stock and accept almost any barrel.
Unless you're going with some super high-end custom receiver, you should be good to go. Just be sure to read the description of the receiver you decide on and even search for reviews to ensure it will work with your 10/22 build.
Reliability
When we're talking about the reliability of a 10/22 receiver, we're talking about malfunctions or lack thereof, the longevity of the receiver, and how it impacts the accuracy of the rifle. There aren't any specific step-by-step instructions on how to approach this; it takes a little experience and a little luck.
When it comes to reliability, the only way to get that is by going with companies you know and love. Faxon has been in the firearms industry for a while now, has a proven track record, and has a reputation for manufacturing quality firearm components. It's a loyalty thing.
We trust their products and we know that they're the most reliable options on the market.
If you go with a cheap aftermarket receiver, I can guarantee you'll be aggravated and wish you had spent the money on a better option up front. A cheaper option has the potential for damaging your firearm too. Once you find that trusted source, spend once and cry once.
Best Ruger 10/22 Receiver
Now that we know the benefits of upgrading the 10/22 receiver and what to look for in an aftermarket 10/22 receiver, let's take a look at some of the best options on the market.
Faxon Firearms 10/22 Receiver Kit
One of the things we really like about the Faxon 10/22 kit is that it works with all Ruger OEM non-takedown parts, Faxon rimfire barrels, and most aftermarket chassis. Compatibility is a nice bonus and Faxon definitely has that.
The 10/22 Receiver Kit includes:
Receiver (6061-T6 Aluminum, Black Hardcoat Anodized)
Chromoly Steel V-Block
V-Block Screws
Rubber Bolt Buffer