The whole purpose of the AR-10 platform is to get more power and more long-range precision out of the AR platform. Who doesn't want more power and precision?
To capitalize on that power and precision, it makes sense to get the best AR 10 barrel you can find. The right barrel will allow you to maximize the benefits of using the larger 308 round in a semi-automatic AR-10 battle rifle.
Faxon Firearms' high-quality, affordably priced AR10 barrels are all manufactured in the United States and ready for reliable and accurate long-range shooting. Whether you're shooting 308 WIN, 6.5 Creedmoor, or the new 8.6 BLK, Faxon has the right barrel for you.
Their stock of AR10 barrels are available in various lengths up to 24", Salt Bath Nitride outside finish, gas systems (carbine, mid-length, and rifle-length), and barrel fluting.
Faxon AR10 barrels are also available in Big Gunner, Heavy Fluted, and Pencil profiles. Made with the finest 4150 Chrome Moly Vanadium or 416R Stainless Steel and rifled for the best possible velocity and accuracy.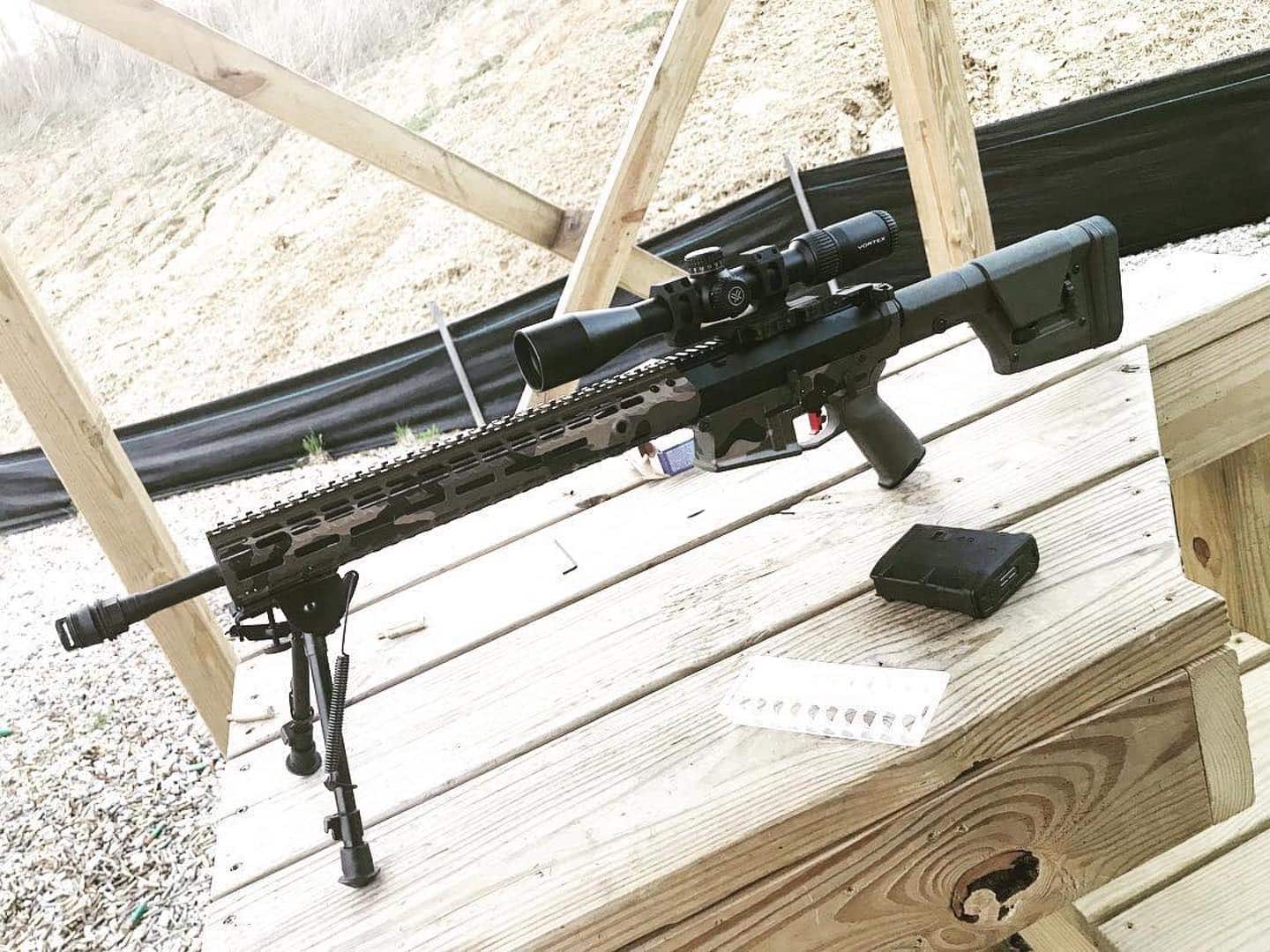 Before we get into finding the best AR 10 barrel, let's answer some of the most common questions about AR10 barrel selection.
AR10 Barrel Length Considerations
There is more to consider about the barrel length than its effect on velocity and accuracy. For example, the barrel length you choose will dictate your choice of accessories such as handguards. Do you want something that just goes past the gas block, or do you want something that runs the full length out to the muzzle?
This can be important for aesthetic or practical reasons, such as ensuring that a suppressor or other muzzle device has enough clearance between the end of the muzzle and the handguard. A longer handguard provides more real estate for accessories like optics, sling mounts, and bipods. Keep in mind that the length of the barrel will play a major part in the overall weight of the rifle, which is something to consider if this is a hunting setup.
What is the optimal barrel length for 308?
Barrels lengths for AR10 calibers range from 16" up to 24". Although 20" seems to be the sweet spot for the 308, with the right barrel you can get away with using a 16" barrel.
How accurate is a 308 16 inch barrel?
A 16" barrel will do you just fine until get out to and past 600 yards. The 308 round will drop significantly past 600 yards, so if you're going to be engaging targets at distances past 600 yards, you'd be better off with a 20" barrel.
Is an 18 inch barrel good for an AR 10?
Most 308 WIN loads get full powder burn at roughly 18 inches of barrel length. For a general-purpose AR10 build, an 18-inch barrel will do you just fine.
However, even in 18-inch barrels, the profile and gas system length can determine weight. 18-inch barrels can range from a Faxon pencil to a thicker Big Gunner profile, and come in both mid and rifle length types.
What is the most Accurate AR10 Barrel?
The Faxon Match Series AR10 barrels take renowned performance and value up a notch.
Manufactured in-house from gun-barrel-quality bar-stock, the Match Series barrels start with 416-R in 5R rifling. 5R is a hybrid rifling, with lands opposite grooves and reduced sharp angles that reduce jacket deformation increasing velocity and easy cleaning. After rigorous testing, the barrels are Nitride treated inside and out, locking in the bore, extending barrel life, and keeping the elements at bay.
The extension is coated in a Nickel Teflon coating that maintains incredible dry lubricity and corrosion resistance. The Nickel Teflon coating also tightens up the fit between the extension and receiver, further improving accuracy. The Faxon AR10 Match Series barrels are ready for when duty calls with unrivaled performance.
Best AR-10 Barrel | Faxon Firearms
Below you'll find a list of AR10 barrels available for your next AR-10 build or upgrade.
Faxon Match 16" Heavy Fluted, 308 WIN
Specs
Barrel Material: 416-R
Barrel Type: 5R Button Rifled
Barrel Caliber: .308 WIN
Barrel Twist: 1:10
Barrel Length: 16
Barrel Profile: Heavy Fluted
Barrel Gas System: Mid
Inside Finish: Salt Bath Nitride
Outside Finish: Salt Bath Nitride
Muzzle Thread: 5/8-24
Gas Block Diameter: .750"
Gas Block Journal Length: 1.1"
Barrel Extension: DPMS LR-308 Compatible – Nickel Teflon Coated
Barrel Weight: 2.03 Lbs
Magnetic Particle Inspected
Recessed Target Crown