22LR has been around since the late 1800s. Today it's one of the most popular rimfire rounds.
Firearm enthusiasts use it for plinking, small game hunting or control, and training new shooters…especially when suppressed!
There's a reason a lot of people consider 22 suppressors to be the gateway drug into the world of suppressors or silencers.
They're near "Hollywood quiet," have an affordable price point (except for the $200 tax stamp), and are a blast to shoot.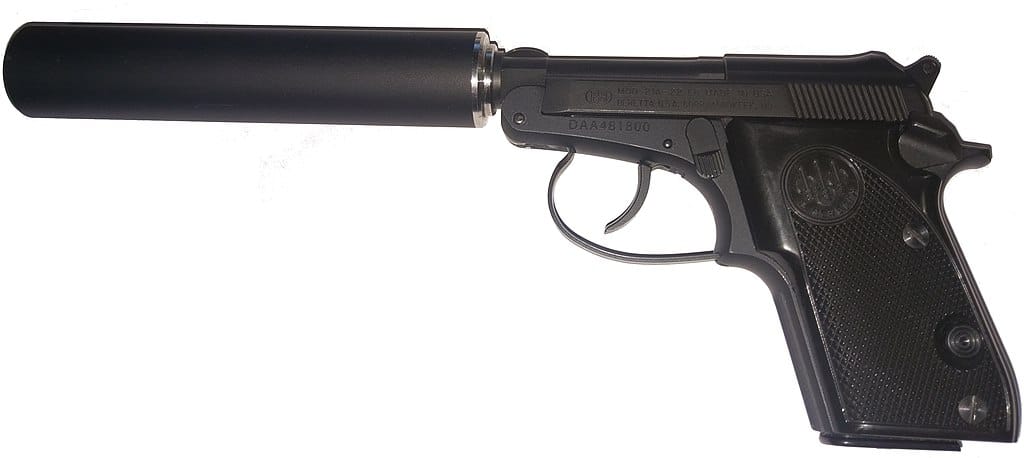 With so many different makes, models, and options to select from when choosing a 22 suppressor, it all may seem a little overwhelming at first. But, it really doesn't need to be. There are a few key things to understand which will narrow down your list, then it ultimately comes down to the price.
We've put together this blog to answer some of the common questions as well as what our top picks are for the best 22 suppressor and why.
What is the Most Effective Suppressor Design?
The two main suppressor designs you'll come across when shopping for a 22 suppressor are monocore and baffles. Both work well if designed and implemented correctly.
The inner core design of rimfire suppressors can be divided into three categories; monocore, CTA baffles, and k-baffles.
Suppressors with a monocore design are milled out of a single piece of metal. Because the core is a single piece, suppressors with this type of core are generally much easier to service and clean.
Some say that that monocore design has a louder first round pop, but that's an outdated thought. Maxim Defense uses a new monocore design that damn near eliminates the first round pop.
Monocore is the strongest design out of all the options.  The monocore is a key piece to the strength of this design.  The front-loading monocore makes maintenance super easy.  Every time the user shoots, when they are done shooting, they just spin the core out and put it back in.  As long as they do that it will never carbon freeze and lock up like all .22 suppressors are prone to do.  Once the monocore is out of the tube, its design is conducive to ease of cleaning if the user wants to scrub it with a nylon brush and some solvent.
CTA baffle stacks are individual baffles that stack on top of each other inside the suppressor tube. They might be a little more difficult to clean, but they prevent lead fouling from getting between the baffles and tube and seizing them up. Baffle stacks are easy to disassemble, there are just more pieces to keep track of versus a single monocore.
Last but not least are the K-baffles. Where does the name come from? If you look at a cross-section of a single baffle, it resembles the letter K. out of these three core designs, the K-baffles offer some of the quietest 22 suppressor designs but can be a little more difficult to maintain and service.
What Calibers Can You Shoot Through a 22 Suppressor?
This is dependent on the manufacturer. Some specify that their suppressor is only rated for the .22LR cartridge while others will be rated to shoot not only .22LR, but also other rimfire cartridges.
Suppressing the .22 Mag or .17 HMR will require either stainless steel or titanium suppressors since they can handle the higher pressures of those rounds.
In some cases, those suppressors can also suppress the FN 5.7. For example, the Maxim Defense DRF-22 is rated for .22LR, .22MAG, and .17HMR.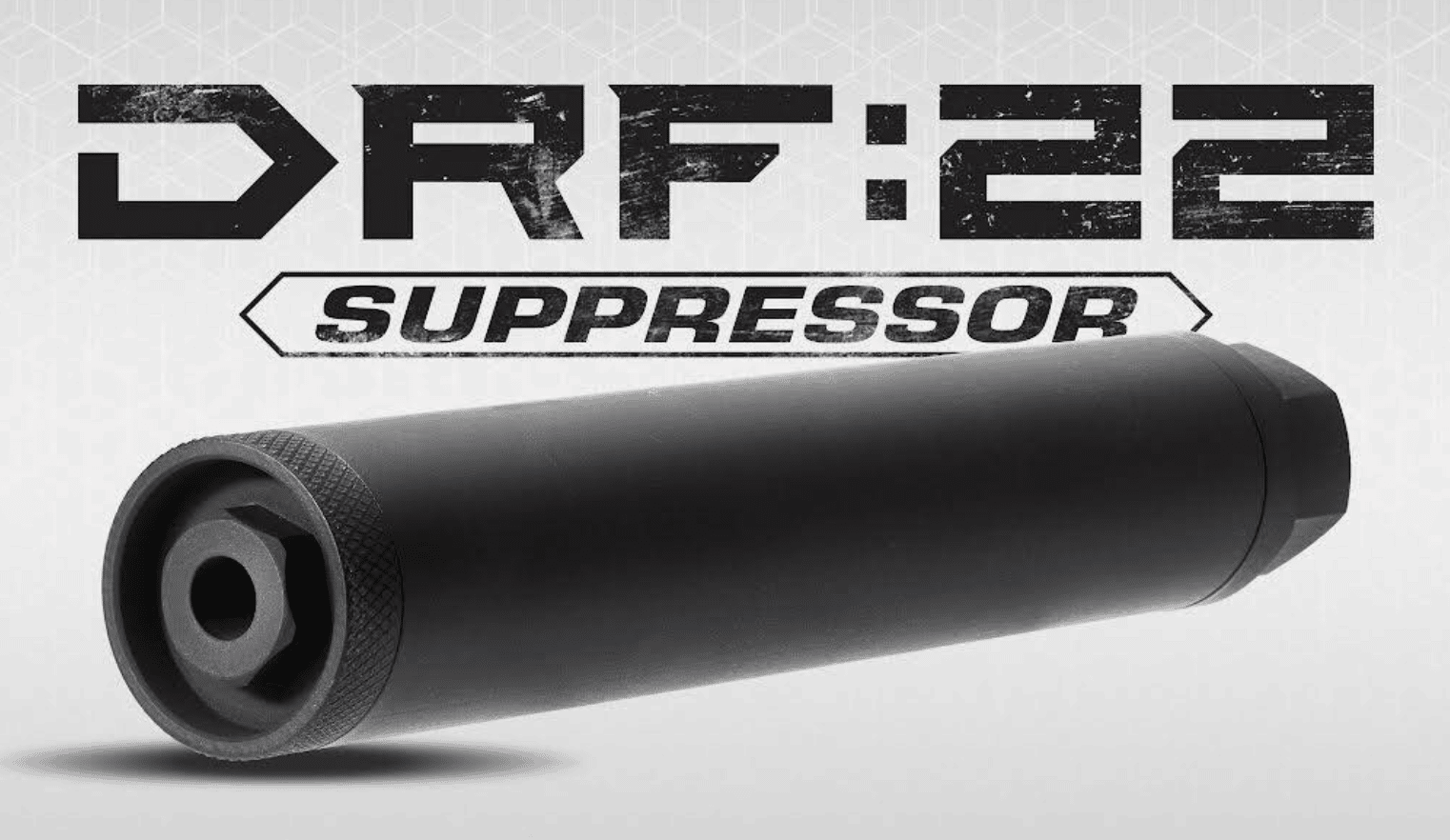 Best 22 Suppressors
What is the quietest 22 suppressor?  The Maxim Defense DRF-22 is the quietest 22 suppressor.  During Maxim Defense's evaluation, the DRF-22 metered 114Db. Maxim Defense's baffle technology eliminates the first-round pop, making this suppressor ideal for beginner shooters and small-game hunting.
1. Maxim Defense DRF-22
The DRF-22 suppressor is specifically designed to minimize the increase in cyclic rate and gas blowback of a suppressed rimfire firearm.
Primary design features include a significant reduction of sound signature, decreasing flash signature, reduction of recoil, and increasing the accuracy of the suppressed firearm.
The DRF-22 is all 7075-T6 aluminum and is hard anodized, with the exception of the core.  Dr. Phil Dater and the engineers at Maxim Defense know that aluminum in the white is measurably quieter than any other coating.  Additionally, Maxim Defense Cerakotes the end of the monocore so it doesn't look funny.
The thread mount is grade 5 titanium.  Most .22 suppressors utilize a titanium thread insert in the back, but technically speaking that is one more interface that adds to the likelihood of bad alignment.  Maxim Defense opted for a solid titanium thread mount for a more reliably precise part and fewer parts in the overall package.