For more than 100 years, one weapon has traveled with American troops into almost every conflict, hot spot, and war the United States has participated in; The 1911.
The 1911 pistol was not only known for its durability and stopping power, but it was also a huge favorite of Delta Force's founder, Colonel Charles Beckwith.
For years, the US Army's legendary special missions unit 1st SFOD-D (The Unit) has made considerable use of the legendary M1911 pistol, chambered for .45ACP.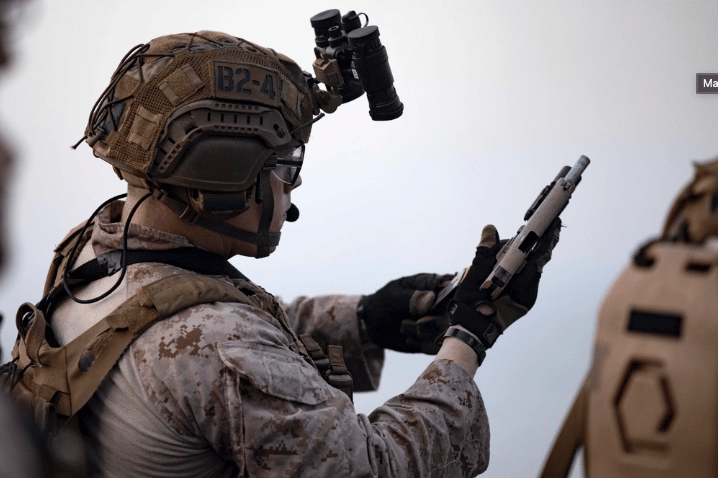 In addition to Delta using the 1911, the United States Marine Corps issued M1911s to Force Recon units.
Colt M1911A1 frames were stripped down, deburred, and prepared for additional use by the Marine Corps Precision Weapon Section (PWS) at Marine Corps Base Quantico. The pistols were then assembled with after-market grip safeties, ambidextrous thumb safeties, accurized triggers, improved high-visibility sights, match-grade barrels, grips, and improved Wilson Combat magazines. These hand-made pistols were fine-tuned to the specifications and preferences of the Marine Corps.
The Marine Corps laid out a series of specifications and improvements to make Browning's design ready for 21st-century combat, many of which have been included in MEU(SOC) pistol designs, but design and supply time was limited. Discovering how pleased the Los Angeles Police Department (LAPD) was with their custom Kimber M1911 pistols, a request was issued to Kimber for just such a pistol despite the imminent release of their Custom TLE/RLII models.
Kimber began producing a limited number of what would be later termed the Interim Close Quarters Battle pistol (ICQB). Maintaining the simple 1911 recoil assembly, 5-inch stainless steel match grade barrel, and internal extractor.; the ICQB pistol was not much different from Browning's original design.
In July 2012, the United States Marine Corps placed a $22.5 million order with Colt for 12,000 M1911 pistols for its MEU(SOC) units. The new 1911 was designated the M45A1 or "Close Quarters Battle Pistol" (CQBP). The M45A1 featured a dual recoil spring assembly, Picatinny rails, and a Cerakoted tan color scheme.
M45A1 pistols continue to see regular use today with Marine Force Recon Battalions, in addition to other specialized Marine Corps units. Additionally, both U.S. Army Special Forces Units and SFOD-D continue to use modernized M1911 pistols.
U.S. Special Forces Approved: The Colt Combat Unit Pistols
Colt's Manufacturing worked with US Special Forces Trainers to design and build the Colt Combat Unit (CCU) Series of 1911 pistols. The tactical expertise of the trainers was vital in developing the CCU pistols, which are equipped to handle and shoot with the highest levels of control, accuracy, and reliability.
Available in CCU Government, Combat Unit Rail and the Combat Unit CCO Commander models, all CCU Series 1911's feature matte black DLC coated stainless steel frames that are corrosion-resistant and EDC-friendly. Custom G10 grips and 25 LPI checkering provide steady traction all around, and an undercut trigger guard and upswept beavertail safety command proper hand placement for accuracy and recoil control.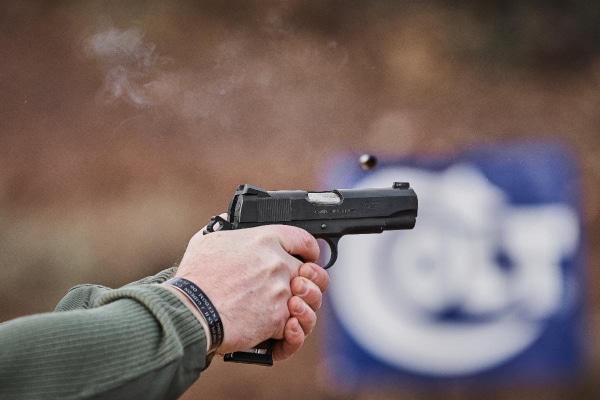 CCU Government models sport five-inch barrels and ammunition capacities of 8+1 in 45 ACP and 9+1 in 9MM.
Combat Unit Rail models offer a handy Picatinny rail under the barrel for accessories. Ammunition capacities and barrel lengths are the same as the government models.
Combat Unit CCO pistols feature Commander length, 4.25-inch barrels and ammunition capacities of 7+1 in 45 ACP and 9+1 in 9MM.
In addition to the grip safety, all Colt Combat Unit models feature ambidextrous, extended thumb safeties, front and rear angled slide serrations and extended magwells to support quick reloads. Novak front and rear sights quickly form an uncluttered sight picture. Colt's Series 80 firing system and National Match Barrel ensure safe and precise shooting, while the Colt Dual Spring Recoil System minimizes felt recoil.
Colt accuracy, reliability and toughness are the hallmarks of the Colt Combat Unit pistols, and they are ready for any situation, anytime, anywhere.
---
Stay Tuned to the RE Factor Tactical Blog and be part of this all VETERAN-run website. Be sure to follow us on Facebook, Instagram, and LinkedIn for exclusive content and deals.
Check out our DAILY DEALS page for industry deals and discounts.
Visit our Amazon Influencer Page for more products we recommend: https://www.amazon.com/shop/refactortactical