Unfortunately, we are no longer producing The Operator Band™ which was the first band designed to fit the mission needs of Special Operations personnel. Created by a Special Forces S.E.R.E Level C graduate the components of the band are intended to provide everything needed when encountering a survival situation.
Make sure you keep reading for our 5 alternate options, listed below.
Each Operator Band came standard with seven different survival tools. This included essential items such as removable/reusable hidden handcuff key in the buckle for an escape from illegal restraint,  80lb test braided fishing line used to make a snare or shelter, 18″ 45lb test water snare wire,  and a ferrocerium fire starter that burns at over 3000 degrees.
Upgrades to the Operator Band could be applied with the addition of LiveFire® Paracord and/or a Suunto® Clipper Compass. The LiveFire Paracord was an additional strip of cord down the center of the band that was internally coated with a flammable chemical agent. The Clipper Compass offered an illuminating bezel, rotating declination dial, and waterproof encasing, detachable from the band when needed. The accuracy of the compass allowed for the ability to set declination for easy day and night navigation.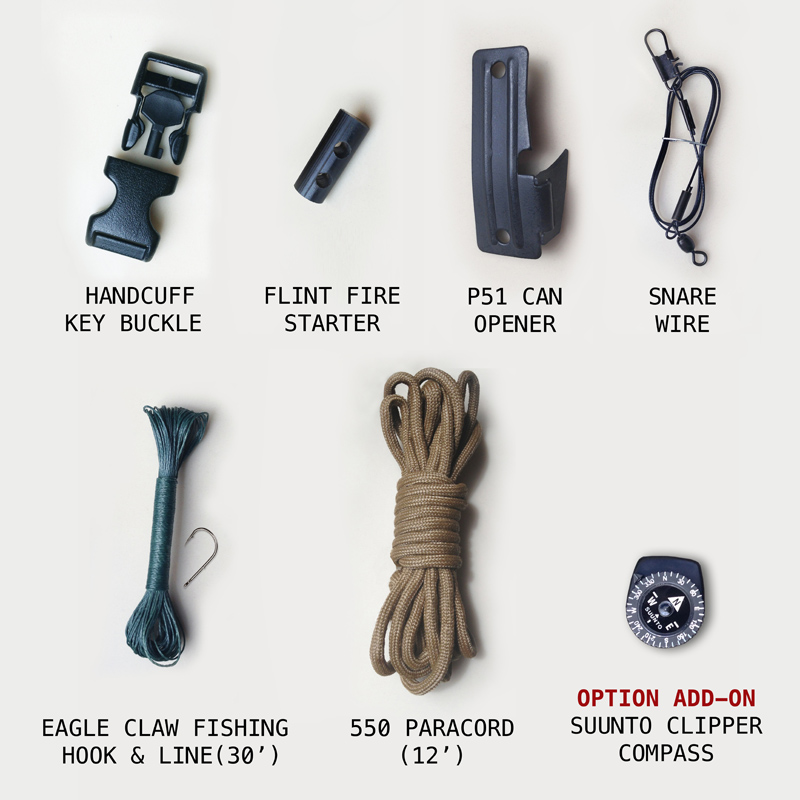 12′ of 550 Paracord
30′ of 80lb Test Spider Wire Fishing Line
Fishing Hook
18″ of 45lb test Eagle Claw Snare Wire
P51 Can Opener
Ferrocerium Starter
Hidden Handcuff Key Buckle
LiveFire® Paracord (OPTIONAL)
Suunto Clipper Compass (OPTIONAL)
Veteran Made in the USA
No longer available at tacticalequipment.com
We're sorry we no longer produce this item, but we went ahead and left its description so you can use it as a comparison when you're out there shopping for a survival-style bracelet from someone else.
Again, our Operator Band is no longer being produced. However, we'd like to recommend 5 other great survival bands if you're in the market.
We may not be producing the operator band anymore, but that doesn't mean there aren't some cool survival bands still on the market. This duel grenade/bracelet set by The Camping Trail has some similar features.
Survival Set Includes:
21 ft. of Paracord
2 Floaters
2 Fishing Hooks
1 alcohol Pad
Fishing Line
Tinder
1 Fire Starter
Foil
Scalpel Blade
2 Weights
2 Swivels
1 Needle
Safety Pins
Wire
2 D-Shackles
Learn More
The Magnos Somnia Emergency Paracord Bracelet is a 3 in 1 survival kit that includes a 4 in 1 survival bracelet. If you ever got stuck in a situation where you needed to build a fire or needed to find your baring, this survival bracelet can give you just that. You have the choice of either wearing it on your wrist or attaching it to your backpack.
Survival Set Includes:
1 Flint Fire Starter
1 Whistle
1 Scraper (Can also be used as a knife)
1 Compass
Learn More
If you're really trying to go all out when picking your survival bracelet, maybe look at the Kopwin Paracord Survival Bracelet Set. Not only can you make sure you're prepared, but that special someone can survive with you. Also, you get a fancy multi-tool to add to your emergency kit.
Survival Set Includes:
Magnesium flint fire starter
Emergency whistle
Fire Scraper/Knife
Compass
Learn More
If you want to get the most out of your survival cord, it has to have more than just the paracord. This particular survival bracelet comes with all the little trinkets, which fit nicely inside of the buckle. It also comes with 10 feet of paracord, meant to fit a man or woman's wrist.
Survival Set Includes:
An LED light
Screwdriver
Blade
Scraper
Saw
Wrench
Fire Starter
Compass
Learn More
This Gecko 5 in 1 Tactical Bracelet comes with all the basics. Need to start a fire? You can do that. Need to alert the world of danger with your survival whistle? You can do that too. Also, the plastic clip was made so it's easily removable when it's cold outside.
Survival Set Includes:
Paracord
Fire Starter
Whistle
Compass
Learn More