Everyone who works on their AR-15s probably has some or most of the equipment they need, but many don't know which tools to buy and which are pointless.
This blog today is going to give you some insight into what AR15 tools a former Special Forces Operator prefers to use when cleaning and improving his rifle.
We'll get into how to build an AR-15 with our next blog, but this is based on cleaning and preparing your already built rifle for use as a self-defense gun. We hope you enjoy and learn something new, good luck with your AR setup!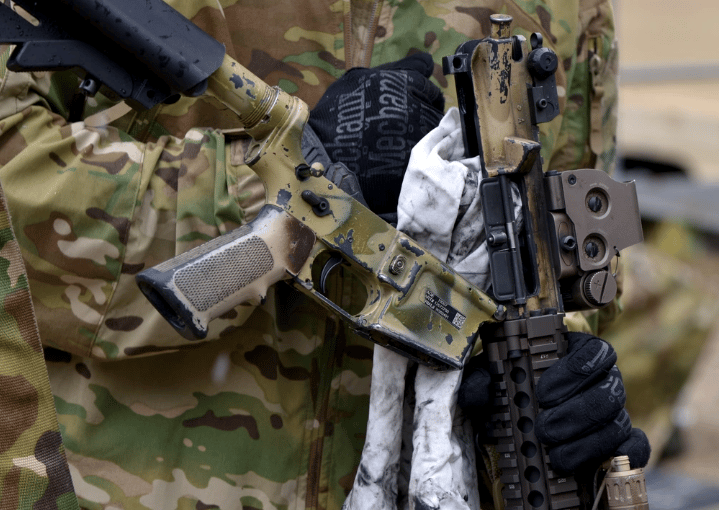 1. Delta Series Mag Well Vise Block
When it comes to cleaning and preparing your AR for use, there are so many considerations that it's best to take it one step at a time. I chose the Delta Series Mag Well Vise Block because it's the best tool for securing your lower receiver. This mag well vise block can be mounted directly to any workbench you have with the fasteners that come with it for much-needed versatility in where you work.
There is a locking mechanism that ensures your receiver is sturdy and firmly locked into place from the mag well. A built-in hammer guard prevents any marring, scratching, or gouging from the vise to protect your lower receiver. I really appreciate the versatility of this tool because it allows me to remove the mag well arm if I decide I want to clamp it in a vise for more serious maintenance or installs. One thing to keep in mind is that the Wheeler Mag Well Vise Block is made for cleaning your AR and basic installation of pins, or maybe a safety lever. The vise block is made to be used in conjunction with the Tipton Best Gun Vise for the ultimate security and mobility while you work. 
One of the best features that everyone I know seems to appreciate is the bolt service station that locks the bolt in place. This feature ensures that you don't pinch your fingers or hands or cut yourself trying to work on your extractor pin. Another tip to keep in mind is that it's best to remove the mag well arm and secure it to your workbench if you need to do any kind of gunsmithing. Even though this tool isn't meant to do the heavy torquing and load-bearing work that building an AR requires, you can do most light work with the addition of this tool.