RE Factor was fortunate enough to host Frankford Arsenal at our shop last week and learn how to reload our own ammo from empty brass to capped shells with bullets. As intimidating as it was to learn how to reload our own ammo, Frankford Arsenal made it seem so much easier than it previously looked. 
I had very minimal experience, but I was always under the impression that Hornady made the best reloading supplies. We were shown that there are many reasons why Frankford Arsenal deserves a shot to become your one-stop-shop for reloading tools. This blog will explain how to reload from the very beginning with empty, dirty brass, to charged ammo, ready to shoot.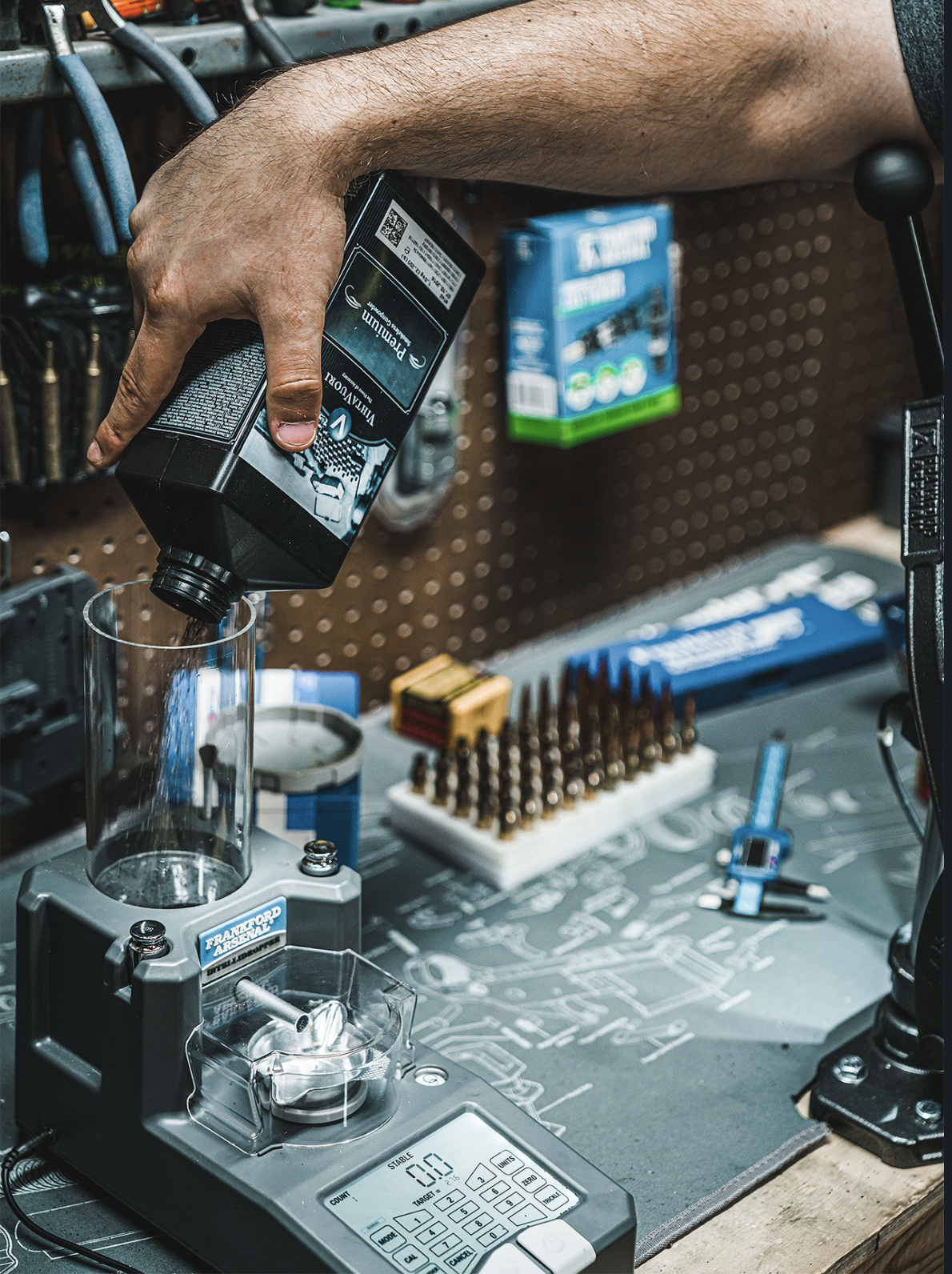 What Do I Need to Start Reloading My Own Ammo?
This is one of the most popular questions that gets asked across the world of ammo reloading and one that I started the workshop with. To keep things simple for everyone, I included a list that explains the tools you need to reload your own ammo. For this section, I'm going to include the tools that you must have to start your reloading and will get into the optional tools later in the blog. 
Perfect Seat Hand Primer

Calipers (I prefer the digital model)

Powder Funnels
I Have a Bucket of Brass, What's Next?
One of the biggest issues with reloading your own ammo is most people don't know what the hell they're doing or how to start. If you're anything like me, you save your ammo cases from the range and you have multiple buckets of 9mm or 5.56mm cases and have no idea what to do. 
Until Frankford Arsenal came to the office, I was incredibly intimidated to even start trying to reload my own ammo. The last thing I want is to pull the trigger and have a bullet blow up in the barrel and maim me for the rest of my life. Talking with many of my friends, they all feel the same way. So hopefully, we can relieve that stress and show you it's not as hard as it seems.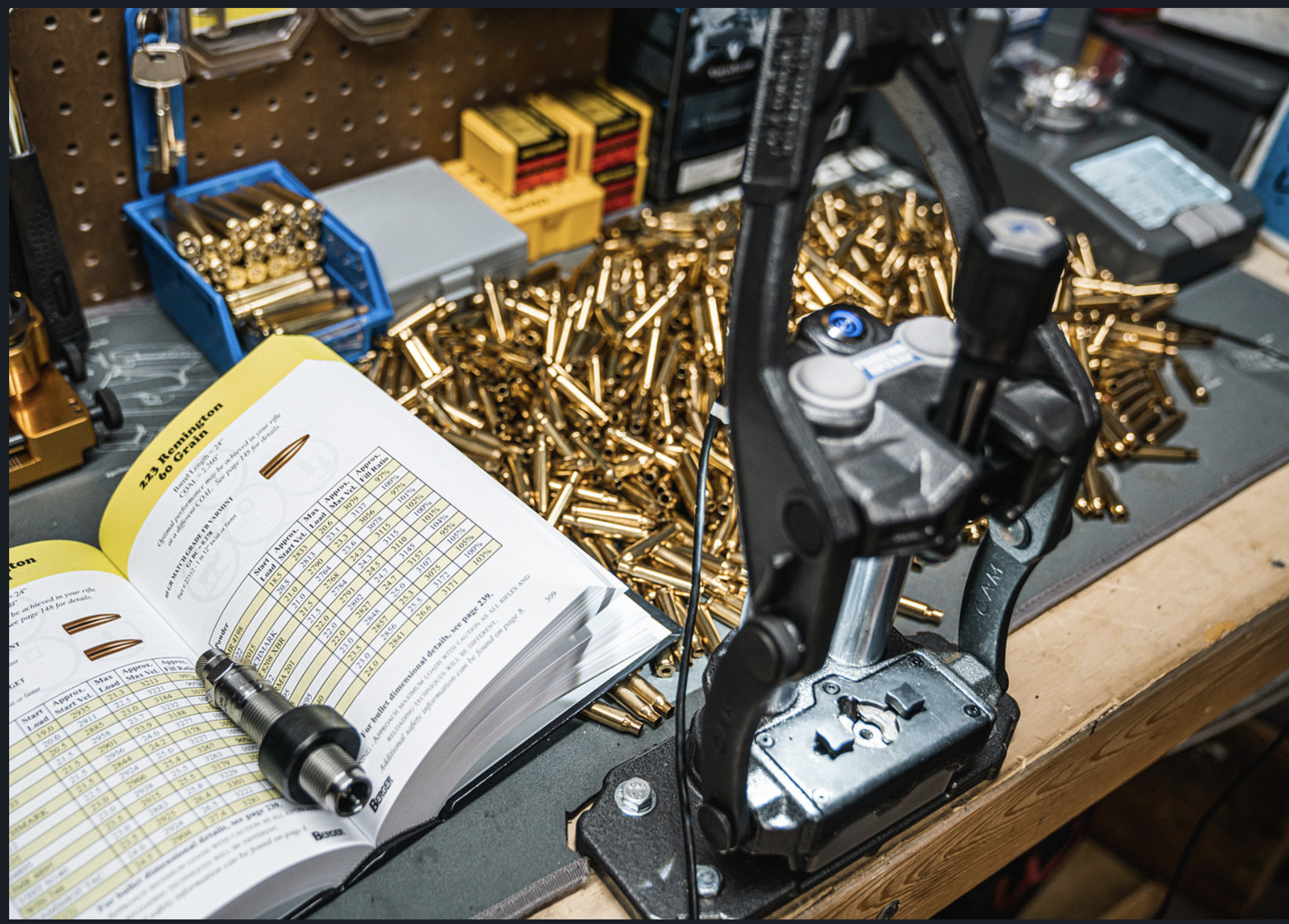 The first thing you need to do is prepare your tumbler based on the amount of brass you have. I prefer to use the 7L Platinum Series Rotary Wet Tumbler because it can clean up to 1,000 shells of .223 or 5.56mm at one time. If I'm being honest, I don't really even shoot my AR very often, but I try to shoot as often as I can with my pistols and hunting rifles. With that being said, I can easily fit 1,000 rounds of 9mm brass in my tumbler.
Step 1- Inspecting Brass
Anytime you're considering reloading, you need to inspect the cases before you try to clean and reload the brass. According to Frankford Arsenal, there are 7 easy steps to consider when inspecting a case.
Follow these 7 steps and place your brass into the bucket so you know that the brass is ready for cleaning. I always inspect the brass I either pick up from the range or the brass I personally use before I place it in the bucket.
The reason I prefer to inspect the brass before I clean it is simply because you don't want to clean the brass then find out you can't use it. According to Jarrod, you should always inspect the brass after you clean it as well to ensure the brass is clean, but also just in case you missed something at the beginning. 
Pro-Tip from Jarrod, Brand Manager of Frankford Arsenal
If you ever see a casing that you're not sure of, but you think might work, don't use it. There is no point in trying to load brass that is potentially suspect because you can cause serious injury or death if a damaged case blows up in your face. 
Examine each cartridge to see if it conforms to the proper cartridge specification.
Look at case material: aluminum, brass, or steel (green, lacquered, or gray in appearance). Only reload the brass.
Check the headstamp (may have manufacturer listed, or date case was manufactured.)
For handgun brass, check for a slight bulge on the side of the case.
Check to see if the case is meant for a Berdan, two-hole primer, or a Boxer, single-hole primer. If brass has two holes (Berdan) then it cannot be reloaded.
Check for splits or cracks and dents in the case of the brass and throw them out.
Check for crimped primer pockets on the military rifle and pistol ammo. If so, you'll have to swage the pocket out to fit a new primer
Step 2 – Brass Cleaning
Pour the bucket of brass into the tumbler and then pour the stainless steel media into the tumbler with the brass. Once your media and brass are inside the tumbler, you can put the water and cleaning solution inside as well.
There are multiple lubes or cleaners you can use, but the experts at Frankford Arsenal use the brass cleaning solution. This step is incredibly easy and all you have to do is follow the instructions on the bottle or tub like a Traeger grill, set it, and forget it. 
Many people are immediately concerned with how long you should clean your brass, but with the 7L model, you can set your timer so you don't have to worry about that.
The ammo expert that everyone calls Jarrod, suggests setting it for 3 hours and doing whatever else you need or want to do during that time. If you're concerned that your brass will be too clean, you're stressing about nothing.