In 2019, Studies and Observations Group (SOG) started a brand overhaul, sort of. Redesigning and updating existing knives in the line-up. Exploring new boundaries in manufacturing and materials.
Upgrading the presentation and packaging. And developing three categories to help the buyer locate the right knife for their intended use.
The Kiku XR LTE (LighT Edition) falls squarely in the "Outdoor" category. Its robust size (for a folder), sculpted micarta scales, and cryogenically treated CTS XHP blade steel make it a favorite among outdoorsmen.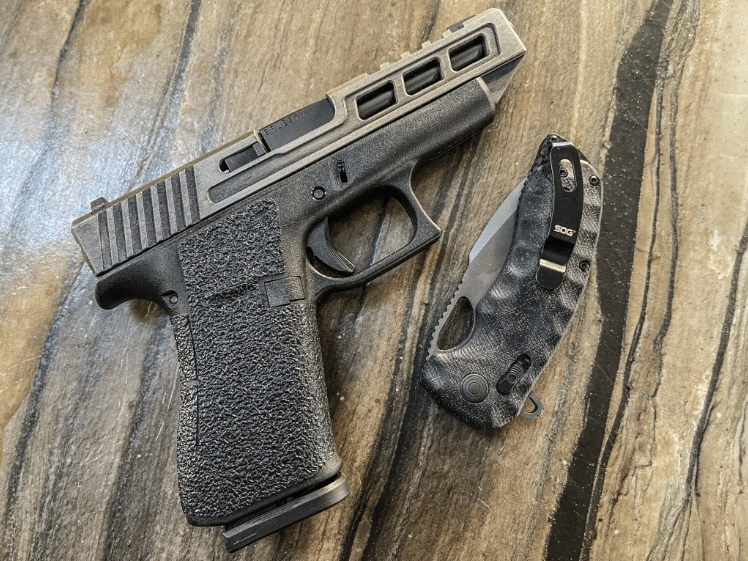 The newly released LTE version of the Kiku XR takes this Kiku Matsuda collaboration to the next level. By replacing the steel liners and spacer with parts made from carbon fiber, the designers were able to drop the weight by 1.5 ounces over its predecessor.
As someone who has spent a fair amount of time in the woods with a pack on his back, the weight savings is greatly appreciated. The Kiku design has been a part of the SOG line-up in a fixed blade version for some time.
These new folders from the Japanese designer, although somewhat new, retain their unique sword-inspired Kiku blade shape.
Cryogenically treated CTS XHP blade steel offers high corrosion resistance in addition to excellent edge retention. This hefty Tanto-style blade is smoothly deployed with the flick of a finger. Additionally, a large thumb hole cut out on the blade allows for a slower more deliberate deployment.
What keeps everything in place is the robust XR Lock. Capable of withstanding a staggering 1500 pounds of force, The XR Lock retains the blade positively secure once deployed. And when it's time to put this bad boy away, the ambidextrous XR Lock once released, lets the blade fall back into place.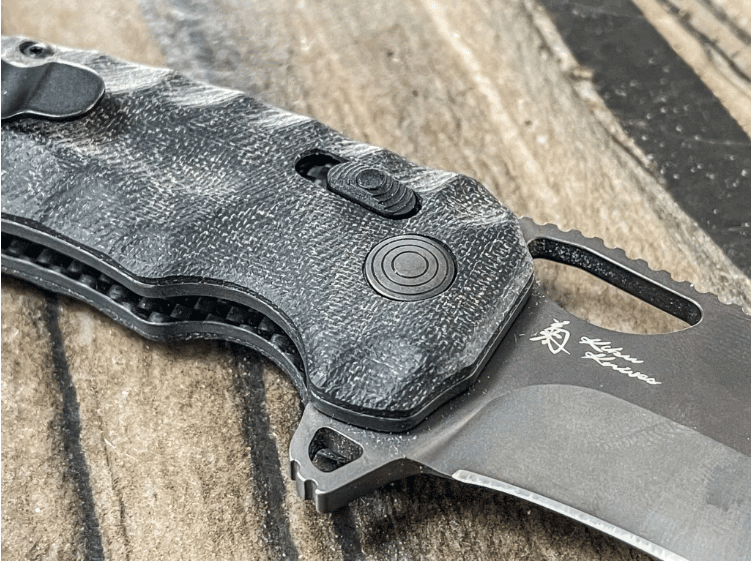 We had an opportunity to ask SOG's Brand VP, a couple of questions
Why did SOG feel it was important to lighten the already-proven Kiku XR?
"Integral to the new direction we've taken SOG in the last couple of years is our "study, observe, understand, apply, repeat" methodology that pulls in users' real world experiences at every step of a product's lifecycle. We were getting great feedback on Kiku XR — the hand feel, size, and XR Lock functionality — but a common request was "can you make it lighter?" We thought we could, but we wanted to do it in a way that didn't compromise capability and user confidence that often happens with common approaches to lightening a tool, such as size reduction, cut-outs or feature deletion, like removing the handles, that cause compromised grip. Design is about making the right series of choices to balance the inherent compromises that occur from pursuing any given solution, so rather than dive down the traditional routes, we researched a materials direction that provided a solution that kept everything users relied on with Kiku XR, yet delivered on the reduced weight ask. We see LTE as a zero-compromise solution in giving users less weight, without messing up what's already working."
Aside from the Terminus and Kiku, will there be additional knives added to the LTE category?
"We want to see how Kiku XR LTE, as well as Terminus XR LTE, perform before committing to applying LTE to other platforms, but if the early feedback is anything to go by, it is likely we'll be apply LTE to more models sooner than later."
SOG Kiku XR LTE Specs
Closed Length: 4.29"
Blade Length: 3.02"
Overall Length: 7.34"
Belt Clip Type: Reversible Low Carry
Edge Type: Straight
Blade Shape: Tanto
Handle Material: Linen Micarta
Country of Origin: Taiwan
Opening Mechanism: XR Lock, Thumb Hole, Kick
Blade Steel Type: Cryo CTS XHP
Hardness: 61-63
Handle Color: Blackout
Weight: 4.1 oz
MSRP: $249.95