Shadow Systems introduced a new line of pistols this week, the XR920. Available in Elite or Combat models, the XR920 has a full-size frame and a compact slide putting it into the category of a crossover pistol.
The new XR920 comes optics ready and features a match grade barrel. Regarding the barrel, you have the option of choosing threaded or unthreaded and black nitride coated or bronze Titanium Carbonitride coated.
The Shadow Systems XR920 was born out of a custom request for Law Enforcement. They needed a crossover pistol that was quicker out of the holster and boasted a full 17+1 capacity.
Related Article – Safariland Holsters | Top RDS Holsters
Additionally, the XR920 features the customizable ergonomics and unmatched recoil control you'd expect from a Shadow Systems pistol. The XR920 is mission-ready.
Shadow Systems XR920 Specs
Caliber: 9×19
Action: Striker fired
Weight: 23 oz (Combat); 22.4 oz (Elite)
Frame: Textured polymer
Length: 7 ¼ inches (unthreaded)
Height: 4 ¾ inches
Slide Material: 17-4 Stainless Steel; Barrel Material: 416R Stainless Steel
Trigger pull: 4.5-5.0 lbs
Capacity: 17+1
Front sight: Green Outline, Tritium Dot
Rear sight: Black Serrated
Shadow Systems Public Announcement
Born out of a custom request for Law Enforcement, the new Shadow Systems XR920 is the most anticipated crossover pistol to hit the market. Utilizing a compact length slide that is quicker out of the holster, a full 17+1 capacity frame, and the customizable ergonomics and unmatched recoil control you expect from a Shadow Systems pistol, the XR920 is mission ready and available at retail now.
Chambered in 9mm, the XR920 crossover features a compact slide machined from 17-4 stainless steel and showcases two distinct styles – Combat and Elite. The entry-level Combat features directional left and right-side serrations located at the front and rear of the slide. Elite models feature the same directional serrations as a Combat, plus additional topside serrations and a weight-optimizing window cut that visually differentiates the Elite slide from the Combat slide. The patented Optic Cut comes standard on both the Elite and Combat XR920 slides, providing the strongest, lowest, multi-footprint optics mounting system on the market today. The match grade, stainless steel spiral fluted barrel is available in a threaded or unthreaded option and finished in a black nitride or bronze Titanium Carbonitride.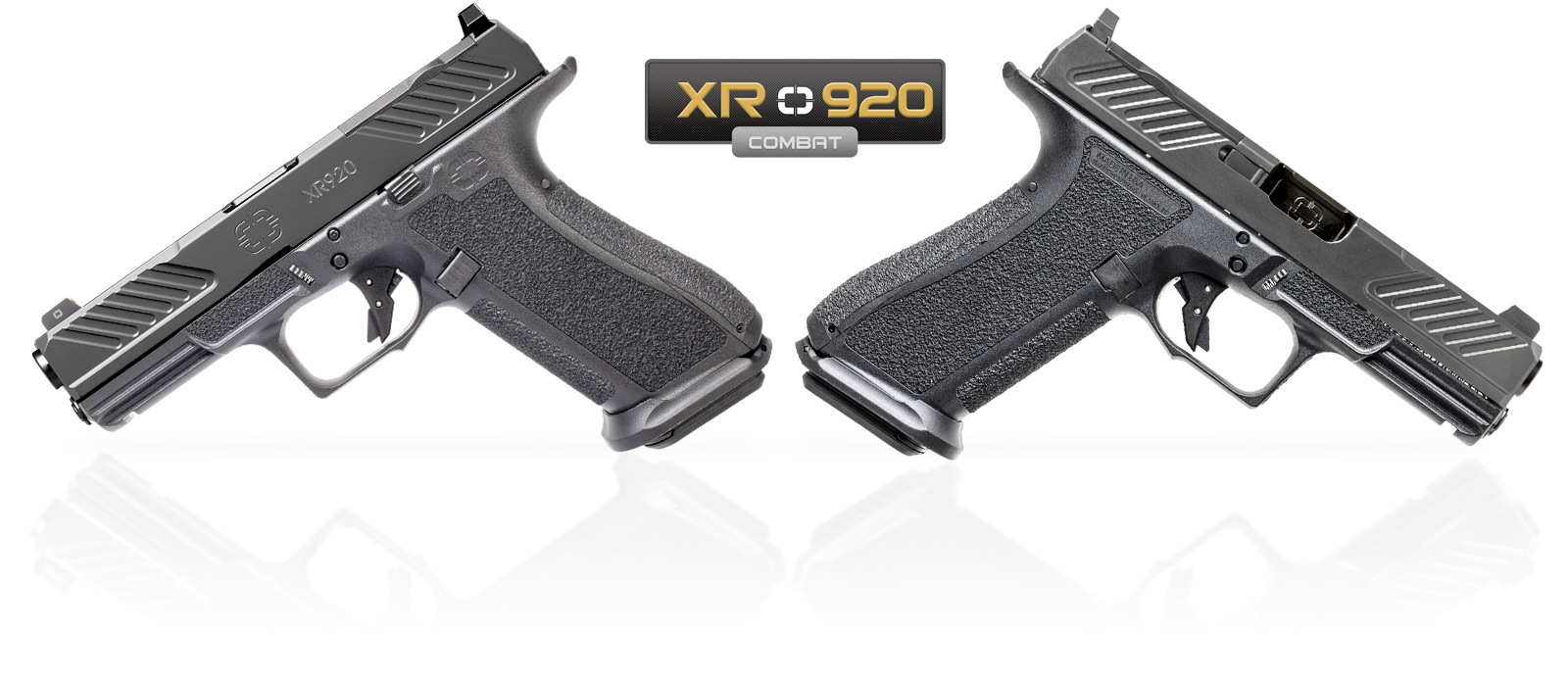 The XR920's polymer frame delivers ergonomics designed to make you faster on target, aggressive grip texture, and an extended beavertail that positions the pistol ultra-low in the shooter's hand and eliminates the dreaded slide bite. A recoil thumb ledge assists in reducing muzzle flip and enhances the controllability of the pistol, allowing shooters to remain on target and increase their accuracy on follow-up shots. Like all Shadow Systems pistols, the XR920 includes the unique Natural Point-of-Aim (NPOA) backstraps. These backstraps allow individuals to match the way the muzzle points to their natural point of aim. No longer limited to small, medium or large, shooters instead choose between low (1911-style), neutral (similar to many models on the market) and high (for a higher muzzle orientation).
The complete Shadow Systems family of pistols provides a solution for any situation. The full-size DR920 is appropriate for duty use, home defense and competition. The compact multi-role MR920 and MR920L are well-suited to a multitude of uses, particularly concealed carry.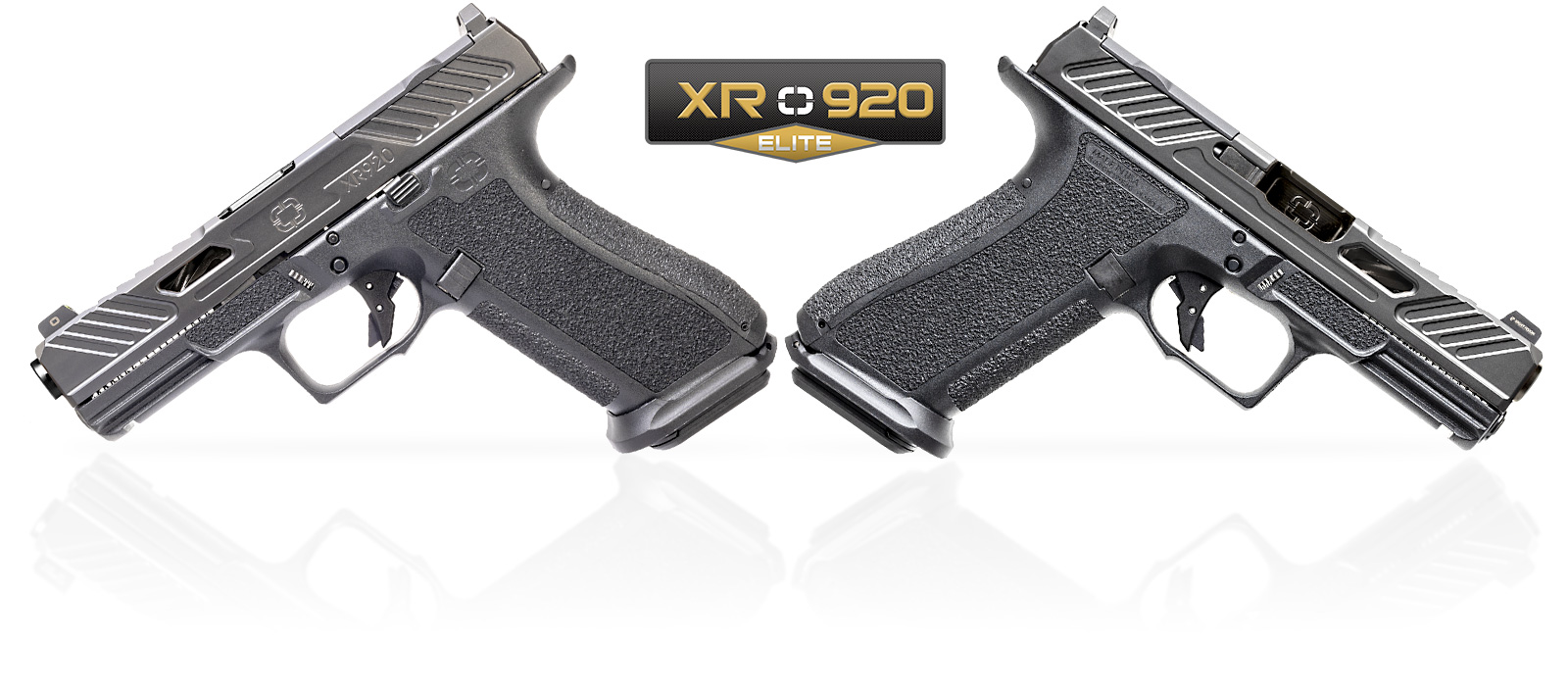 Whether your pistol is your nightstand security blanket or your daily duty partner, there is a Shadow Systems pistol to fit the role. Explore the full lineup at www.shadowsystemscorp.com/
To ensure you're not missing our content, you can have it delivered to your email inbox. Just sign up below and stay informed of new content and exclusive deals only our email subscribers know about.
---
Stay Tuned to the RE Factor Tactical Blog and be part of this all VETERAN-run website. Be sure to follow us on Facebook, Instagram, and LinkedIn for exclusive content and deals.
Visit our Amazon Influencer Page for more products we recommend: https://www.amazon.com/shop/refactortactical